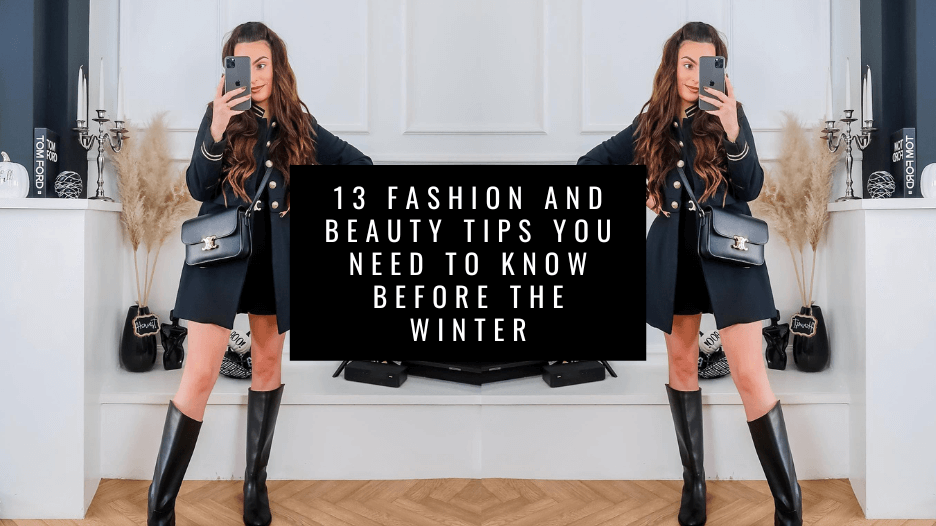 The colder months of the year are a great time to cosy up with some reading, binge-watch some shows, or just spend quality time with friends and family. But for many, it's also about preparing for the coming season. Depending on where you live, the new season might not be your favourite; however, there are still plenty of ways to make this time of year more beautiful and fashionable. If you're ready to take on this winter season, read on for all the best tips!
Don't Be Afraid to Mix Colours
The winter seasons are often associated with the colour black, but that doesn't mean you can't mix and match colours! Black is a basic colour and is often worn with lighter colours, such as grey, blue, and white. When it comes to mixing colours, you can't go wrong with neutrals like black, grey, navy blue, brown, and white. You can also add in a splash of red, orange, and yellow. These colours give your winter looks a warm feel.
Boots Are A Must-Have
Boots are an essential piece of footwear for the winter seasons. They are designed to keep your feet warm and comfortable, as well as protect from the elements. You'll want to make sure your boots aren't too tall, as that can make it more difficult to walk in them, and your feet could get too warm. If you're not sure what type of boots to buy, try going with a shorter, classic boot; it will go with any outfit you put it in.
Find the Right Beauty Products for the Temperature
You might be used to wearing a makeup look during the summer, but what do you do during the winter? Well, there is no need to completely change your makeup routine just because the seasons are changing! Instead, you should be more aware of the temperatures each season and incorporate products that work better in the colder temperatures. Before you begin, try to find a shade that works best with your skin tone. Don't forget about your lips either! Try several shades of products to find the ones that look best on you in the winter.
Tie-In Classic Staples
Adding a classic piece of jewellery to your look will help tie together all the seasonal staples in your winter beauty and fashion routine. Whether you are looking for a delicate charm, a classic pendant, or a chunky bracelet, you'll find it at your nearest drugstore or beauty store. You can also look into handmade pieces that are made to last. These pieces can be more expensive, but they can also last you many years and look just as beautiful as the first day you bought them.
Don't Forget Skin Care
While it's easy to fall under the winter beauty and fashion trap of putting off skincare, it's actually one of the most important parts of your beauty routine. You want to make sure you protect your skin from the cold, dry air, and sun damage. Plus, now that you are wearing makeup, your skin will be even more sensitive and susceptible to breakouts. Make sure you create a healthy skincare routine and stick with it throughout the season for best results.
Look Your Best
If you've ever wanted to change your appearance, the start of a new season can be the perfect time to do this! For example, any small cosmetic procedure can give you a boost of confidence to start the winter off right. Learn how to make your face look thinner for a quick confidence boost. Getting your hair and your nails done for the winter can also start the season off right and keep you feeling your best through all the year's coldest months.
Invest In a Warm Coat
A good coat can be used for lots of different purposes, from keeping you warm on a chilly day to providing extra warmth on an icy one. You can find a variety of different styles, materials, and prices depending on what you are looking for. A popular option for winter coats is wool, or a puffy material that insulates your body by keeping warmth in. Whichever style of coat you buy, make sure it's a neutral colour so that you can pair it with anything.
Layer Your Look
You can't ever go wrong with layering your look. You can mix and match different pieces to create multiple looks. Another fun way to layer your look is by adding scarves and shawls. They make for great accessories and can be worn in multiple ways. This is especially great for the winter, because layers will allow you to keep warm and will also give you the flexibility to adjust your look if the day gets warmer.
Pair Boots With a Long Cardigan
This will keep you warm while also looking fashionable. Cardigans can be worn with a variety of different looks and can be layered with scarves or other accessories. You can find many different styles of cardigan in neutral colours, which means that they will look great with any pair of boots. You won't be able to go wrong with the rest of your outfit, either: jeans and a neutral colored top pair great with boots and a long cardigan.
Don't Forget Scarves
With a scarf, you can add some extra warmth to your look while also still looking fashionable. Scarves can also be worn in different ways, making them easy to change up throughout the day based on the weather. You can also tuck a scarf away in your bag if the day gets too warm, making it the perfect accessory to take along with you wherever you go. It's also very fashionable and a great winter staple to keep in your wardrobe.
Use Blotting Paper Instead of a Towel On Your Face
Blotting papers can be used for a quick cleanse of your face. They are especially useful for oily skin types. You can also use blotting paper to remove excess makeup from your face, if you're wearing it. Blotting paper can also be used to remove excess oil from your face, if you're not wearing any makeup. The many uses of this product make it a great purchase for anyone, especially in the winter months.
Keep Your Skin Hydrated
Keeping your skin hydrated will help to keep it from getting dry and it can also help to prevent breakouts. The winter's cool air can often be harsh on your skin, which is what makes moisturising such an essential step of a skincare routine, especially in the winter months. You can try a moisturising face mask to get extra results from your moisturisers, a step which is great if your skin is especially dry.
Be Careful of Sun Exposure
Even though the sun can be a beautiful part of the season, you should try to minimise your time in the sun. If you do find yourself in the sun, try to apply sunscreen liberally and try to stay in the shade. Many people think that they do not have to be careful of the sun in the winter, but this is far from the truth. Even if the days are cloudier, the sun still has a large chance of casting harmful rays on your skin.
The winter season is a great time to reinvent yourself and revamp your closet and beauty routine. The winter brings with it some unique challenges, but if you're ready to face them, then nothing can stand in your way of looking and feeling fabulous all season long! Remember to try and see what works best for you. Then, stick with your routines and enjoy a fabulous winter season!