Now the storms seem to have passed I think we can finally get excited about spring and summer. I don't think I have been this excited to see day light peeking through my window in a long time; and not just daylight, but actual sunshine!

Blouses for me are a spring essential and this year; like last, I have been loving organza shirts and blouses with big oversized puff sleeves. I don't know what it is about puff sleeves, but I just find them really flattering. I feel like the over exaggerated sleeve makes the rest of you seem much more dainty and look much more slender. Possibly just deceiving the eye but anything that makes me look slimmer I'm all for.

Organza shirts for me feel very Parisian, they are very feminine and again I feel like they just flatter. They also look very classy, as long as worn with some sort of cami underneath. I have to say the ones that come pre-lined are my favourites. Obviously each to their own and some people rock the barley there look but I would simply feel half dressed so a top underneath is definitely the way forward for me.

I have styled up 4 different spring blouses from femme luxe, who; as I am sure you know, I work with on a regular basis, so the items were kindly gifted to me. I decided to style them all with the same pair of simple black trousers and black stilettos.

Black trousers and a simple pair of black heels are a staple for me, and I love it when I can dress my outfit up with just one item, so I really wanted my top half to do all the talking and I am obsessed. I am going to get so much wear out of these shirts.
The first item I chose was this black puff sleeve top. Now I know we're all trying to move away from black in spring summer, but for me black is a staple. When you don't know what to wear, an all black outfit is a winner every time. They do also do this style top in a number of colours I believe so if you're feeling more adventurous you can look at one of the other colour-ways, but for me black works so well into my current wardrobe.
Can we also just mention the sleeves on this piece? I think it is the most over the top, yet classic piece I own. The fabric is slightly knitted yet the sleeves are more of a linen fabric, which means the sleeves stay upright and it's the perfect material to get you through spring and into summer.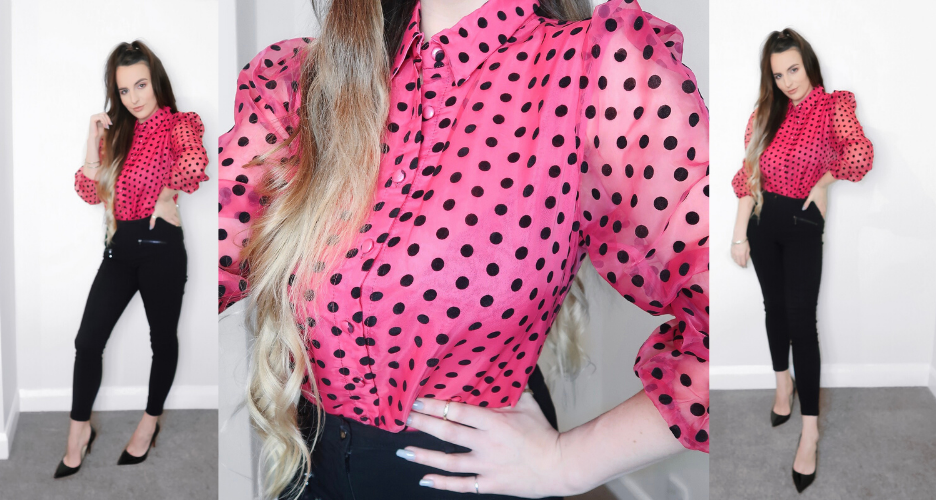 The next piece I have been obsessing over is this pink polka dot organza shirt. Hot pink is going to be big this spring summer and combined with the organza style that is on trend and the 'always-in' polka dot print. I couldn't wish for any more. The fit of this is perfect too, I love how even the buttons have the hot pink fabric over them; it makes the shirt really feel more of a luxury piece for less.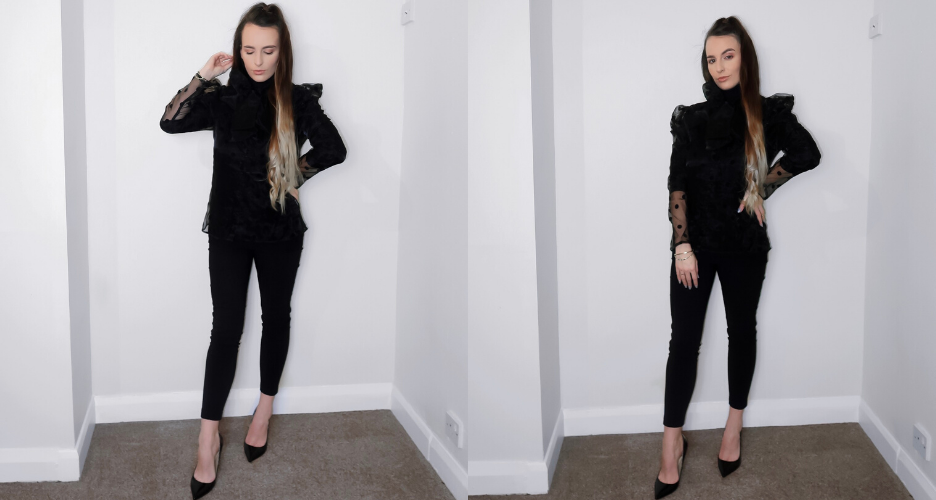 Back to black again but this organza shirt again combines polka dots but has a very different feel to it, it has a big bow around the neck which I love, it make's me feel slightly Parisian not going to lie. This is one of those shirts that requires a little cami top underneath, but depending on the sleeve length of your underneath top you can really dress this shirt up in many different ways.

Here I had the black polka dot organza shirt on with a three quarter length top, which I think still gives a nice bit of arm visible on the sleeve, yet keeps you warm whilst we transition into spring, but come summer you can have something with thing straps underneath, or even something strapless would work really nicely and give this top a completely different vibe.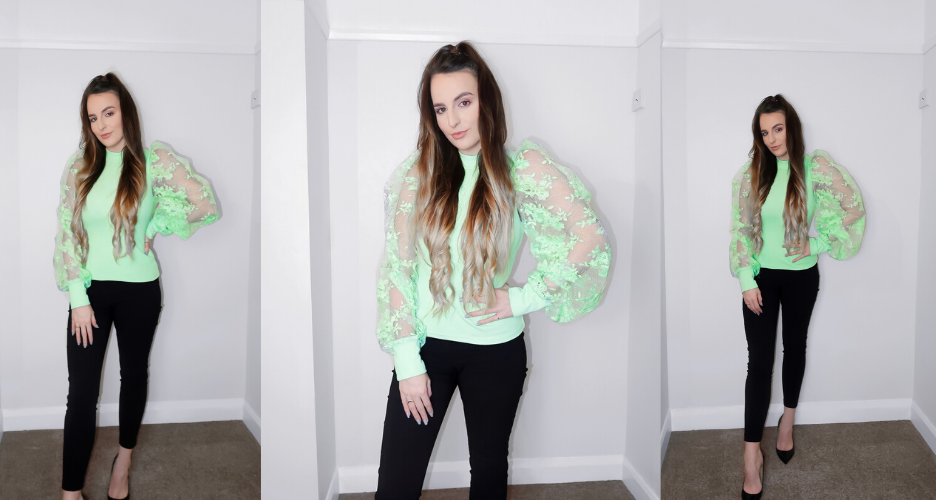 The final piece, but also one of my favourite pieces is this green puff sleeve top. The sleeves on this are just everything. They combine organza and lace to make this perfect floral puff sleeve top and it really does dress up a simple black pair of trousers well.

I have wanted to introduce some green into my wardrobe for a while now as again, this will be a big colour for spring and summer and this top just gave me all the sunshine vibes. If green isn't really for you, they also did this top in a number of different colours and I am tempted to pick up a few variations because I know this will be another piece that I just can't stop wearing.

Are you a fan of the puff sleeve top and organza shirt trend?