Struggling to decide what to wear now the weathers peaked and the temperature has finally dropped? It's safe to say my heating is well and truly on! But fail not because autumn fashion is here and I for one can't wait to be wrapped in snuggly jumpers for the next 6 months!
So I am brining to you another fashion update and another beautiful collaboration with my faves Femme Luxe Finery. If you have just started university this September, just gone back to sixth form, or you've just stepped into another week at work. I think you will find something in this little mini haul that is perfect for you.
I am quite lucky in the fact I work for a digital agency and can basically wear what I like to work. I mean don't get me wrong I wouldn't turn up in joggers and an oversized hoodie; but that's not to say I couldn't! I feel like my working environment is smart casual which I think a lot of workplaces now incorporate, when I was in sixth form again I had to wear smart casual outfits and I pretty much stuck to that theme at uni.
I was not one of those students who turned up in pajamas, I actually enjoy fashion and getting dressed on a morning ha. And I think smart casual always worked for me because I am blazer obsessed. Some people are into shoes, for me it's blazers and coats. I can't get enough.
The first item I chose is this khaki wrap belted coat. I love waterfall coats. I lived in my camel one a few years back. I feel like they can look super smart when belted, or super chilled when thrown over a loungewear set with trainers. Whatever your style and 'working' uniform. I am sure a wrap coat can work in your wardrobe.
This season it's all about the greens. I know sage is huge right now, and I have to admit I don't own anything sage, I am not sure if it is muted enough for me, I do tend to edge to darker colours in this season, all the browns, blacks etc but one colour I have found myself drifting towards is khaki and olive green.
This belted duster coat is the perfect thickness for this time of year, think paired with a thin knit jumper and a midi skirt for evenings or like I have it here with yet again another amazing Femme Luxe loungewear set and trainers for a day time look.
This ribbed co-ord is also the perfect smart casual loungewear set, its thin ribbed material makes it very flattering, and with its tie waist, it cinches you in at all the right places.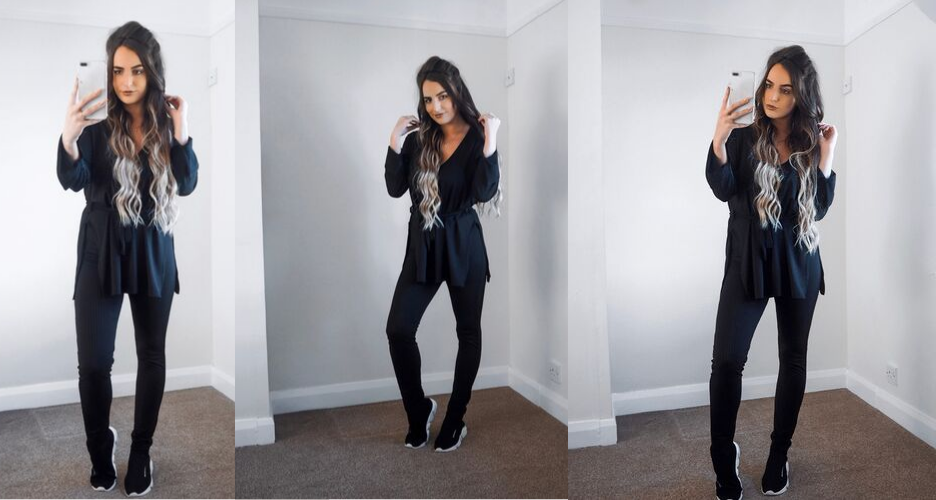 This is my ideal co-ord for like a Friday night cinema date night attire, or lets pop to homesense, haha okay there is no popping to homesense, I will be in there for an hour at least but you get my drift.
The next item I chose were these amazing faux leather leggings in red. Now this is the season I live in leather trousers, leather leggings and coated jeans. I love maroon and wine shades this time of year too; and last year I picked up an amazing pair of deep red coated jeans, but I have never seen leggings in this colour; until now.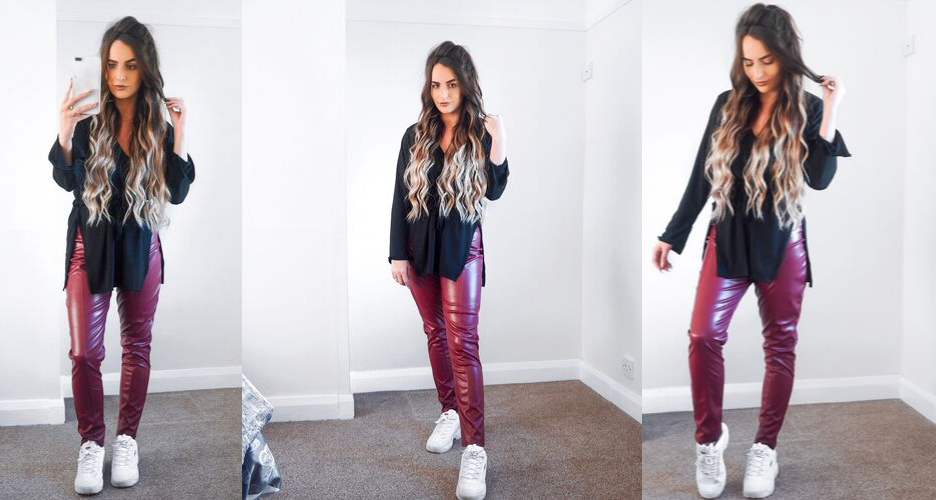 I have been a fan of Femme luxe Finery faux leather leggings for years; I think they are all I lived in last winter, so I knew the fit would be great. Now I don't know about you but all leggings need to be warn with longline tops and jumpers in my opinion. So here I have just paired them with the black ribbed top from the co-ord set.
This is also a really cool thing about co-ords, you now have a black belted ribbed top, and a pair of ribbed leggings that you can mix and match with anything else in your wardrobe! I have noticed Femme Luxe have an amazing range of Mesh Tops right now that would look insane with either of these leggings to bring a more edgy vibe to your look.
The last thing I picked up was this insane chunky, polo neck jumper dress. Now I love me a jumper dress and I actually struggle to find them too, well find ones that flatter my shape but I am onto a winner with this one.
It's snuggly, comfy and I can dress it up or down, I have it on with trainers here, but think over the knee boots, black fur gilet; now that is a vibe. I mean anything black or white has my name on it anyway, but black and white together; now that's a keeper!
What's your favourite piece? Are you as excited as I am for autumn winter fashion and do you have your eye on any pieces right now? I know I have seen some Lace bodysuits and stunning Jumpsuits that will fit perfectly into my wardrobe for the dressier occasions!