As much as I have enjoyed the snow and all the cosy clothes, hot chocs and fluffy bedding, I have to say I'm now awaiting Spring.
I find myself drifting towards lighter colour-ways and pretty cardigans and shirts at the moment. If you follow me on Instagram you'll have seen my new found love for baby blue too!
I have some gorgeous new pieces in my wardrobe at the moment, that are perfect to carry you into spring. They are still cosy and warm because let's be realists, it's still pretty cold here in the UK at the moment, but the colours are very spring-esc and they are the perfect transitional pieces. I'm obsessed.
The first item I want to show you is this Sequins Thread Button Down Knit Cardigan in Silver. Firstly it's such a gorgeous colour, it's silver but with threaded subtle sequins within the knit which makes it look an icy blue colour in a certain light.
The buttons on this cardigan are simply stunning, they give me all the 'royal' vibes. From afar they look like little stars.
A cardigan like this is a great transitional piece into spring, here I have styled it up with white high wait skinny jeans and nude knee boots.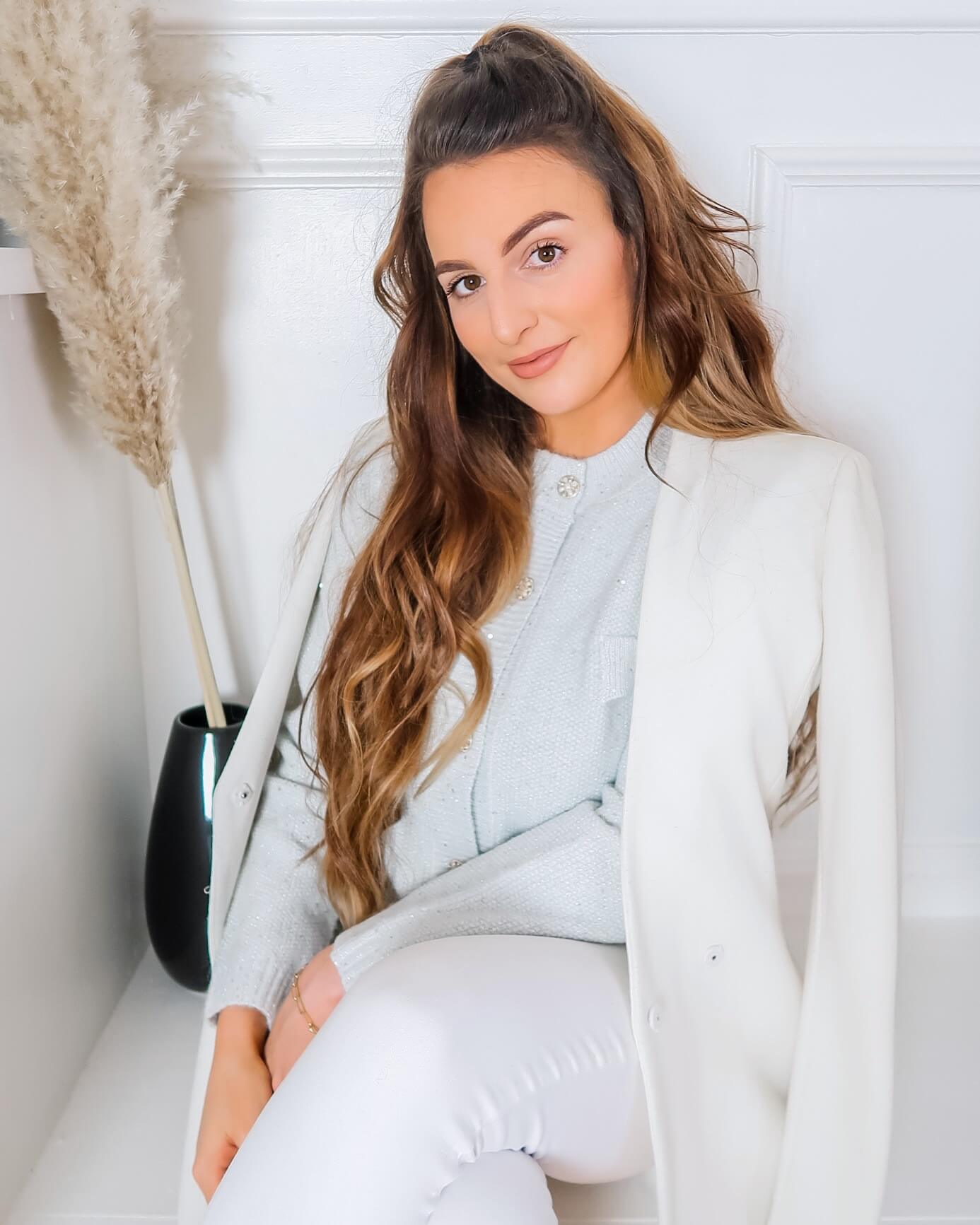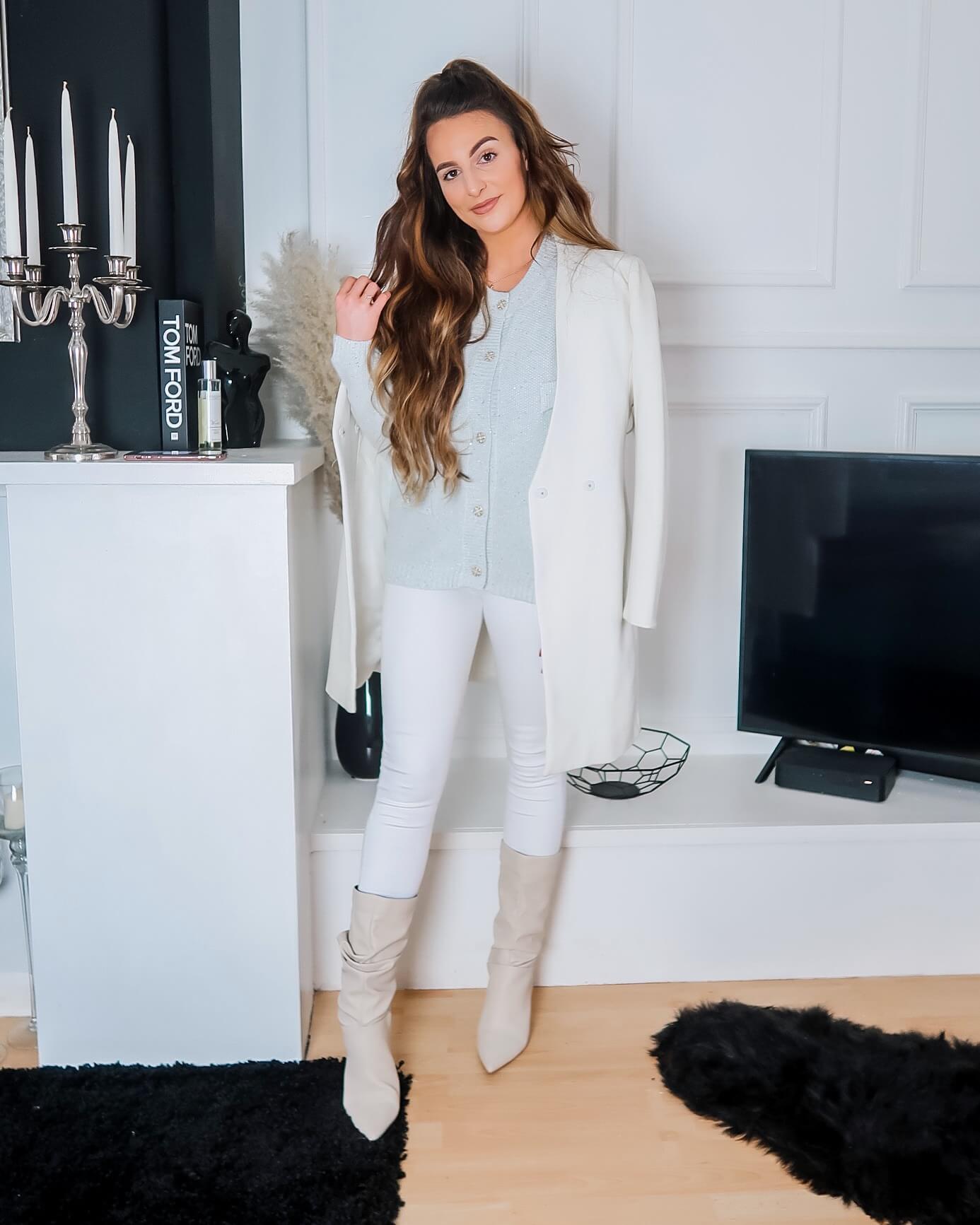 The next new item I have in my wardrobe and probably the most Spring item I have in my wardrobe right now is this beautiful Panelled Sunflower Ruffle Crochet Top in White.
Where do I start with this! Firstly it's such good quality, it's a thick lace/crochet fabric, all fully lined and with a minimal white zipper at the back.
It's a very classic shirt, something like this simply won't go out of fashion, and literally goes with everything in your wardrobe. I have styled it up here with a pair of classic tailored black trousers and a pair of white skinny high waisted jeans, but a top like this would go with anything no matter what your style.
I can see me wearing this top right though spring and into summer with a pair of tailored shorts, even a pair of denim shorts, or a cute tweed skirt. I think I love the sleeves most. I am such a sucker for anything with fabulous sleeves.
I think this also come in a really cute baby pink colour too!
Last but certainly not least, I have another cute cardigan to show you! This time in my favourite colour at the moment, blue! This is the Flowers Button Down Embossed Bubble Sleeves Cardigan in Blue.
If you've been here before, you'll probably know that I'm obsessed with the knitwear at chicwish anyway, their chunky knits are always handmade with the finest quality and when I saw this chunky blue cardigan, I knew I had to have it.
I don't own anything like this in my wardrobe currently. How darling are those flower buttons, they give me all the Bridgerton vibes. This cardigan will definitely still keep you cosy while the weather is still cool, but could easily be worn as a top for when we do start to get into the warmer months.
Here I have styled it up once again with my white skinny jeans, I told you I was feeling all the light spring colours at the moment.
I think this might be my favourite piece, I can't decide, let me know which you prefer and don't forget if you want to see all my daily outfits, head over to my instagram where I mainly post my daily ootd and sometimes I little bit of something special.