So the days are drawing in and the darker nights are certainly on their way, on a morning I struggle to get out of my cozy dressing gown (yes it's back) but then on an afternoon we get bright sunshine and you arrive home from work looking like you've done a day at bootcamp in your wooly jumper. Hello autumn haha.
I actually love autumn it's my favourite season I think, I love being in my comfies all cozy, watching the TV wrapped in a blanket, but there isn't ice on the ground so you don't have to kill every outfit with a pair of snow boots.
But what the hell do you wear with this in-between weather and intermittent sunshine? Femme Luxe Finery's co-ord loungewear sets of course. As always you know I love this brand and have worn their loungewear sets since loungewear sets first became a thing ha, and once again they have upped their game. The items that I am going to show you have kindly been gifted to me.
Lets take it back to the boxy loungewear sets, no-one does them quite like Femme Luxe. I already own a black set and a white set, and have pretty much been living in them all summer. Airport travel outfits, cozy coffee dates; cinema vibes; you name it, this has been my go to outfit, so when I spotted a few other colours I was all for it.
First I picked up this khaki set. Now shades of green are going to be really in this Autumn, you know like maroon was the in colour for last season, well green is the colour you'll want everything in this season, from olive greens to leafy greens; and I love myself anything khaki anyway so this was a no brainer.
The next set I picked was this dogtooth set, you know I love me anything black and white anyway but…. Dogtooth is just another all time fave for me, it's also going to be seen a lot this season. I feel like autumn is always the season for houndstooth, but yep walk into any Zara store right now and I bet you will spot at least one dogtooth item, so this also had to go in my basket.
Now this summer it's been all about the cycling shorts right? I know they came in last summer too, but I didn't really take to the trend then if I'm honest, but this season, I couldn't get enough, I feel like paired with tailoring or an oversized T-shirt, this season they were just a total vibe, and I have to say it did break my heart slightly to have to pack mine away along with the rest of my summer wardrobe last week.
But low and behold, Femme Luxe has brought out a knitted cycling short co-ord, a knitted cycling short loungewear set! This is literally my new favourite two-piece and in my opinion the best thing to wear right now with this temper mental weather. We still have sunshine, so you don't feel like a complete Wally in shorts, but it's also super comfy and warm.

The quality is insane, it's not itchy; it's super soft. I wore this recently to travel home from Spain and I felt super comfy yet so stylish. You can wear the top oversized or knot it to make it cropped. You can literally style this however you like which is great, as it will suit all body shapes and sizes.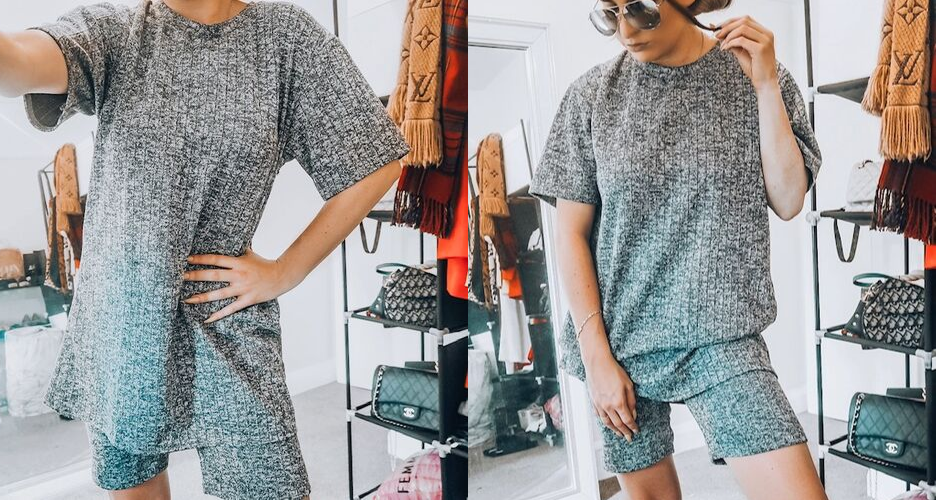 Obviously because I loved it that much I ordered it in both a grey and a black colour, I want to say they had another colour too, I think it was like a metallic, so I guess watch this space as I am pretty sure I need all of the colourways in this two piece.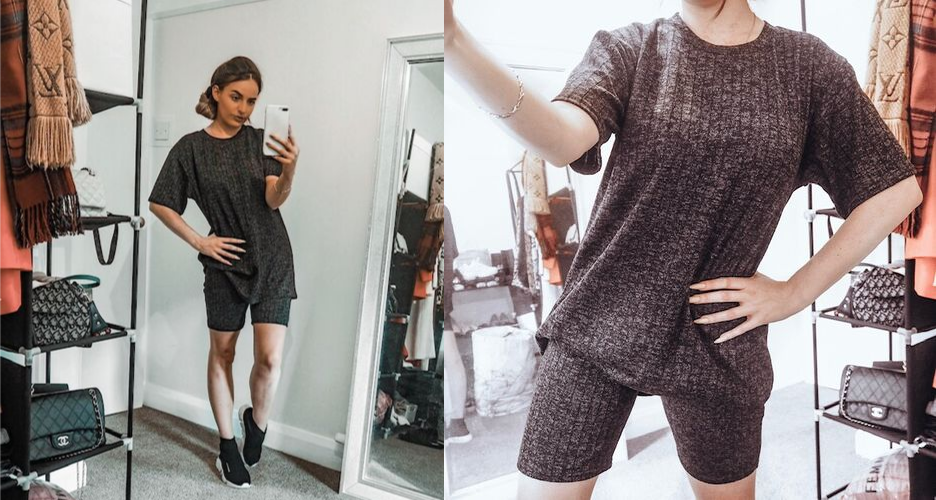 I literally feel like I need every piece of Femme Luxe Finery's loungewear collection, and I am super excited to see what new pieces they come up with as the weather gets colder and we get more snugglier for the winter time.
I couldn't recommend Femme Luxe enough, and especially for their loungewear sets, if you haven't tried one yet, I would highly recommend in investing in one. They are super affordable too so you don't even need to break the bank to look like an absolute autumnal boss this season.