I remember when lockdown first started and I was still opting for a blazer, a pair of jeans or a flared trousers combo for my day, as time has gone on I fully embraced my love of loungewear and joggers seemed to be the new everyday attire.
Now I find myself wanting comfort but also wanting to look slightly put together, don't get me wrong my love of loungewear and joggers alike hasn't gone away but I've been trying to add a few more chic basics to my wardrobe.
Along with everyone else I have been loving the shoulder pad tee trend this year, they are the perfect way to make a basic outfit look a little more put together and bring back the lack of structure in our wardrobes.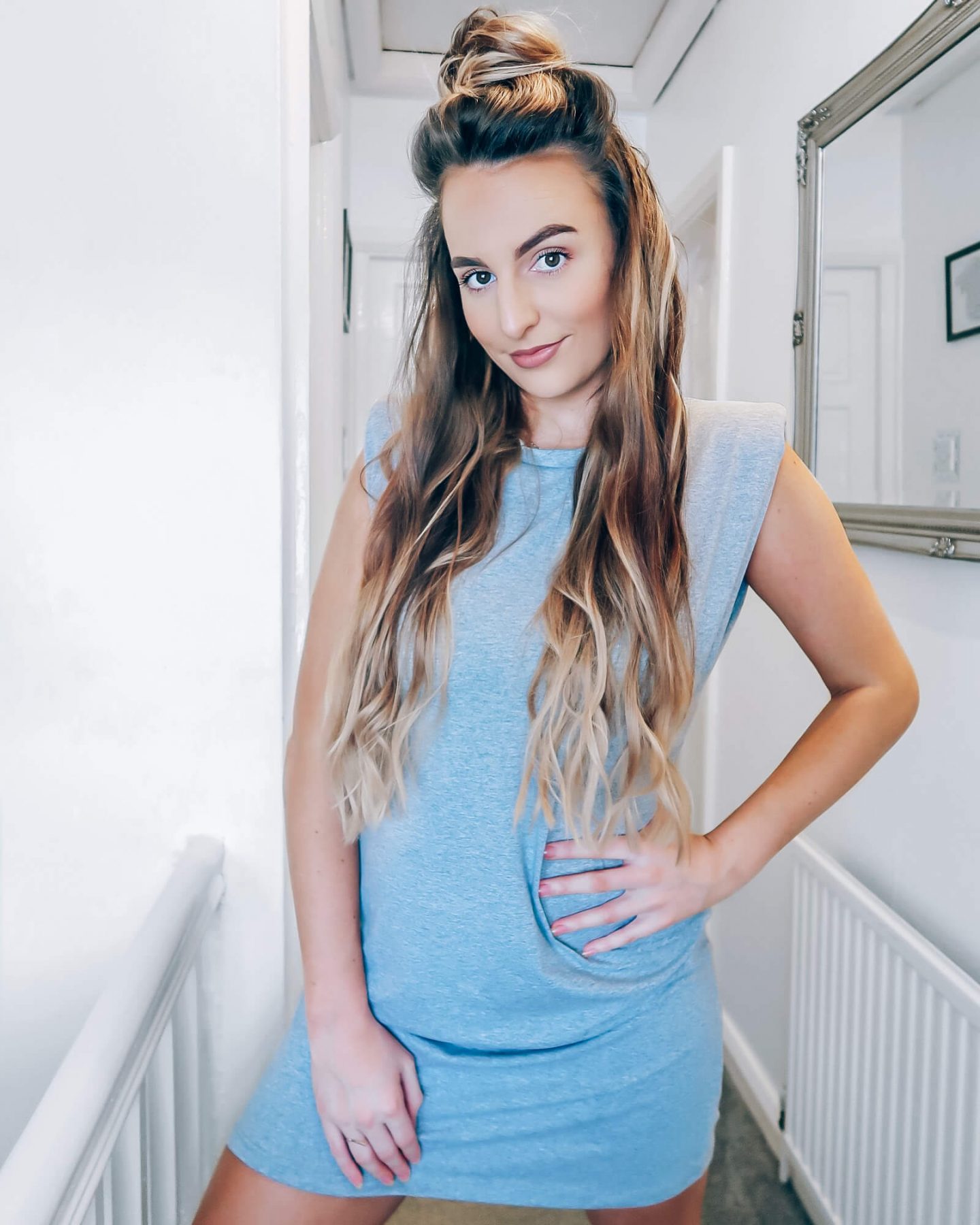 I was so excited when I found that Femme Luxe had taken the structured tee trend and make this into a dress. The padded shoulder sleeveless mini dresses are my new favourite basics. Especially when the weather is warm – and I've heard that the British summer is to make a return from next week so you can bet I'll be in these dresses for the majority of the week.
I do get a lot of wear out of the tee's whether I'm pairing them with a simple pair or shorts, some knitted joggers or denim, so I'm certain the dresses will have the same affect. Hence me picking this up in two colour-ways.
Whether I pair them with sandals, converse, vans or the likely option (slippers) these will be the perfect work from home outfit. If I'm on a video call the structured shoulder pads will be prominent, but on my bottom half I'm comfy as hell.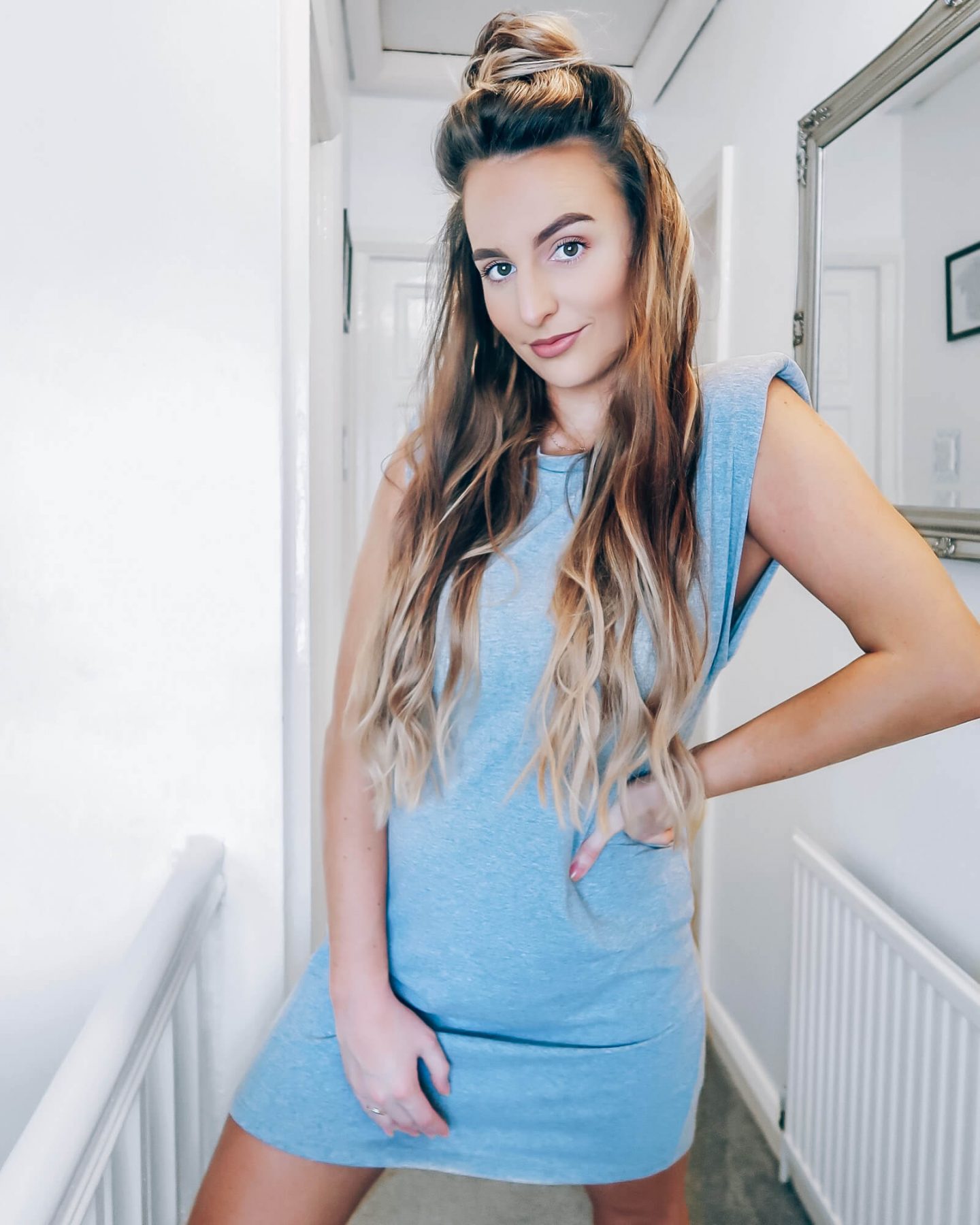 Even if the weather does happen to take a turn for the worst, these will look great layered with a big fluffy cardigan and even a lumberjack jacket! I decided to go for plain grey and plain black, I think they also had a nude version, potentially some pastel colours and I may have also spotted this one in tie dye.
As much as I love tie dye, and have worn a lot of it over the last few months, sometimes – well most of the time, you just can't beat a good simple classic. Also I don't feel like these dresses will ever date, they are simply a basic that I'm so pleased to have in my wardrobe.
When things do eventually go back to normal, I am fully aware that this might not be for another year, or potentially two, these will be the perfect day time dress on holiday, thrown over swimwear with a big floppy straw hat, some tan sandals, a wicker beach bag and a piña colada. Now that would be a look and an experience!
My next new item is another knitted co-ord, I don't know if you saw my previous fashion post were I picked up a little knitted short set in both beige and black but yeah I loved them, the only thing was keeping the top tucked into the shorts, I just wished it was a little longer.
I have found a new ribbed knitted co-ord, again on Femme Luxe and the top looks longer for sure, it also has more of a turtle style neck. It's not a full turtle but it does look pretty high and I can just imagine when the cooler weather does return, this co-ord, an oversized white cardigan, the fluffiest white slippers and a pumpkin spiced latte.
Again they had this little set in a few different colours, including some nice pastel colours and a classic black but I really liked this stone colour, well I think it's called stone, but to me it looks more of a salmon pink colour, and I don't think I have anything this colour in my wardrobe. I definitely don't have a co-ord or a knit in this colour anyway, that's for sure.
The last new addition to my wardrobe is this white button up collar mini dress. This gives me so much tennis vibes. I don't play tennis, actually I don't do any sports, but I do love tennis style fashion.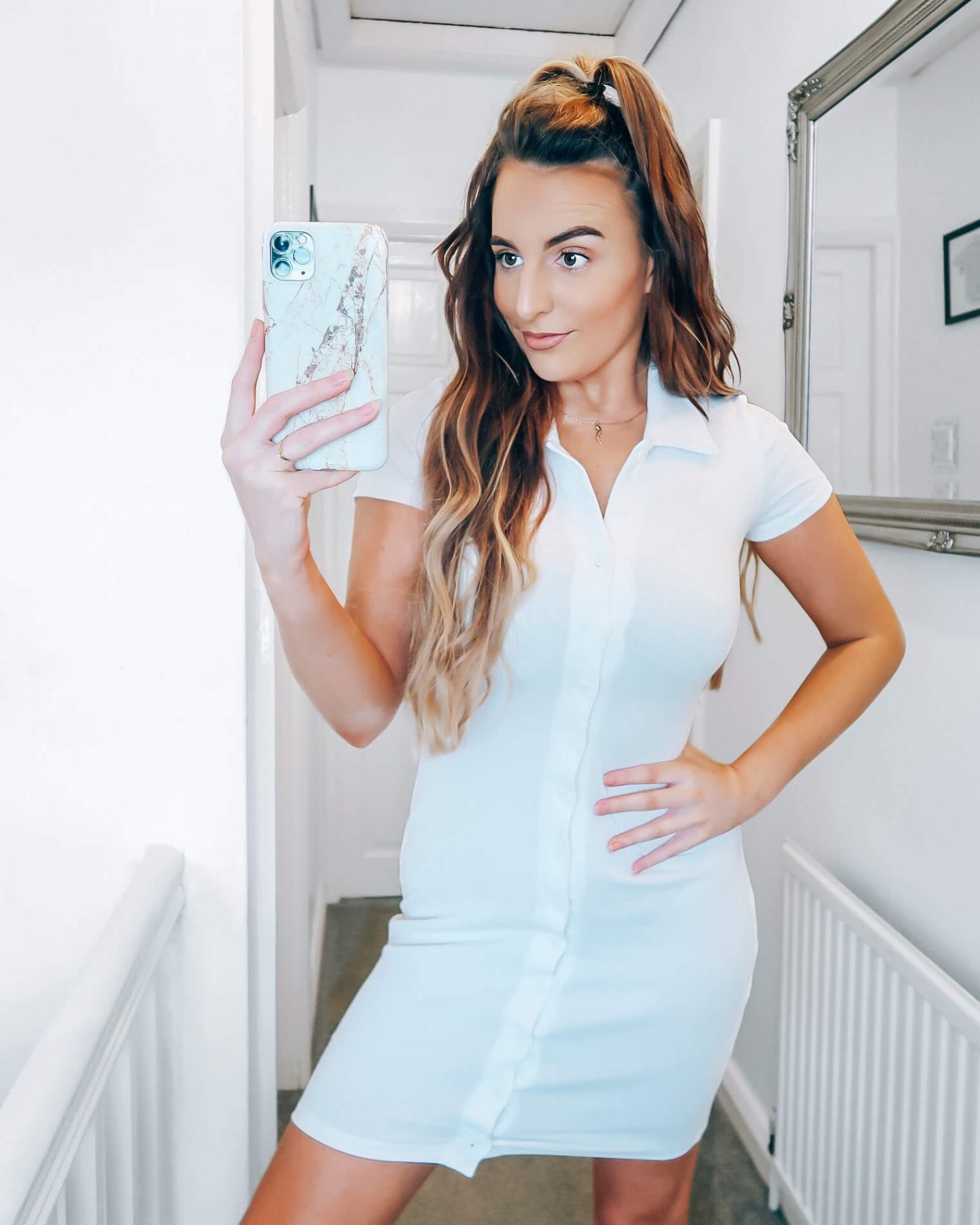 The polo's, the polo style dresses like this one, the little white pleated skirts and of course the signature jumper tied around the neck look. This is the perfect summer throw on, comfy yet chic and of course classic.
What's your favourite look from the post; 1, 2, 3, 4?