Hello, Happy New Year and Happy 2021! I know the start to this year hasn't been the best, but we can only hope for a better 2021, I wish you all the happiness and health in the world!
So what have I been up to since Christmas? well not a lot actually. I've been back to work during the day and my evenings have been spent watching Netflix haha. New Years Eve, I watched the countdown on TV of course with lots of lovely food and a few glasses of fiz. I dressed up for the occasion to sit in my living room, because… well why not! and you know what, I had a lovely evening.
New Year's day, I had a complete day off which I haven't done in quite a while, I let myself have a bit of a lie in, just from the late night, I ate lots of good food and watched a lot of Netflix. I think it was the first New Year's Day in years that I haven't woke up with a hangover so that felt fabulous.
If you don't know, I actually don't really drink alcohol anymore, after years of going out and drinking too much in my late teens and early twenties, my body just hates alcohol nowadays, I only really make an exception for special occasions like New Years, Christmas, Halloween & Birthdays, but seen as though we're in lockdown, the exception this year was a few glasses rather than what probably would have been a few bottles if we were in a normal world. So cheers to waking up feeling fresh on New Years Day.
Today is the 2nd January and we have finally had some snow here in the UK, by the time I'd got myself up and ready, admittedly it had all melted so I couldn't get any snowy pictures for proof, but it definitely did snow haha.
I also had an exciting delivery today! Some new in pieces from Chicwish! You'll have heard me talk about Chicwish before, they are a brand I have recently discovered during lockdown and work with here on my blog to show you some of their new in pieces.
My favourite pieces from Chicwish are their knits, they have THE best collection of chunky knits and let's be honest, we're all going to be living in cosy knits for the next few months at least.
Does anyone remember the Cuteness On Sleeves collection from Chicwish, these cardigans are my all time favourites, handmade with super chunky wool! Well if you loved those, then let me show you their Knit Your Love Collection!
The first new knit I have to show you is from the 'Knit Your Love' collection and it is this cute turtleneck sweater in white.
It's super thick and chunky, and has these small knitted hearts all over the sweater which is trademark for this collection. I love it!
I picked this up in a S/M and it's definitely true to size, it's the perfect fit.
The next new knit I have to show you is this cable pom-pom eyelet knit sweater in grey, now I think the grey one is out of stock at the moment because I can no longer find it on their website but they do have this in a really nice rust colour and I think a pink.
I picked up this sweater in a S/M and again it's true to size, that's another thing I love about Chicwish, they are true to size. If you want an oversized look you can simply size up, which I often do, especially with the coats so I can fit these chunky style knits underneath.
But these knits are so chunky and thick anyway that you can just get your normal size.
The next new piece I have to show you is this 'Knit Your Love' v-neck sweater in lavender. As much as I love big chunky turtle necks and polo necks, sometimes I like a bit of a different neckline, especially as we start to move into Spring and nothing beats a classic v-neck.
I've never owned a v-neck knit in such a chunky yarn though, so I think this is really unique, you can also style this off the shoulder if you prefer which I also think looks amazing.
All of these knits come in a range of different colour-ways, I did struggle to select a colour for this one, because I was tempted to get the camel colour but I thought, I don't have anything in this Lavender colour and it really stood out to me.
For us here in the UK, it will still be jumper weather for the start of Spring too, so this pale lavender colour will be perfect for many months to come as word is lavender will be a big hit this Spring again.
For size reference I picked this up in a S/M also!
The last item I have to show you, but not the least! is this 'Knit Your Love' cardigan in army green. As I mentioned I am obsessed with the cuteness on sleeves cardigans, so I had to pick up a knit your love cardigan too!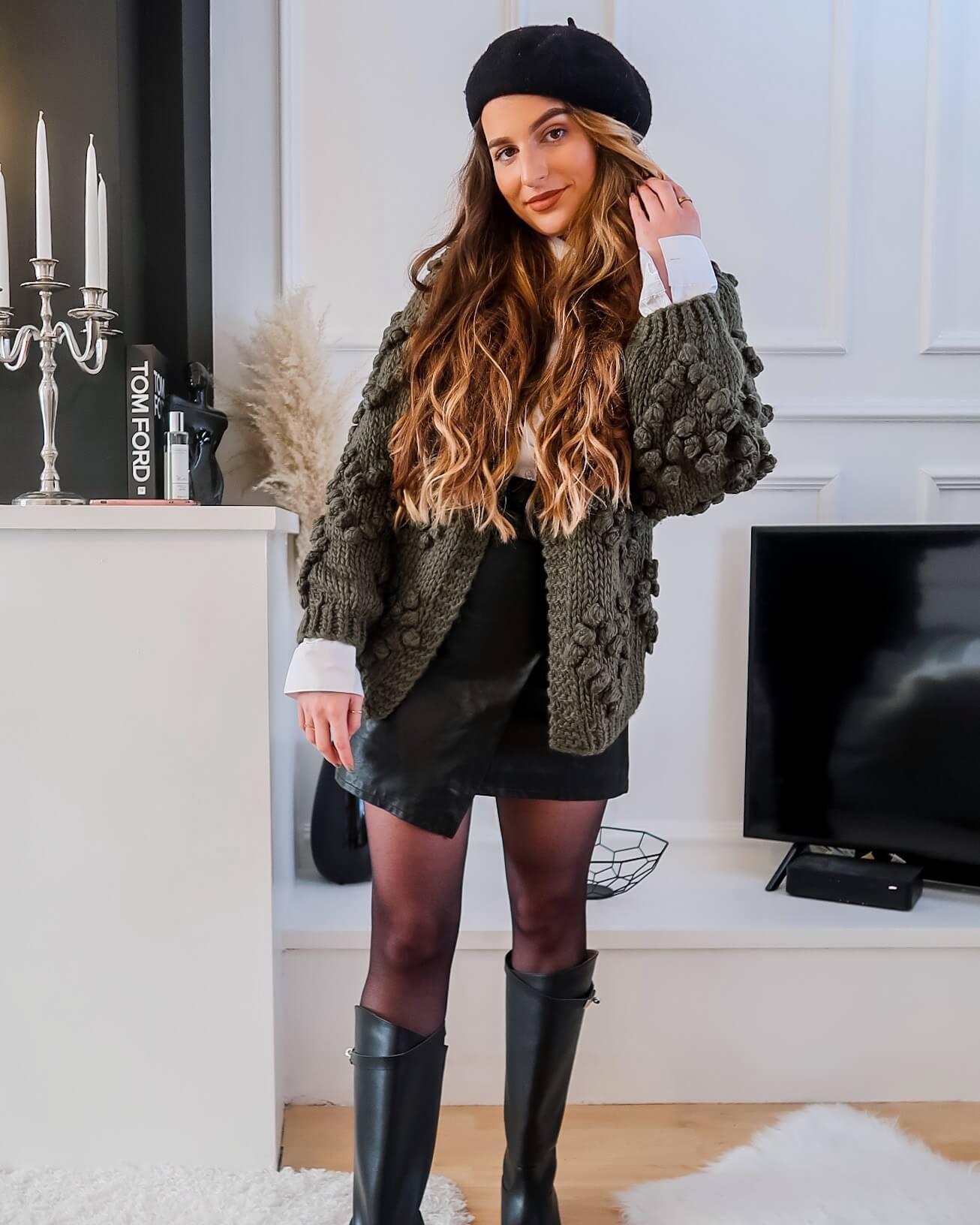 I usually upsize in the cuteness on sleeves cardigan's but I decided to go with more of a fitted look this time, so I picked up a S/M in this one.
I love it, I love the heart details and the thickness of the cardigan. The quality really is second to none. You can tell they are really handmade with love.
Again this cardigan came in lots of different colour-ways but I really loved this army green colour as again I don't have many things in my wardrobe this colour, least of all knits.
I hope you enjoyed this post. I'm sure you will be seeing lots of these pieces over on my Instagram over the next few months, if you are not already following me on their, my handle is @holajoannekennedy. Come and say hello and don't forget to let me know your favourite piece!