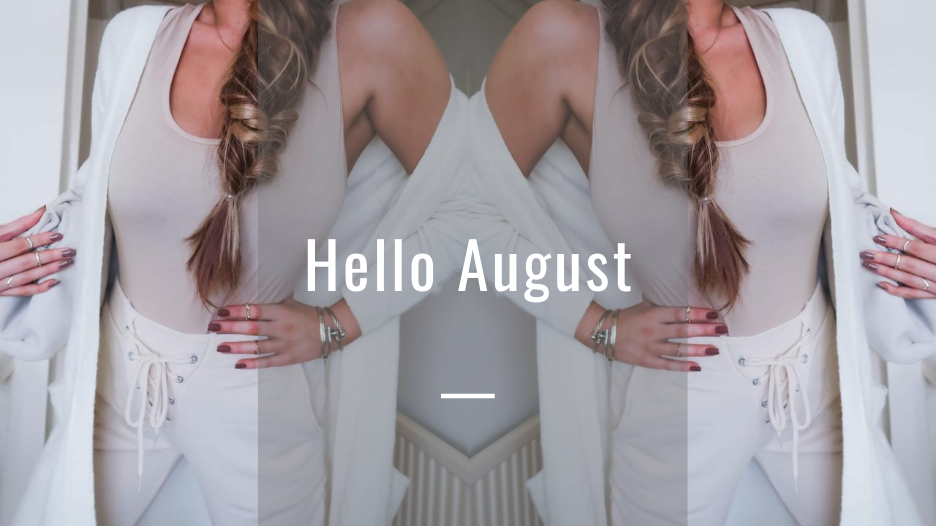 Hello August; it feels rather surreal saying that. This year has just flown by. Whilst I haven't done much that's exciting, not for the last however many months at least. I have woke up everyday feeling grateful for the day ahead, grateful for what I have in my life and grateful for my health and the health of those close to me.
Whilst I may not have any upcoming plans, I make daily to-do lists and I feel like I have accomplished a lot in these last few months. The rewarding feeling of marking off something I've achieved on my list never goes away. If you have been struggling at all in these trying times, I highly recommend making to-do lists, getting around to all those little things you wouldn't usually have time to do.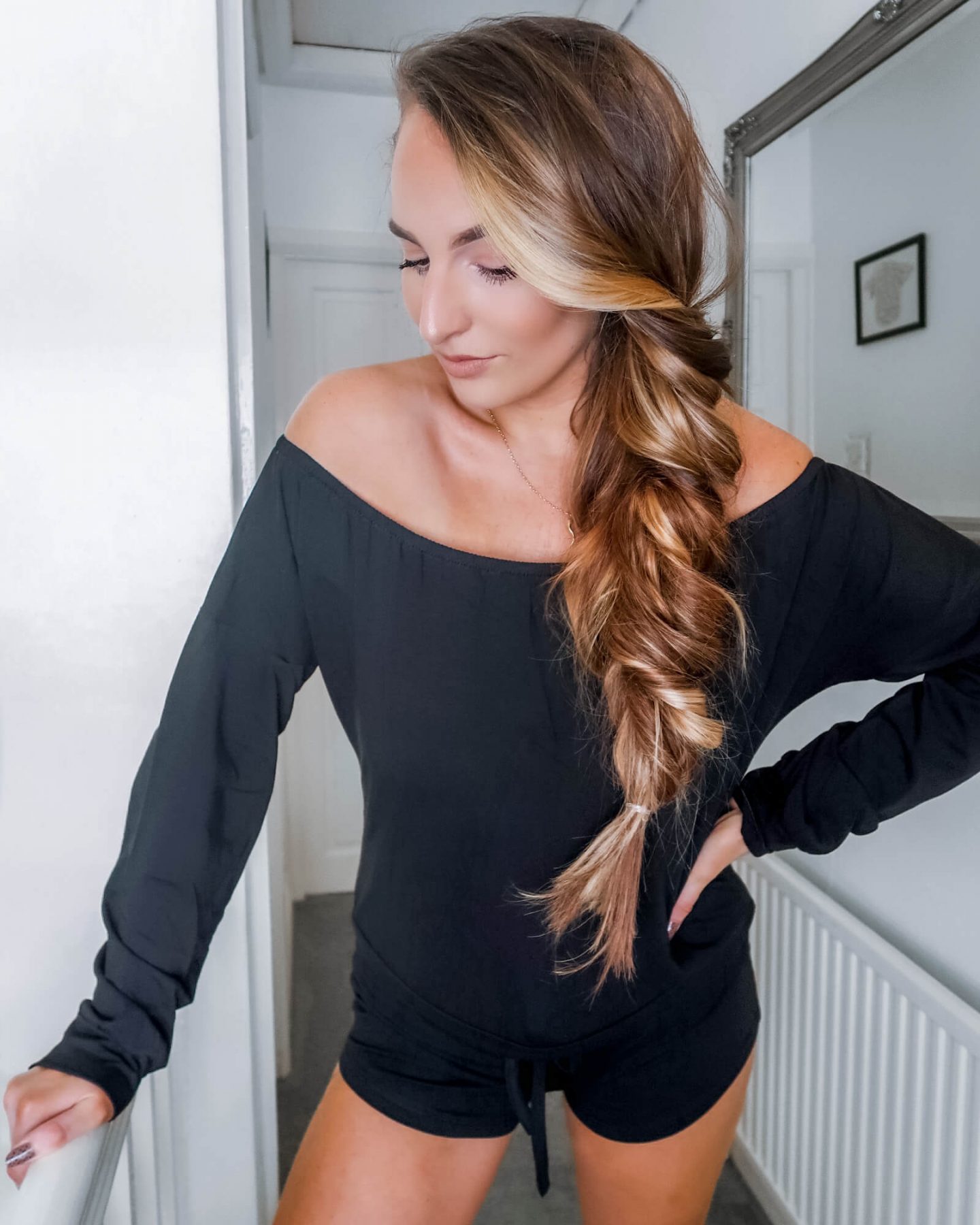 So it's August, it's a new month, the weather in the UK has actually felt like summer again, and we have just had a mini heatwave. See, lots to be grateful for. The sun is seeping in through my blinds as I write this and I'm hoping to get out in the garden this afternoon in my new little summer co-ord.
This cute little black bardot co-ord is the perfect easy throw on for a day in the garden. It's comfy, it looks 'put together', the sleeves can be rolled up when your in the sun. and you won't get any strap marks if you do happen to be fortunate enough to be a natural tanner.
I sometimes think the simple outfits are the best, especially little matching sets, they don't look like you've tried too hard and they are the perfect easy wear for those days you don't know what to wear.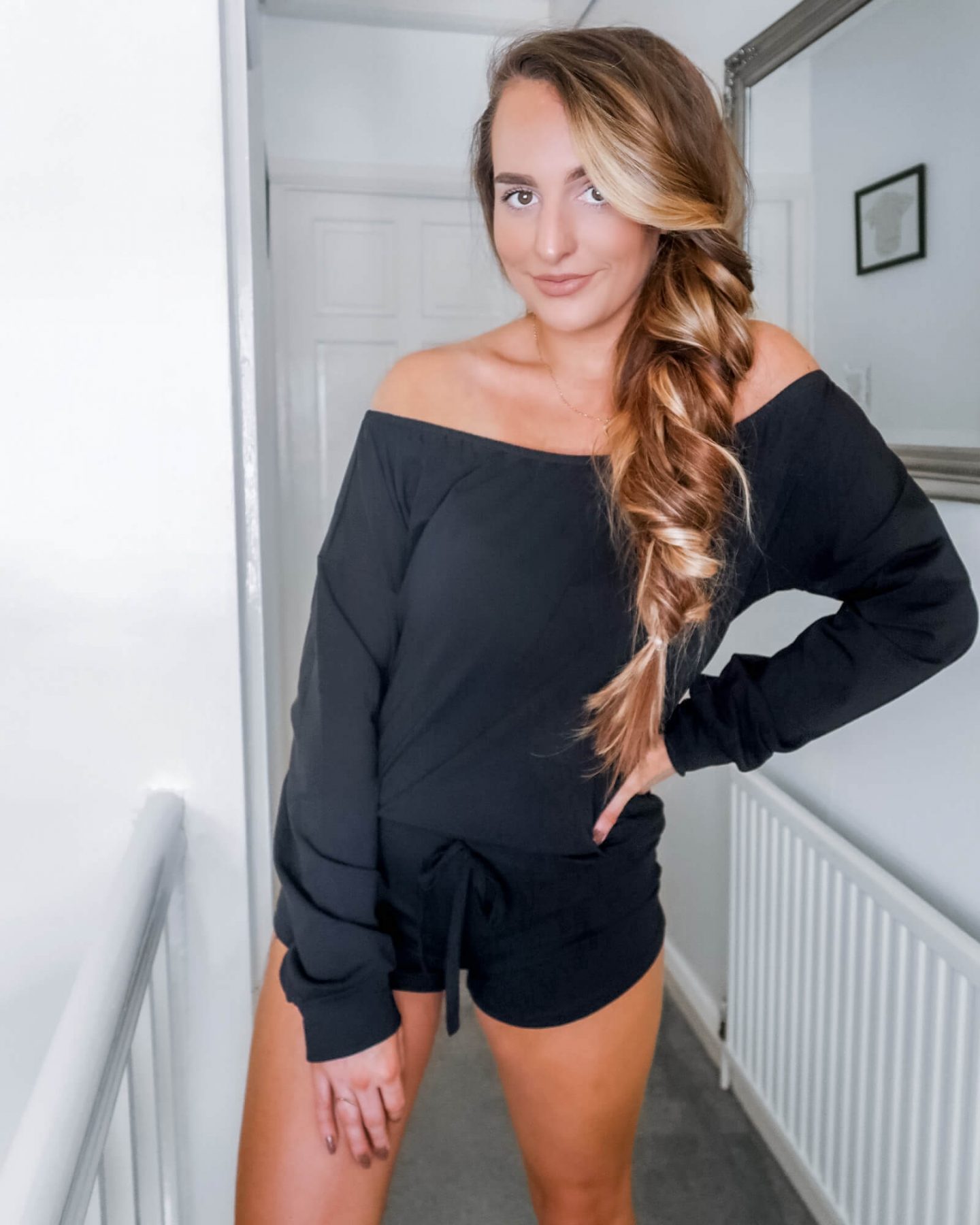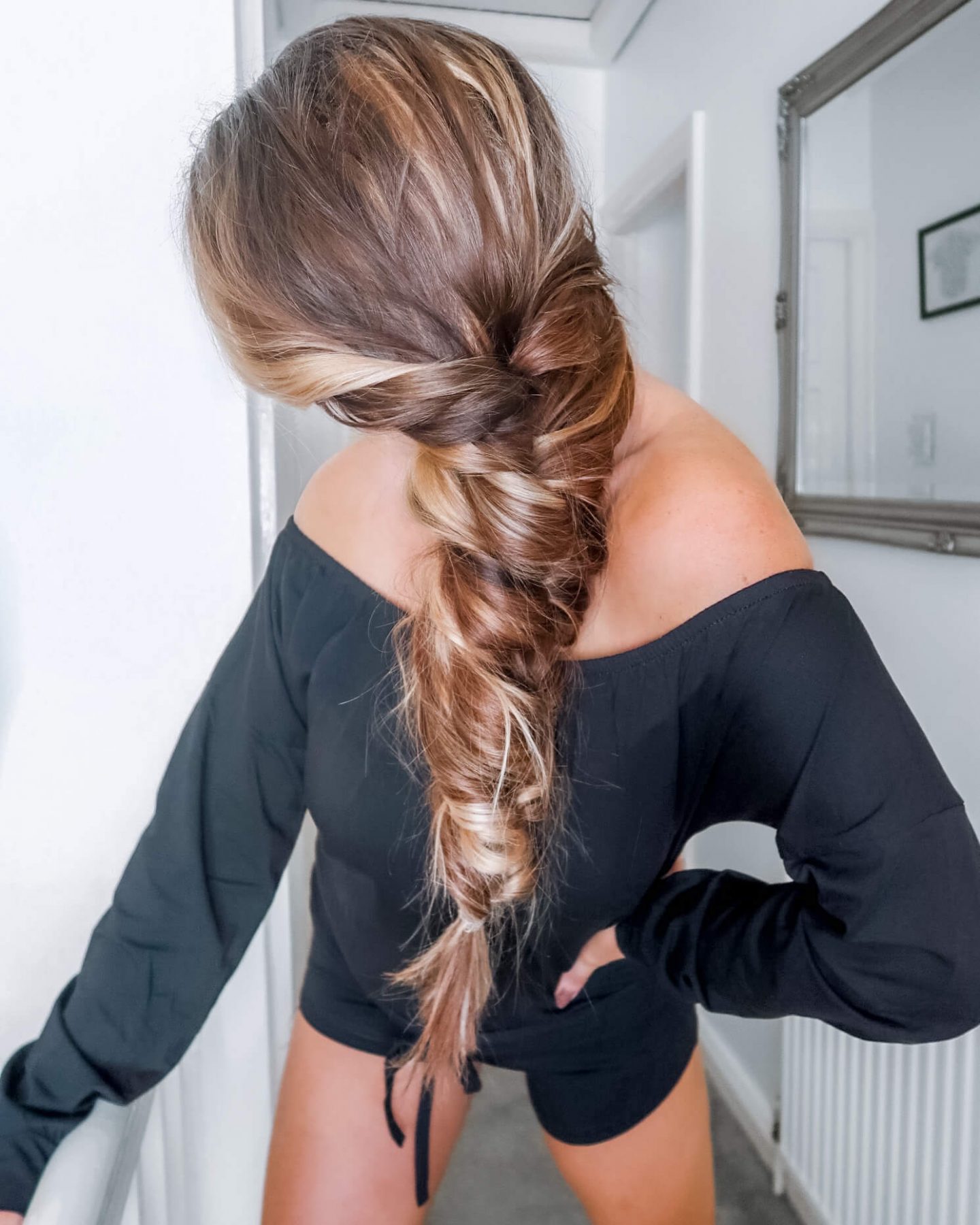 I picked up this little black loungewear set in a size L which is a UK 10/12 – the fit is perfect, the shorts feel like a 10 which is my usual size and the top has a slightly oversized feel to it, so I'd say the top is more like a 12. Perfect.
My next new wardrobe addition is these cream lace detail joggers. They are more of a fitted jogger for a comfy yet chic look and have this cute little lace up detail to the front.
I picked up these in a size M for reference which is a 10/12 and they are true to size and fit perfectly.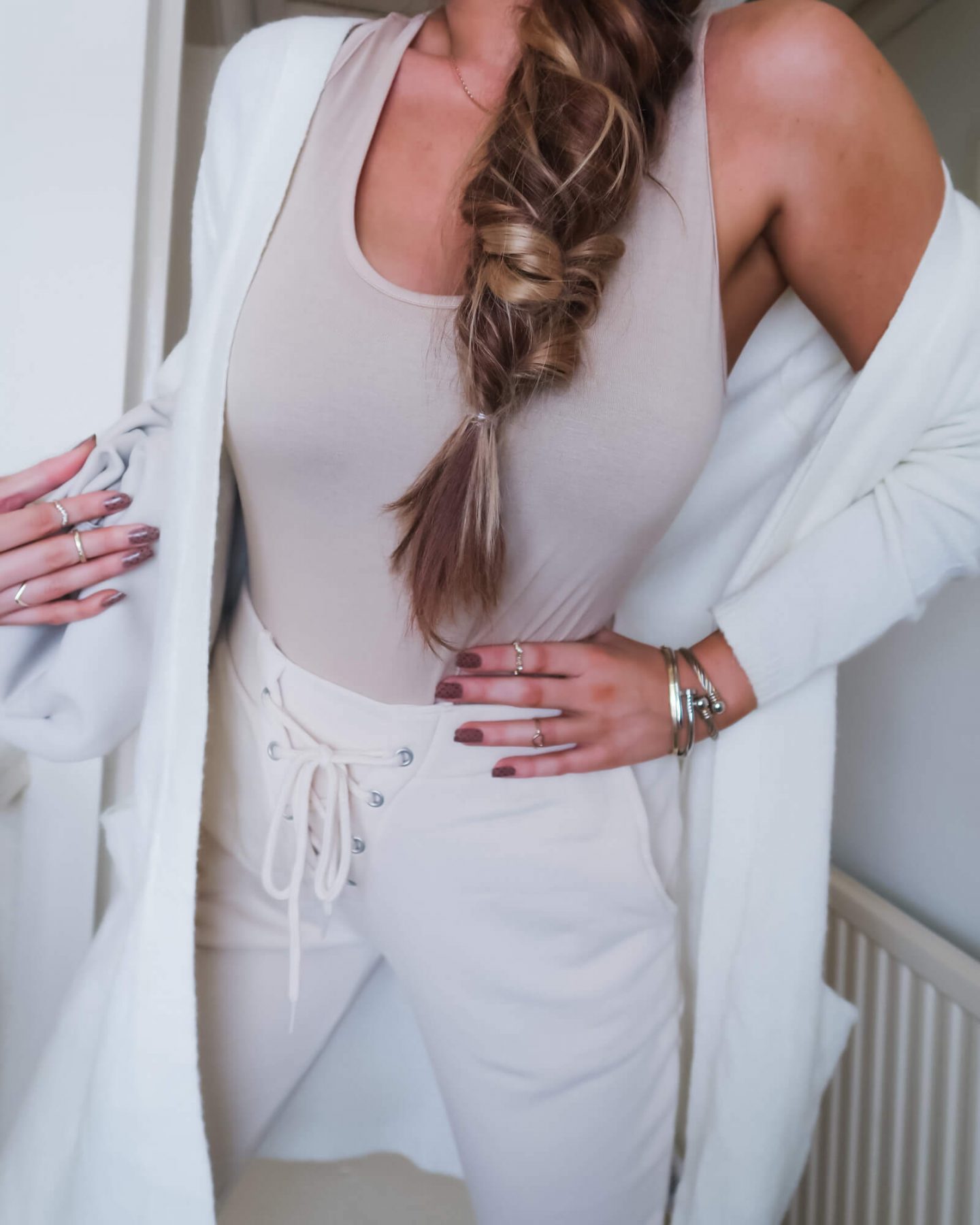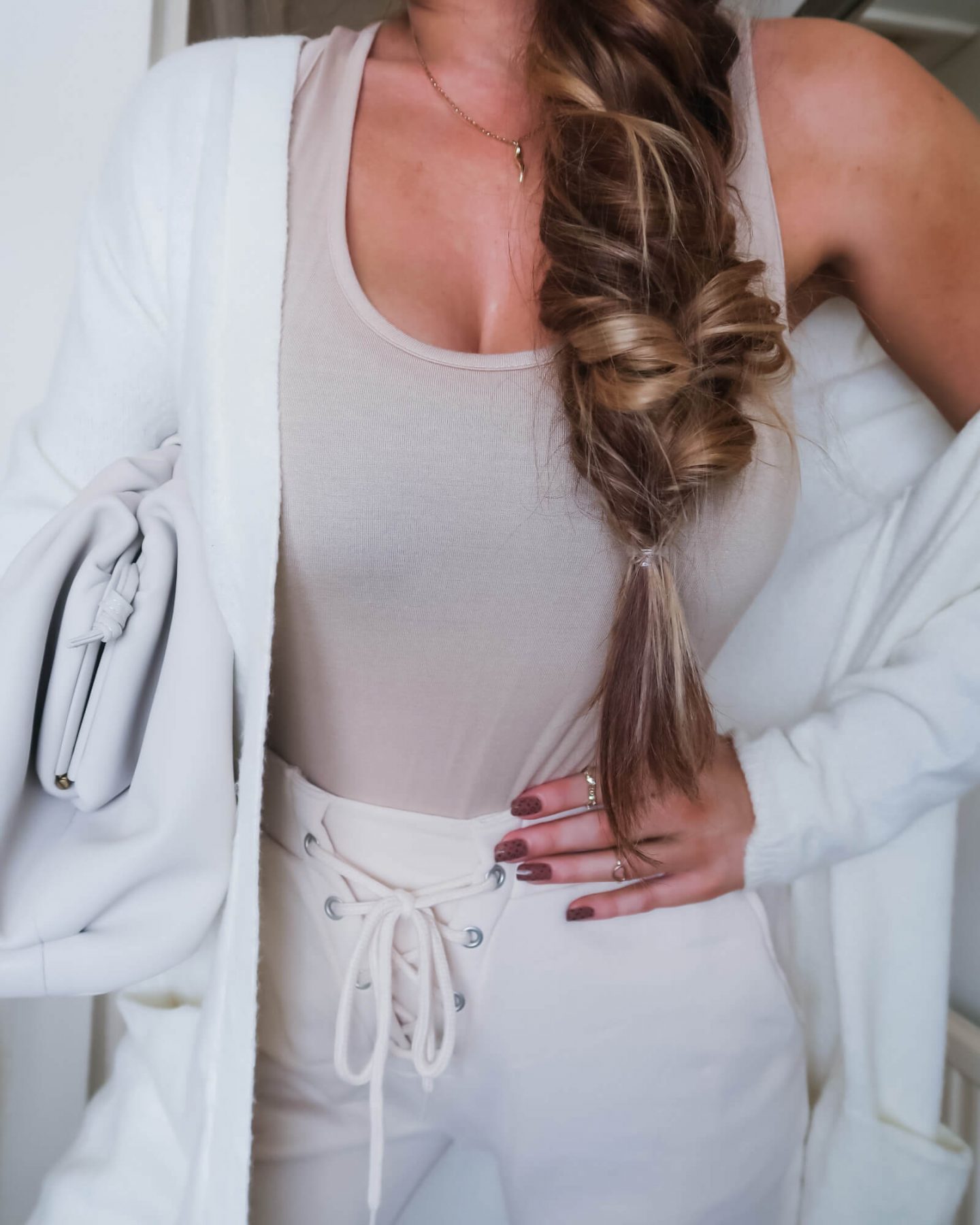 I was feeling the neutrals with this look and have paired them which a nude bodysuit, white oversized cari and cream pouch clutch bag. Any basic style t-shirts would be great with these. Not going to lie, I haven't used a handbag in about 5 months now as I haven't actually been anywhere, but it went with the outfit so well.
Back to another cute co-rd. I have picked up this lilac short sleeved boxy loungewear set. Anything lilac I have been obsessing over this summer. Fun fact: purple used to be my favourite colour when I was growing up and it's becoming a fave once again!
If you have read my blog posts before or have followed me on Insta for a while, you'll know how much I love Femme Luxe Loungewear. In particular you'll know how much I love their boxy loungewear sets.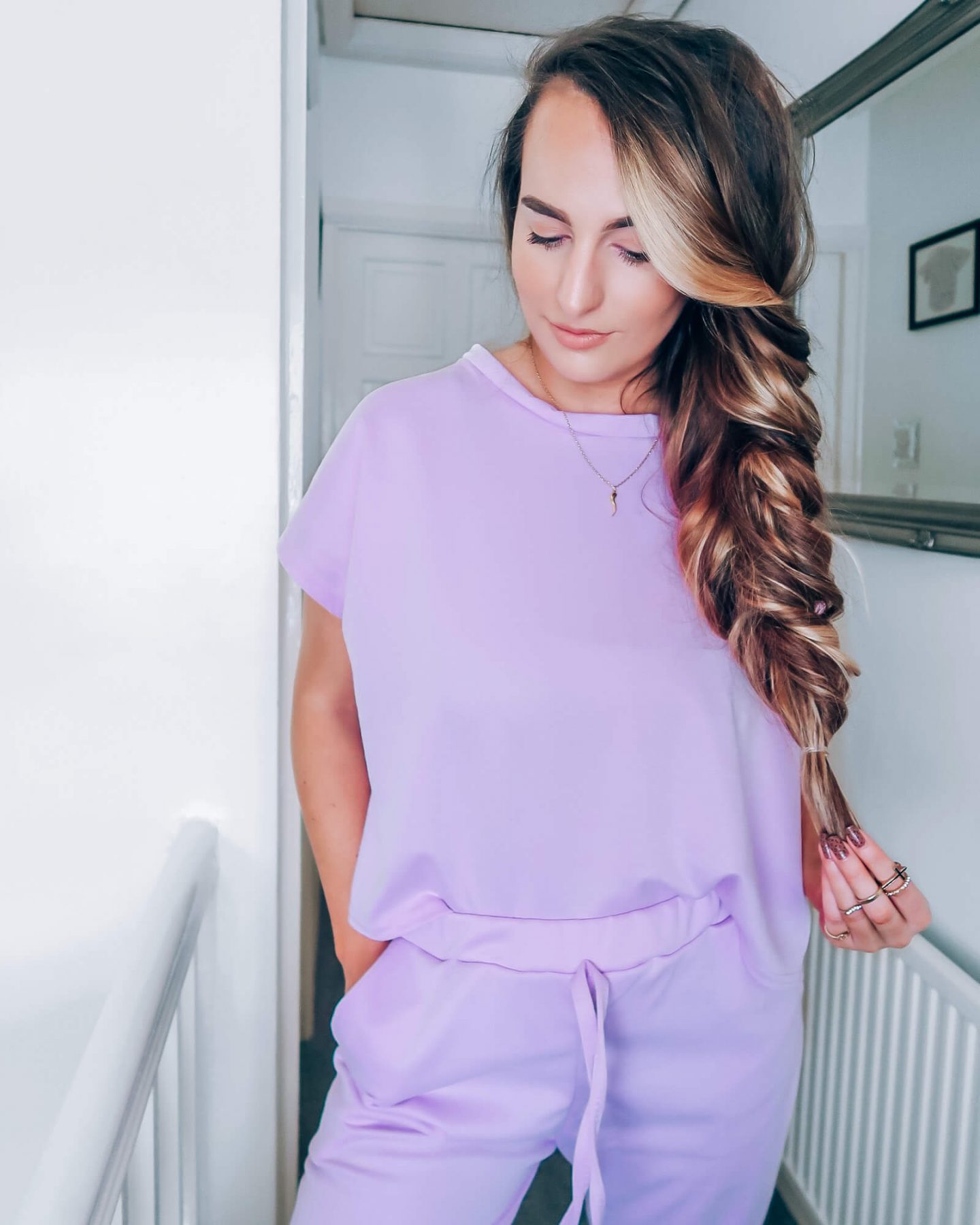 I have so many different colours of this set, from black to white, to khaki and even houndstooth. Every season I think I pick up this set in a seasonal colour. I love the fit of them and they are THE comfiest thing to wear.
I pick up these boxy loungewear sets in a size M/L which is a 12/14 – I'm a 10 on bottoms and a 12 on top so I'd say these come up slightly small and to upsize if you want a relaxed oversized fit; which is how I like mine.
I'd say if you get your usual size the top would be more like a crop which I'm not keen on so I always upsize in these. Working from home these last few months has given me a new found appreciation for loungewear. I loved them before but as they aren't really office attire I didn't get half as much wear out of them as I do now; hence the need for another colour-way!
The last bit of newness from me is a piece from another trend I have been loving this summer; tie dye. Again if you read my blog regularly or follow me on the gram you'll see I've been sporting a fair bit of tie dye in these last few months.
I can see me sporting it throughout Autumn Winter too. Especially in darker colours like these black tie dye cuffed joggers. These are what I'd call a pair of typical joggers. Oversized, cosy and comfy.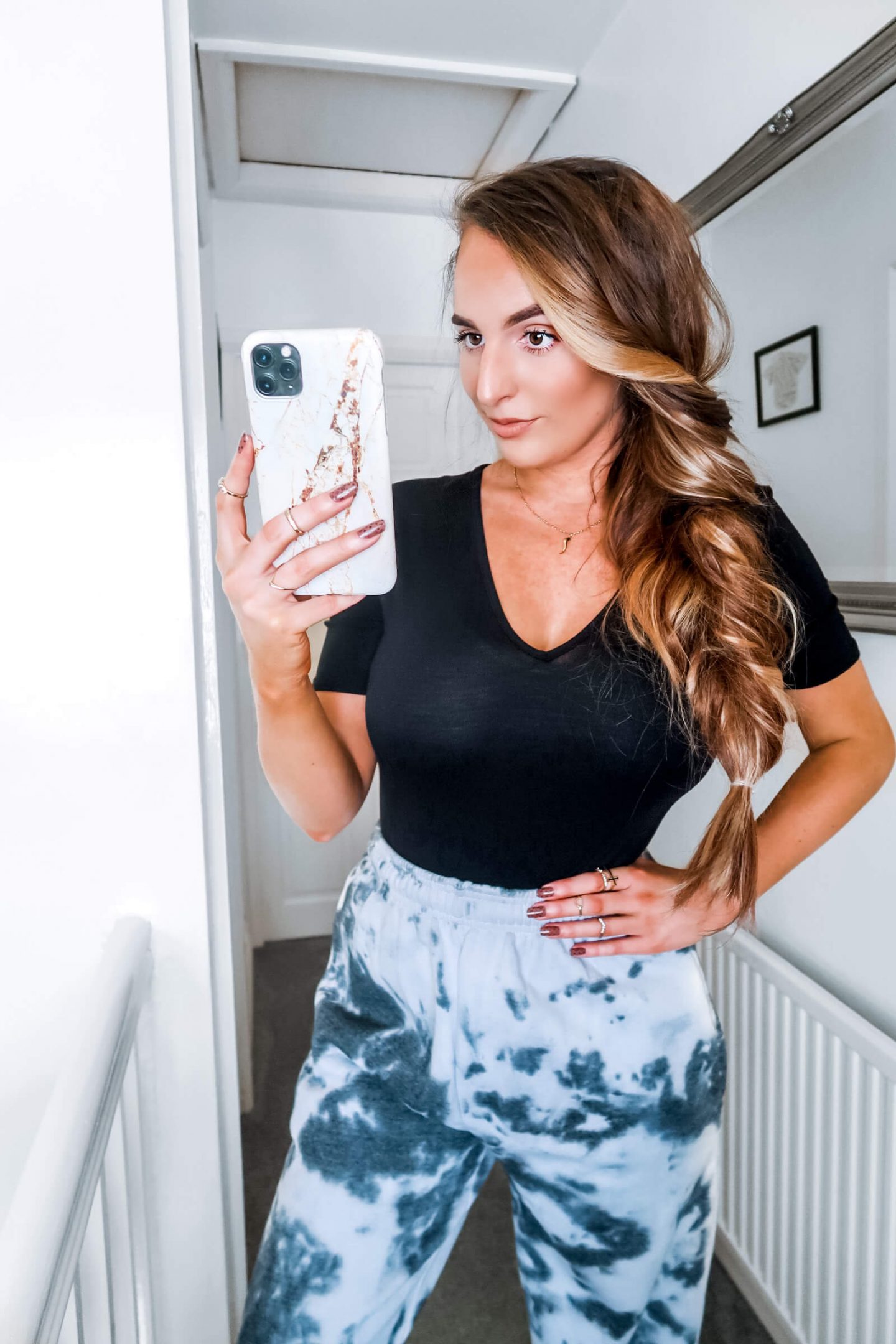 I picked these up in a size 10 and they are true to size for an oversized style jogger. As soon as that weather takes a turn again I'll be straight in these bad boys. I also think they'd make really cute PJ bottoms for winter time!