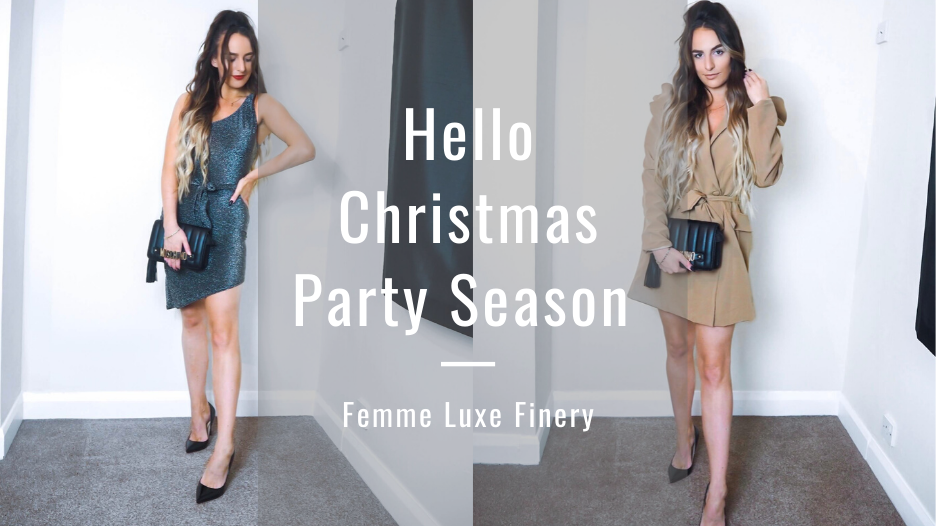 Hello Christmas party season! And that only means one thing; it's time to treat yourself to some Christmas party wear for all the upcoming festivities. I don't think I have one weekend free from now up until Christmas, which is just mad.
Nowadays I rarely go out on a weekend, I usually only make it out on special occasions and the like. So my usual attire doesn't really include dresses anymore. But as soon as November and December hits, that's my weekend plans full of festive evenings and the perfect excuse to get out my sparkly dresses again… or potentially treat myself to some new ones.
I am working in collaboration with Femme Luxe Finery on this post; which if you are a regular reader of mine, you will know that I absolutely love this brand and I am luckily enough to work with them on a regular basis. For today's blog post I have selected 4 Christmas party outfits to show you from their website.
I have chosen 2 amazing dresses and 2 'going-out-out' tops and I have pretty much sorted my outfits now for the whole of the festive period ahead.
Some occasions a dress isn't quite appropriate but you still want to look smart and dressy; and festive of course, so I think a nice statement top with jeans is the perfect outfit.
The first top I am going to show you is this Black Front Ruffle Mesh Shirt – search Priscilla on the website. I have been really into the whole mesh and organza shirt trend over the last few months and I think this shirt looks super luxury and expensive.
I have paired it with some black-coated leather jeans; a black clutch, some black ankle boots and a bright red lip. I feel like this is such a chic look for the festive period. I love an all black outfit anyway but paired with a red lip just really ads a nice pop of colour to the look.
I picked up this shirt in a size medium and have just popped a little black cami underneath as I do not like to wear my mesh / organza shirts sheer, but you can always pair it with just some black underwear underneath if that is your style.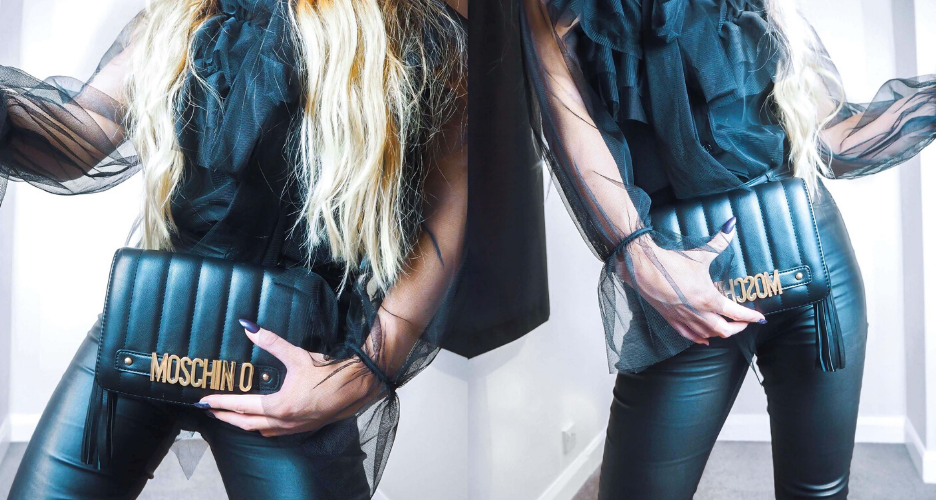 The next item I chose was this beige classic double breasted mini blazer dress, search Mason on the website. I am so in love with blazer dresses, I always find them super sophisticated yet stylish. I am a blazer girl through and through and a blazer made into a dress, well that is just a dream.
Again I picked this up in a size medium and paired with a small clutch and some black heels I feel like this is the perfect party outfit. The fit is just incredible and the quality of the fabric is just a dream.
It is a tailored fabric, not the usual stretch fabric and it has some incredible structure to the shoulder pads, and therefore probably is my new favourite blazer dress I own.
The next item I chose is another mesh, organza style top, but this time in a cute pastel pink colour. Again it's sheer so I just threw on a black cami underneath. Usually I would suggest a white on nude cami under, but I only had a black to hand and to be honest since I styled this up with black boots and black leather trousers I feel like the black under layer actually works.
This nude metallic mesh frill top is called Chloe on the website. Again I picked this up in a size medium and can be worn tucked in or out of trousers, depending on your personal preference. I think the ruffle details on the shoulder and chest area really give this top something extra special, and that's why I think it's a perfect option for the upcoming festivities.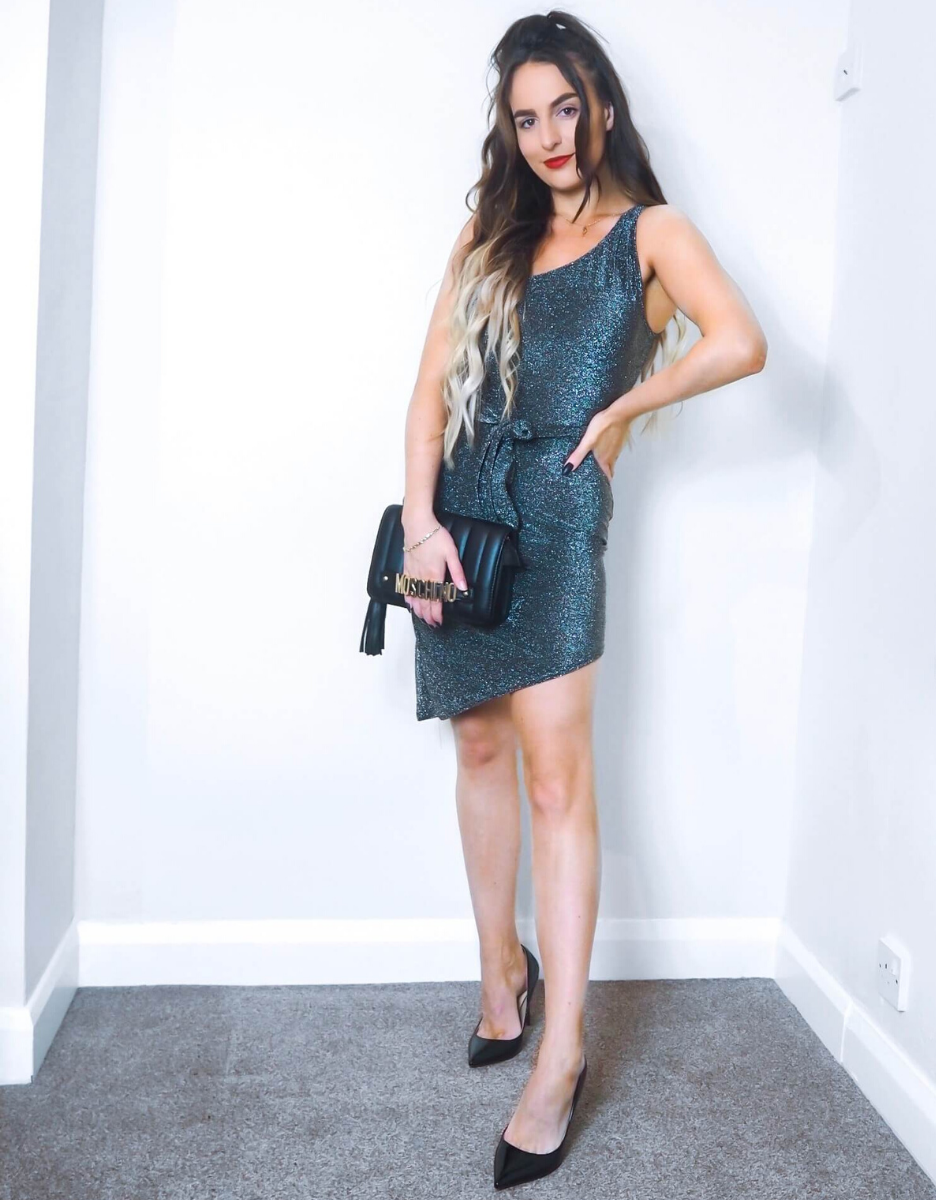 The last option I chose was this silver glitter one shoulder belted bodycon mini dress. Sometimes it's nice to go all out, and whether your shopping for your Christmas party or even your new years eve outfit, I feel like you can't go wrong with a bit of glitter at this time of year.
They also do this dress in a luxe gold colour which is also insane but I really like the silver option, if there is ever a time for a silver sparkly dress, it's now.
Paired with some simply black stilettos and a black clutch bag and your good to go. I love the tie detail and the asymmetric hem on this dress as it just gives it a bit of edge over a simple bodycon. The fabric is a nice stretch fabric and the fit of this dress is perfect, it fits just like a glove.
Have you got your Christmas party outfit sorted yet? I'd love to know which is your favourite piece on Femme Luxe?