I think the 7th August 2020 topped the current hottest day of the year; might need to check my facts on that one, but it was for sure the hottest day in August we have had for many many years. It was actually too hot for me to sit out in, can't quite believe I'm describing the UK weather here, it was holiday temperatures for sure!
So what did I wear for this very hot day? Well I originally had on something different but I changed at lunchtime (something I often do because this British weather likes to change it's mind mid way through the day!)
I changed into my new favourite dress – I know I've said that a lot recently, but seen as though they are the same dress just in different colours I'm allowed to say it about like 4 dresses right!?
If you have read my blog posts over the last say month, or you follow me on Insta @holajoannekennedy, for those who don't – you'll know I have been obsessed with t-shirt dresses. Not any old t-shirt dresses but ones with shoulder pads in.
The shoulder pad t-shirts trend I think had us all appreciating shoulder pads again, especially because it's been too hot for blazers most of the time. I was for sure missing some structure in my outfits, but It's been hot and I've been working from home, so comfort had to come first. That was until the shoulder pad tee appeared. Followed swiftly by the shoulder pad dress!
I already have this dress in black, grey and blush pink, but I've been wanting to get my hands on the white version. Whenever the day starts cooler and I have on say a long sleeve shirt or a loungewear set, as soon as the afternoon brings some warmth I always change into these dresses, so they really have got their wear and I know the white one will too!
These dresses are actually now in Zara too and other online stores, but Femme Luxe was one of, if not the first to hop on this trend and they are super affordable so I would highly recommend checking them out.
For sizing reference I always pick up these dresses in a size M/L which is a 10/12 and they fit true to size – they have a nice relaxed fit.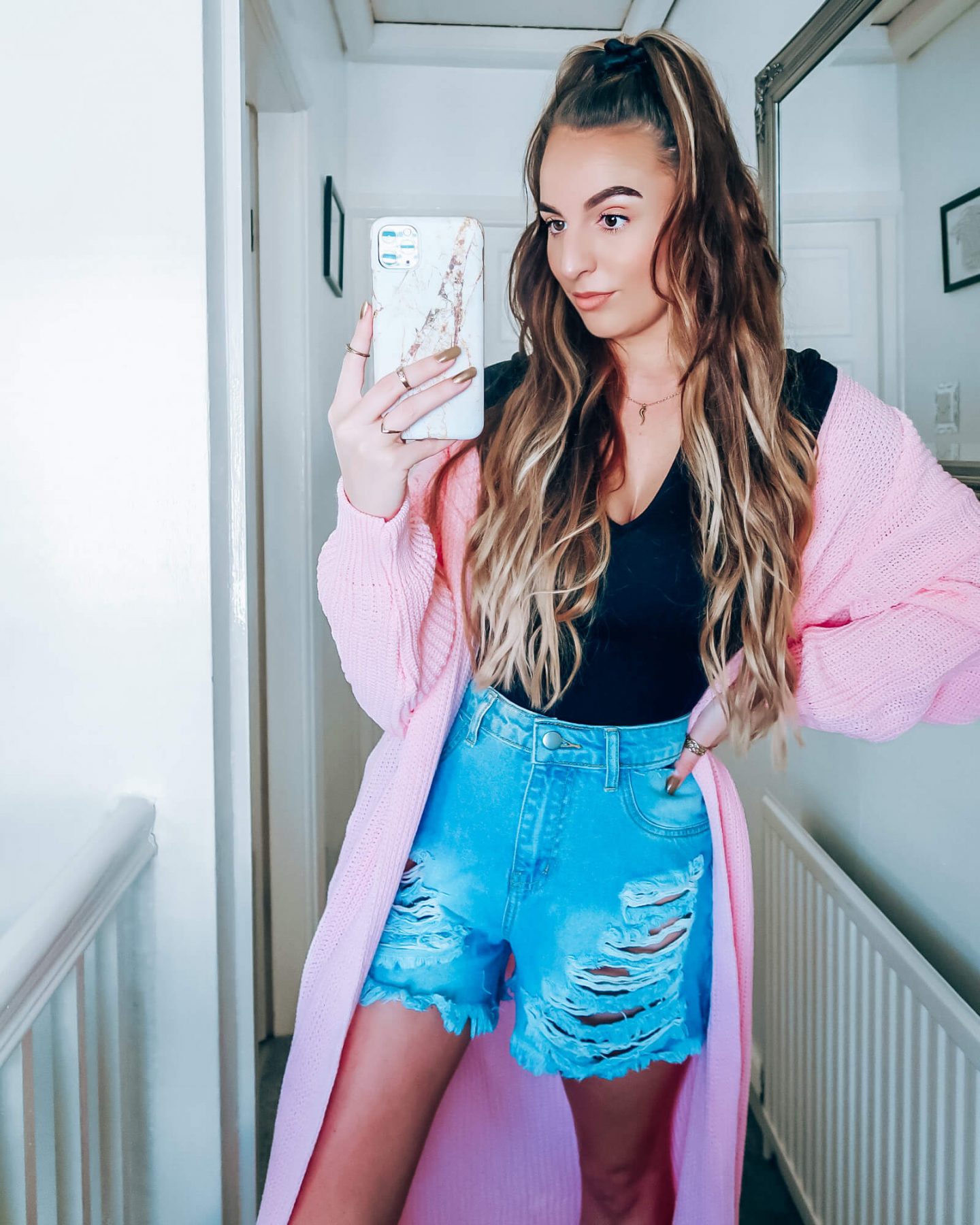 Okay moving away from my favourite staple, another staple I have been living in is denim shorts!
Denim shorts really are the perfect throw on for this country and on holiday, you can dress them up with a fancy top or how I like to wear them is with a bodysuit and throw on a chunky knit or oversized button up shirt for when the weather cools down.
I've been on the hunt for more of a longer length short recently. Most of my denim shorts are a standard length and I feel like now I'm getting on a bit haha I want more of a classic length, especially when walking around on holiday.
As I was browsing the Femme Luxe site, I came across these distressed cut out shorts and fell in love. I'm very much a distressed denim lover and I love the really 'blue' shorts if you know what I mean. I think they pair so well with, well pretty much anything actually!
These have little cut outs to the front which because I purchased a size up (a size 12) you can't really see, as the denim kind of folds over and hides that bit – something I wanted to happen.
If your a lover of crop tops, purchase your usual size as they are TTS but if your like me and like to wear shirts tucked into shorts of bodysuits then your probably not going to want to see the cut out's of your shirt, so just purchase a size up and you have the best of both worlds.
I don't know about anyone else but I always seem to swell in heat as it is, so I much prefer to buy my denim shorts a size up as there's nothing worse than snug denim in summer – jeans and joggers for winter on the other hand I always purchase my usual size 10 (just a tip, you can always tighten shorts around the waist with a belt or an elastic if needed)
To throw on over my shorts I also picked up this bubblegum pink chunky knit cardigan. I love a knitted maxi cardigan and I've been really loving pink things at the moment.
For the past however many years, I wouldn't really say I was a big pink fan, but this summer I've been loving the girlie looks and doing girlie things too – this is what lockdown has done to me.
I picked up this cardigan in a size M which is a 10/12 and its the perfect oversized fit, I know when the weather cools I will be living in this! Especially on Wednesdays (if you know, you know)
The last thing I picked up and the last little bit of pinkness was this pink acid wash denim jacket. I also think a good denim jacket is a summer staple and I've never had a coloured one.
I remember back in school a friend had this pink denim jacket and we all loved it, it reminds me very much of that! Although that one was a crop and this one is the perfect length. In fact it's the perfect oversized fit – I picked this up in a size 12 for reference.
I also think a pink denim jacket would be great with a pair of blue denim jeans, snow boots and a thick chunky jumper underneath for winter as a girlie in the snow kind of look, so yeah I picked this up in a 12 so I could get my wear out of it in winter too when we have on layers for days!
Speaking of loving pink things recently I've also mastered the DIY Starbucks pink drink and that has been my go-to drink over the past few weeks! I'll post a recipe soon on the blog!
If you want to shop any of the items featured in this post, you can shop them below!