I can't quite believe it's the last day of July on Friday. I honestly don't know where time is going recently. Obviously most of this year has been spent at home in some form of lockdown – I can't quite keep up with what the government now calls it; I also have a feeling that the remainder of the year will also be spent the same way.

As much as I have missed normality, I haven't found myself bored at all. I've been working from home Monday to Friday and I've loved every second of that. My weekends have been spent sorting, doing some home DIY, upping my blog and Insta game and doing those things I never before had time to do.
But I still can't quite believe it's nearly August!
Especially with the British weather we have been having, you'd never know! My favourite season by far is fall and I don't think it will be long before it rolls around again, but as much as I can't wait for my autumnal wardrobe to make an appearance, I also don't want to be wishing my days away.
I've realised I still need to be dressed for summer and enjoy it while it's here, so even if it's rainy and miserable outside, the fact I'm in my cosy house with blankets in every corner means I can quite happily pop on a summer dress or denim shorts and if by chance we get some sunshine then that's just a bonus.
So what does my summer attire consist of at the moment; dresses, cute floral tops with denim shorts and obviously because we're in England some sort of cardigan or blazer at hand to throw on as and when needed.
My new favourite throw on piece is this mink slinky cuffed sleeve maxi cardigan. I love a throw on cardigan and as much as I love blazer's in the real words. At home I have definitely been reaching more for the maxi cardigans.
I love the colour of this one, that mink colour I don't seem to own much of and it's a great transitional piece/colour to go from summer into autumn. It also goes with pretty much anything black or white, I've opted for an all white fit here but for autumnal looks an all black outfit would look killer with this.
I picked this up in a size 12 and it's just the right amount of oversized. It dosent look like it drowns me but it also dosent look like I'm trying to squeeze into it. It's one of those pieces that looks casually chic.
The cuff sleeves also make this cardigan look way more dressy and expensive than it is and gives the look a sort of Parisian feel.
Of course I'm an OG blazer lover so when I saw this cute blush pink longline blazer I had to have it. Honestly I think it was the sleeves that did it for me. I love a good exaggerated sleeve and I don't own much pink in my wardrobe which I'm trying to change.
I picked this up in a size M/L which is a 12/14 and it fits perfectly. I would say size up with this jacket – even though it says oversized, I often find M/L sizing to be more like a UK medium so a 12.
Did you see my last post when I mentioned my new found love for shoulder padded t-shirt dresses? Or maybe you've seen me in them on Insta. I'm obsessed. I loved the shoulder padded t-shirt trend but t-shirt dresses are just the everyday comfy essential for summer and for working from home.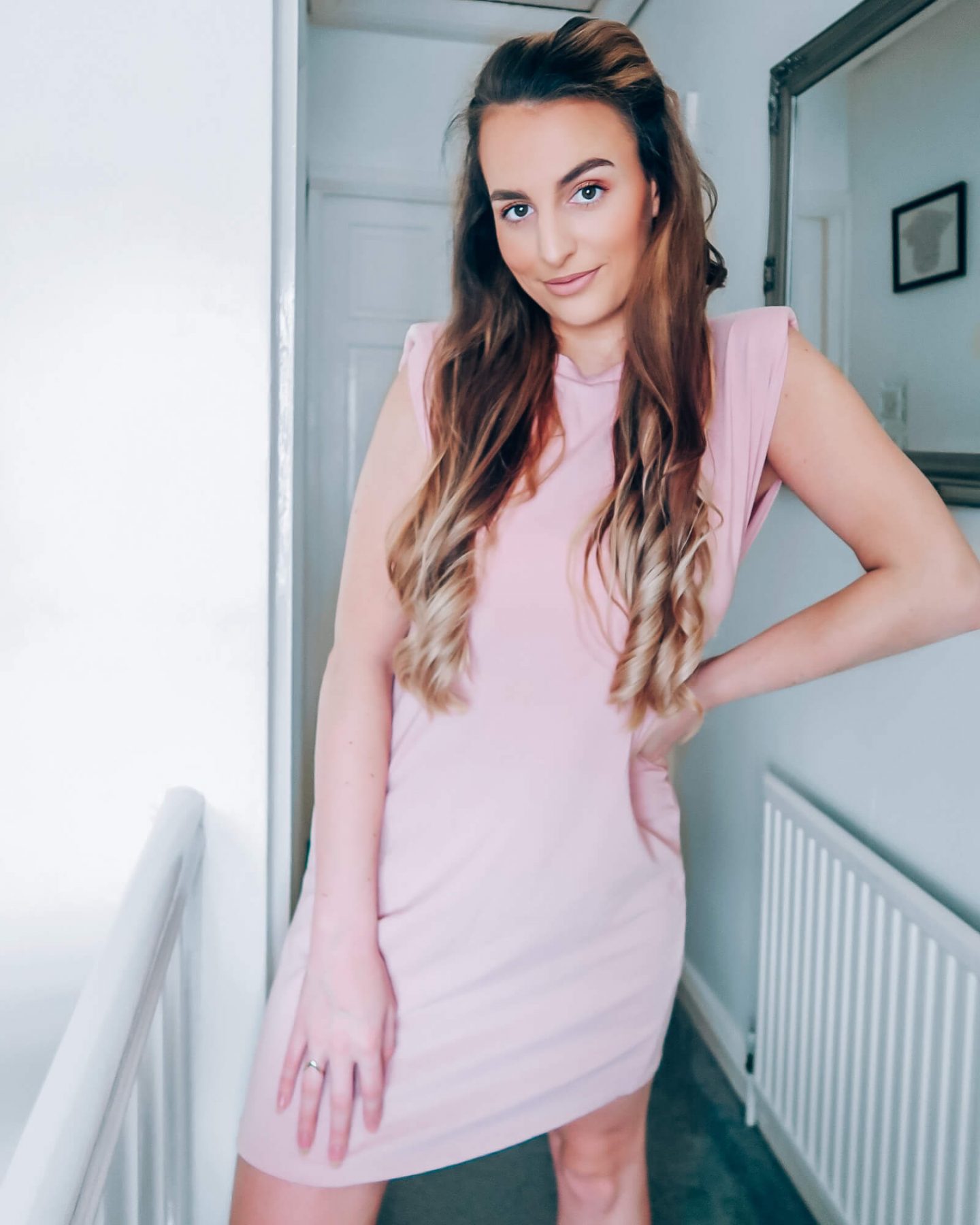 With that being said when I saw Femme Luxe did this shoulder padded t-shirt dress in Pink, I needed it. As I mentioned I'm trying to get a few more pink items and I just find these dresses so comfy yet rather flattering so yeah I needed to stock up.
This dress I picked up in a M/L which was a 10/12 and I'd say it fits true to size, if I could buy a dress in a size 11 that would be my ideal size so yeah a 10/12 is perfect for me.
The last item I picked up was this black floral print ruffle sleeve top. Again I think the sleeves did this for me, anything puff sleeved and I love it. The only thing I wasn't so keen on was the length, it was rather a cropped top and I was expecting it to be normal length.
It was just long enough to tuck into my denim shorts so that was a win, but I think if I had have picked up a smaller size it might have been just too short. I picked this up in a size 12 for reference and in places was a little big but I'm going to alter it slightly so it fits a little better, and id prefer to do this than swap it for a smaller size just in case it's any shorter.
All in all I think I've found some great summer bits to add to my wardrobe just in time for August and I've managed to up my pink game too!
What's your favourite item I picked up?