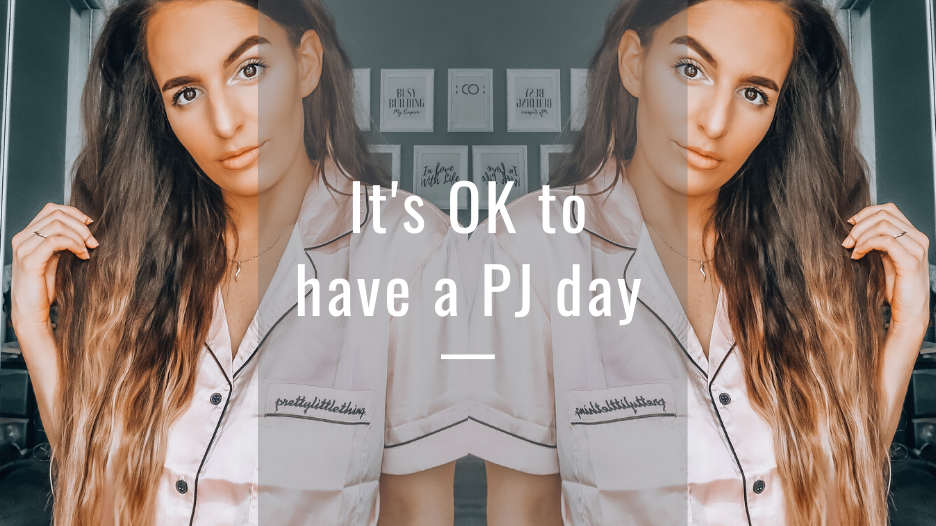 So we are all in lockdown right now, pretty much everyone in the world is in the same situation which is just crazy. Unless your a key worker of course and in that case; I just want to say a big big thank you from the bottom of my heart!
But I can understand if your not really a home-bird like myself, you may really be struggling at the moment. I am lucky enough to be able to work from home and I have never loved my job more. It has really made me realise how I would love to work from home on a more permanent basis and I am just very grateful I can do this at the moment and test this out.
I know there are loads of people who have been furloughed, many of my friends and family included, and I can only imagine it's been difficult to keep yourself occupied, and whilst this is a PJ haul, I do think it's really important to get yourself up, ready and dressed for the day. Even if it's just to sunbathe outside, lie and watch Netflix or take up a new hobby.
Whatever you are doing with your time, getting yourself up and showered will make you feel much more refreshed, and with the lovely weather the UK has been having, I think it's really needed. This heat has been making me feel pretty sluggish but thankfully I don't have a choice but to get myself up and ready for the day, well mon-fri at least.
With that being said, I also think it's important to let yourself have a PJ day once in a while. I feel like a lot of us, myself included are putting a lot of pressure on ourselves to be keeping busy, potentially it's just so we don't get over anxious about the situation, but we just need to remember to look after ourselves too and remember that it's ok to have a day off.
For me a Saturday is spent working on my blog, taking content for the blog and Insta, writing posts, social networking and doing what I love. Although I love spending my Saturdays doing this, it's still hard work and after a full weeks work, I am ready for a bit of chill time.
For me a selfcare Sunday is the one. On a Sunday I do very little (if any) work. I really take the day to make myself feel better, I do my full skincare routine, I relax, watch TV, read. Eat tasty food and just remind myself how grateful I am for what I have, and I do all of this in my PJ's.
Whilst we are all feeling the pressure, I just wanted to remind you that a PJ day once a week is OK. I mean if you're not working right now, maybe you can treat yourself to 2 a week or if you feel better in your pj's everyday, you do you.
Just the other week when I was doing a Spring clear out I sorted through my pJ box and I found nearly all my pj's to be winter pj's which I have now stored away. I feel like christmas time is the only time I really purchase new PJ's. I had two summer silky pairs that I picked up from Primark last summer and that was it. The rest was sleep shirts and little odd tops and shorts that I used to throw on to sleep in, but I really wanted to get myself some nice new sleepwear for summer.
It's strange because I find a UK summer much more uncomfortable to sleep in than when I'm on holiday. Now I love Spain, if I didn't reside in the UK I would definitely be living in Spain but as I have got older I have found I really struggle in the heat, I feel like it brings on my anxiety which is really not good as I do love my holidays, but after a few days in relatively warm temperatures I find I climatise myself well, where as in the UK, when we get our good summer's (occasionally) my body dosen't seem to climatise well at all and I can be up all night tossing and turning in the heat so with that being said I wanted to pick up some nice cool pj's
I'd already being eyeing some pairs up on pretty little thing and after my latest order I received an email offering me 30% off so I imminently placed another order for my sleepwear!
The first pair I picked up was these emerald green tiger print short satin pj's with white contrast piping.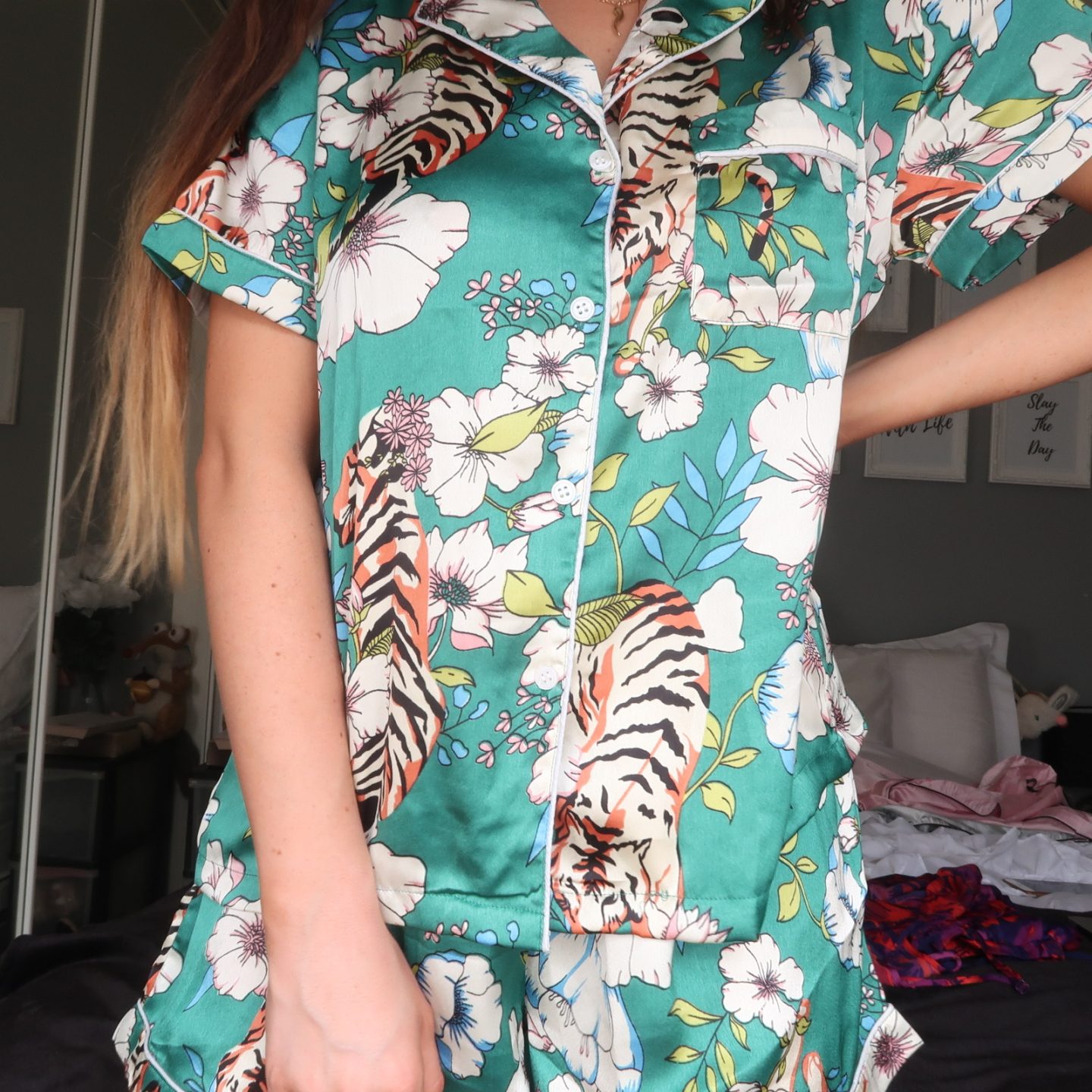 I don't know if I'd been watching too much Tiger King and was feeling like Carole Baskin or what, as these are not my usual style and they wouldn't be my usual colour palette, but I just love the pattern and colours and I was instantly drawn to them.
I picked up all these sets in a size 12 and they are a great fit, nice and loose which is exactly how I like my PJ's, there's nothing worse than tight PJ's right?
The second pair I picked up was these baby pink contrast piping branded prettylittlething pj's. They had these in a few different colours too! I love anything branded and I love pretty much everything from pretty little thing so these were 100% going in my basket.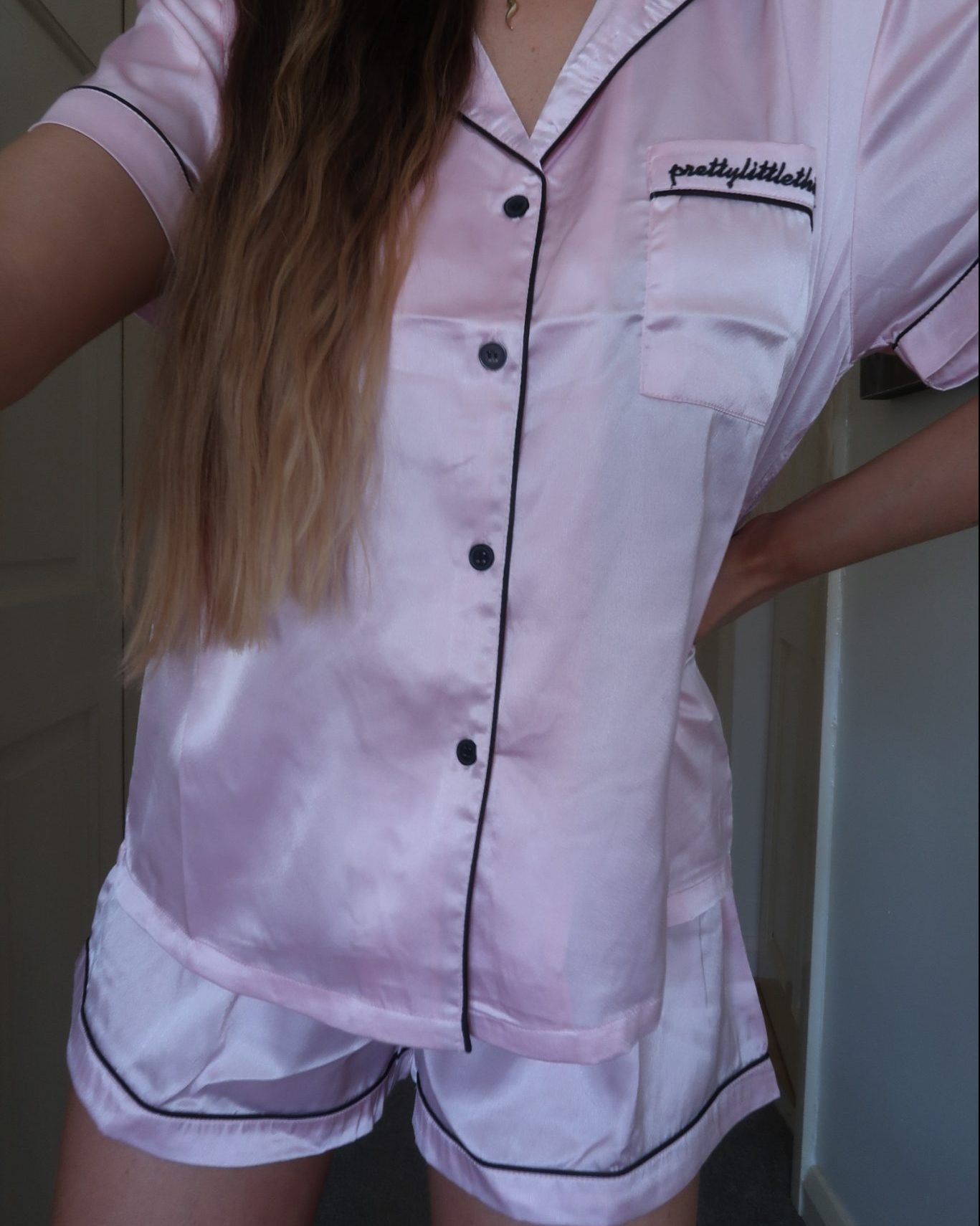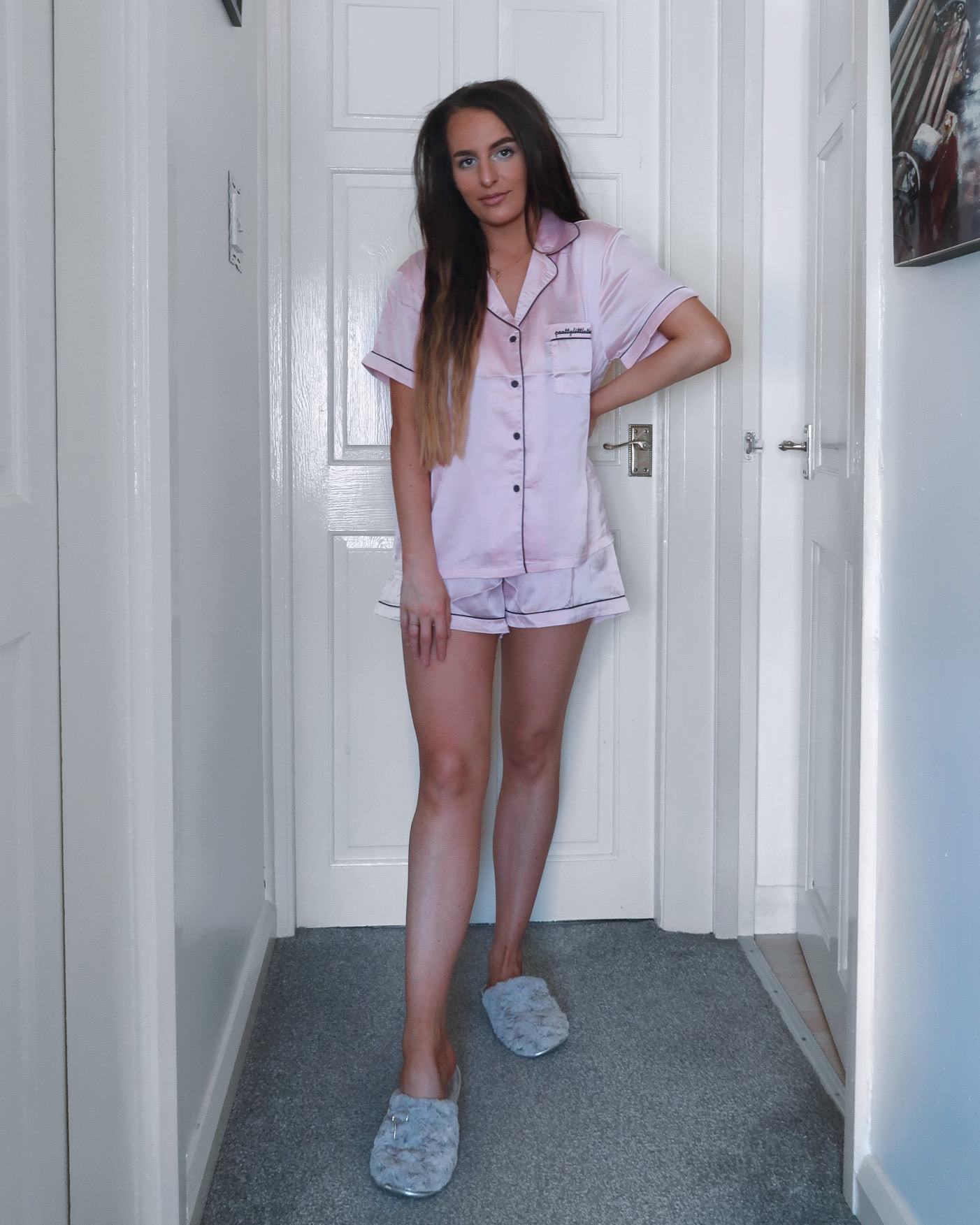 If your into the branding they also had their pink unicorn packaging printed onto a pair of satin pj's but unfortunately these were out of stock, although you can be sure i'll be keeping an eye on them for when they re-stock as I do love their unicorn print.
The next pair I picked up and probably my most favourite pj's I have ever owned were these marble print ones. I have been obsessed with everything marble for the last few years now and when I saw these, they were just me all over. Again they have the contrast piping in black and are just the perfect fit.
I wore these pj's for my 26th birthday this year, yep I had a lockdown birthday. It actually was a good day all things considering, I started with a PJ morning in these amazing marble satin pyjamas, birthday cake and drinks in the garden with the family, then a cheeseboard, more drinks and a video call and quiz with my friends on zoom.
The last pair I picked up, I thought I would pick up a strappy set, just in case we do have one of those really hot summers. This set is a black and white striped set, again it's exactly me all over.
I love the shorts on these as they have extra frills around the bottom just to make them that extra bit special, the top of these is also slightly cropped although the shorts are very high waisted so if your not into a crop like myself then these are still a perfect pair for you.
These were also slightly cheaper I believe but they were all under £20 for the set and with my 30% discount code I picked them up for around £12 each which is really good for the quality, style and fit. Although my code was a one time use code so I can't give you it, PLT always have loads of discount codes on their website and loads of bloggers and youtubers work with PLT so I'm sure you'll be able to find a good discount code to get yourself a bargain with these PJ's or anything else your in the market for.
To go with all these sets I also picked up this white satin robe. It's starting to get too hot for dressing gowns now, but I do like to have a cover up on, especially in an evening when it gets a little cooler so these are perfect to throw on over these sets.
I have picked up satin robes a number of years ago on eBay and the like and they don't compare to the quality of this PLT robe. They are perfectly sized to cover you up, they come with the matching tie satin belt to really wrap around you and have beautiful flared sleeves.
PLT had satin robes in lots of different colours, I went for a plain white because whites a nice summer colour and all these sets are patterned so I just wanted something very simple and plain, I think i'll probably pick up a black soon too to be fair because the fit and quality was great!
I am so happy with my sleepwear purchases and I now can't wait for my selfcare Sundays to put on a fresh pair each week and feel super boujee. Which is your favourite pair?