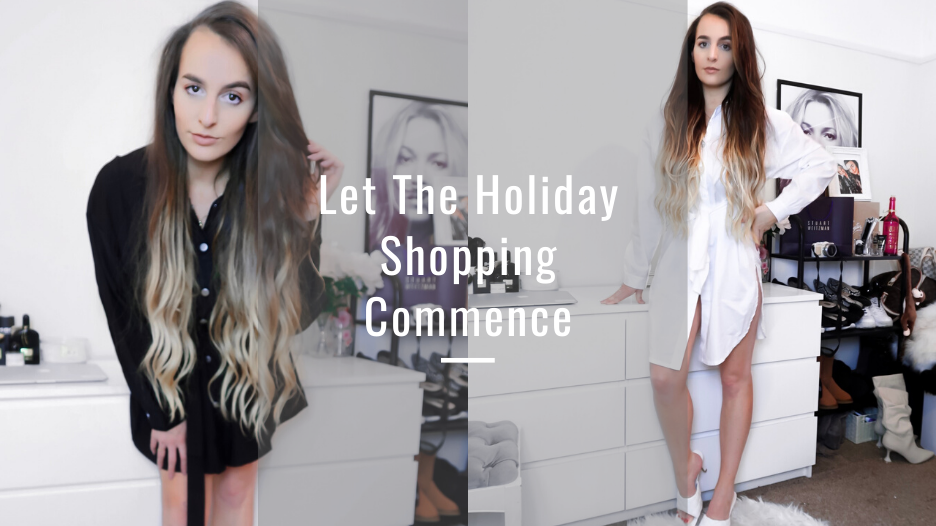 Spring-Summer cannot come fast enough. This year has started pretty miserable for me I am not going to lie, and I honestly think I do suffer from SAD. When the weather is miserable I wake up so much more unproductive than when the sun is shining. I also much prefer to opt for salad and fruit when the weather is better which means it's been that little bit more difficult to shred the Christmas pounds.

But my holiday is booked. 5 weeks today and I will be jetting of with my mum for five nights of sunshine. Well, hopefully sunshine! So that means I needed to pick up some bits for holiday and just some general transitional pieces as we finally approach spring.
I am really feeling shirt dresses right now and Femme Luxe have some great options in at the moment, I feel like with a shirt dress you can make it day or night dependent on what you are doing. They are just simple and classic and pretty much go with any footwear and bag; which is ideal on holiday because as much as I'd like to, I really can't take all my shoes and bags on every trip with me.

As I am sure you know, I work with Femme Luxe regularly to show you what's new in and style up some of my favourite pieces, so the items mentioned have kindly been gifted to me, however as always all views and opinions on the items are my own.
So the first item I picked up was this white thigh split shirt mini dress. I picked this up in a size 10 and the fit was great. It's fitted in the right places and oversized and lose in others which in my opinion is how you want to wear a shirtdress. I love the fact it has a tie waist, which means you can really synch in your waist without having to dress it up too much with a belt.

The one thing I will say about this dress is the thigh split is quite high on me, obviously during the day on holiday that would be absolutely fine because I would simply throw it over my swimwear, but if I wanted to dress it up for an evening attire I would probably need to stitch up the split about an inch or two.
For me this isn't really a problem because I often need to stich up a lot of clothes so I have gotten pretty used to it over the years, the low v necklines for example; when every new item that was released had the most revealing neckline, that only suited those with smaller chests. Although unfortunately many without smaller chests wore them anyway, this was definitely not a look in my opinion. I'm all for a subtle bit of cleavage but keep it PG when you're going for a sophisticated dinner y'know.
Anyway back to my shirtdress obsession, I then saw this black utility mini shirtdress. You already know what I'm like, if I like the look of something I am that type of person who will pick it up in different colour-ways, I opted for a slightly different style though with the black one having more of a utility vibe, it has silver buttons down it and comes with a utility belt.

I picked this up in a size L, which is a 10-12 and again this was a great fit, because it comes with the belt, again you can synch it in at the waist – and if you've had a big dinner, loosen the belt and job's a good'un.
Again I just dressed this up for an evening, but this would be a total vibe with trainers for a grungy casual look, or simple flats to ponder around on your vacay.

The next thing I picked up was this white long sleeved belted utility jacket. I was such a fan of the utility style last summer, through to winter in fact, but I didn't have anything in white and I thought this would be a really nice jacket for this upcoming season because I have read utility is going to be big again this season.

I picked this up in a 12 so it was a nice oversized jacket and obviously it again has the belt to pull you in on the waist. I feel like this will be great to just throw on when the wind pick's up because although I am hoping for some sun next month, I do think it will still be rather chilly on an evening.
To go with the jacket I also picked up this black bodysuit, it's the black double-cupped bodysuit in fact, and I picked this up again in a size 12. I always feel like if I pick bodysuits up in a 10 they feel like they are ripping me in half, so being someone who is between sizes on top really, I always opt for the larger size in a bodysuit.

However it does mean the straps were quite lose and therefore didn't quite sit where I wanted it to, again this will be a quick sewing job for me, which I haven't got around to doing just yet, but for you; if you're an exact size I'm sure this will fit perfectly.

I feel like you can't really go wrong with bodysuits, throw a black bodysuit on with any trousers or shorts and your good to go, I just thought with the double cup and straps; it made this bodysuit a bit different from a simple black one.

So I have just realised, yet again this is another clothing collection I have picked up all in black and white. Hopefully I can add some more colour to my wardrobe soon, but I think black and white will always be my favourite what can I say.

Have you started holiday shopping yet and what's your go-to colour?