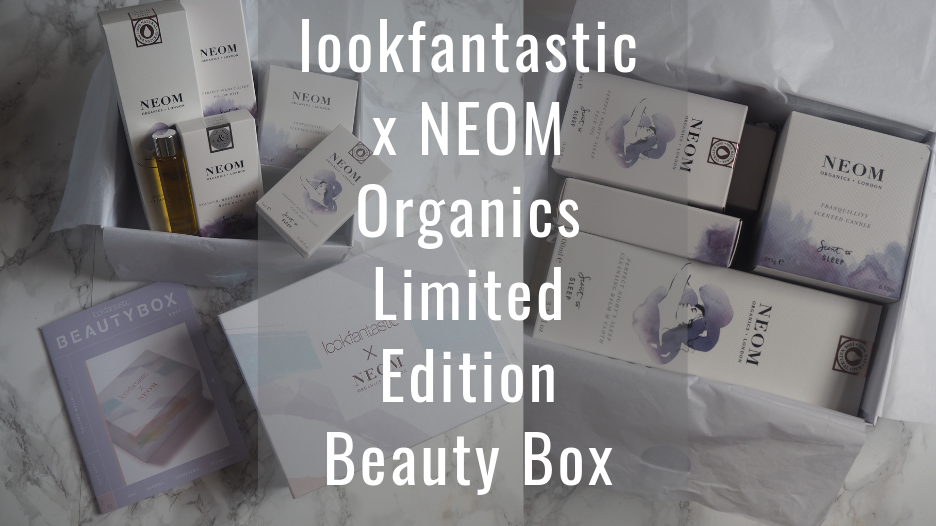 All I have wanted to do recently is relax, unwind and de-stress. I have found it difficult to switch off on an evening, I mean this isn't something new for me; but I would say recently, it has become more of a struggle. I have been feeling particularly anxious and can't remember the last time I had a really good night's sleep, so I have been on the hunt to find something to change that.
If you have read my latest blog posts you will know I have been suffering from a mystery illness I returned home from Spain with, although the actual virus is still unknown, doctors have confirmed it has given me secondary temporary arthritis.
Thankfully after a week of steroids I am feeling, almost back to normal. However I will still need to be weaned off the steroids over the next two weeks and I have had some side affects of these. Some of which are the constant headaches and insomnia, which for someone who struggles to switch off anyway, this hasn't been the best experience; but better than being unable to move without being in crippling pain, so I'll take it.

Anyway so last week, or was it the week before (does anyone else think time is just flying by at the moment) I headed onto lookfantastic to pick up some purple shampoo. My bleached hair has gone pretty brassy from my holidays and after watching Gemma Louise Miles youtube video on toning her hair I decided I wanted to try the Matrix brass off shampoo. If you haven't watched her videos, go give her a watch, she has become my favourite youtuber and I for one cannot wait for her christmas content!
So whilst on lookfantastic I noticed they had an offer on for a NEOM Organics limited edition beauty box specifically created to help you de-stress, unwind and relax into a rejuvenating sleep. No word of a lie, I was researching sleep sprays the week before and specifically wanted the NEOM Organics one, as I had read some great reviews but trying to be good, I picked up a cheap one from Asda as an alternative to try out before I parted with too much money for one.
No the Asda one, I have to say for £3.50 I loved, it was very lavender and very calming, but I feel like the essence didn't last as long as I had hoped, so I had just decided to myself that it was time I treated myself and low and behold this beauty box containing the NEOM Organics Perfect Night's Sleep Pillow Mist was included. If that isn't the law of attraction working, I don't know what is.
So without hesitation I placed my order and awaited it's little arrival. Now the box itself was £45, and the products it contained were worth over £110; I am a sucker for a bargain and this was a bargain I wasn't going to miss.
Inside the box was:
NEOM Perfect Night's Sleep Cleansing Balm & Cloth (100ml) – £32
NEOM Perfect Night's Sleep Pillow Mist (30ml) – £20
NEOM Tranquillity Scented Candle (1 Wick) – £32
NEOM Perfect Night's Sleep Face Oil (5ml) – £10
NEOM Perfect Night's Sleep Body Oil (25ml) – £8
NEOM Nourish, Breathe & Sleep Hand Balm (10ml) – £8
That's insane right!? Even the candle's are worth over £30 on their own, and I have only ever treated myself to one before as to me this is a luxury candle, that I couldn't afford to burn on a regular basis. But for the sleep mist and candle alone, I knew I had a steal, let alone all the other products that I was eager to try!
A few days passed and I got my order in the mail, as soon as I took out the box I was in love with the packaging; I'm also a sucker for pretty packaging, anything that looks pretty I want. I am generally going to be keeping this box to use as storage; it was that nice I couldn't bare to throw it away.
As soon as I took that lid off, my room was filled with the most magical scent. Rich lavender mixed with jasmine and basil and I have no idea what else, but it was literally the best smell! I immediately felt calm and at rest.

I have placed the candle next to my bed so I can light it before heading up to bed, and I have to say even without lighting the candle, the scent fills the room. I walk upstairs and I am straight away ready for a great night's sleep.
The pillow mist, I have to say, people's recommendations were not wrong. I have never slept better, and I will 100% be repurchasing this item as spritzing my pillow and the surroundings of my bed has suddenly become one of the most important parts of my evening.

The balm and cloth, again the quality and feel of this product, is like nothing else I have tried. This is now being saved for my weekly pamper night and every week I get to look forward to treating my skin to this.
The body oil and face oil, again a luxury treatment that I now look forward to; and the hand balm, I mean who doesn't want soft, smooth hands that smell magical and helps them have a better nights sleep and therefore a much more predictive next-day.
NEOM Organics is now a staple in my household, and I can't thank them enough for helping with my sleep troubles, and of course lookfantastic for helping curate this box.
Unfortunately I see the box is now sold out on the website, so I have tried to link everything individually. I was going to post this blog post before now, but I wanted to really test out the products and give as best review as I could.
I hope they re-stock this box, I think from what I can see you can sign up to the waiting list for their next collab here! but if they don't I would really recommend investing in something from this range if you are also having trouble sleeping, relaxing or simply just de-stressing and unwinding after a long day. Honestly you won't regret it!