As much as I love a trend piece, I have been trying to pick up more 'staple' pieces over the last year or so. Pieces that I know won't date, can be restyled many ways, and pieces that I know I will wear year after year.
Here I have picked up 4 new wardrobe staples that I feel fall into this category.
The first piece I have to show you is this stone puff sleeved oversized longline blazer. I am for sure a blazer girl, all year round.
Granted I haven't had them on much in the last few months, but it has been a warm few months in the UK and obviously we have all been confined to our homes; but if I was making daily trips to the office, I would for sure be in a blazer everyday.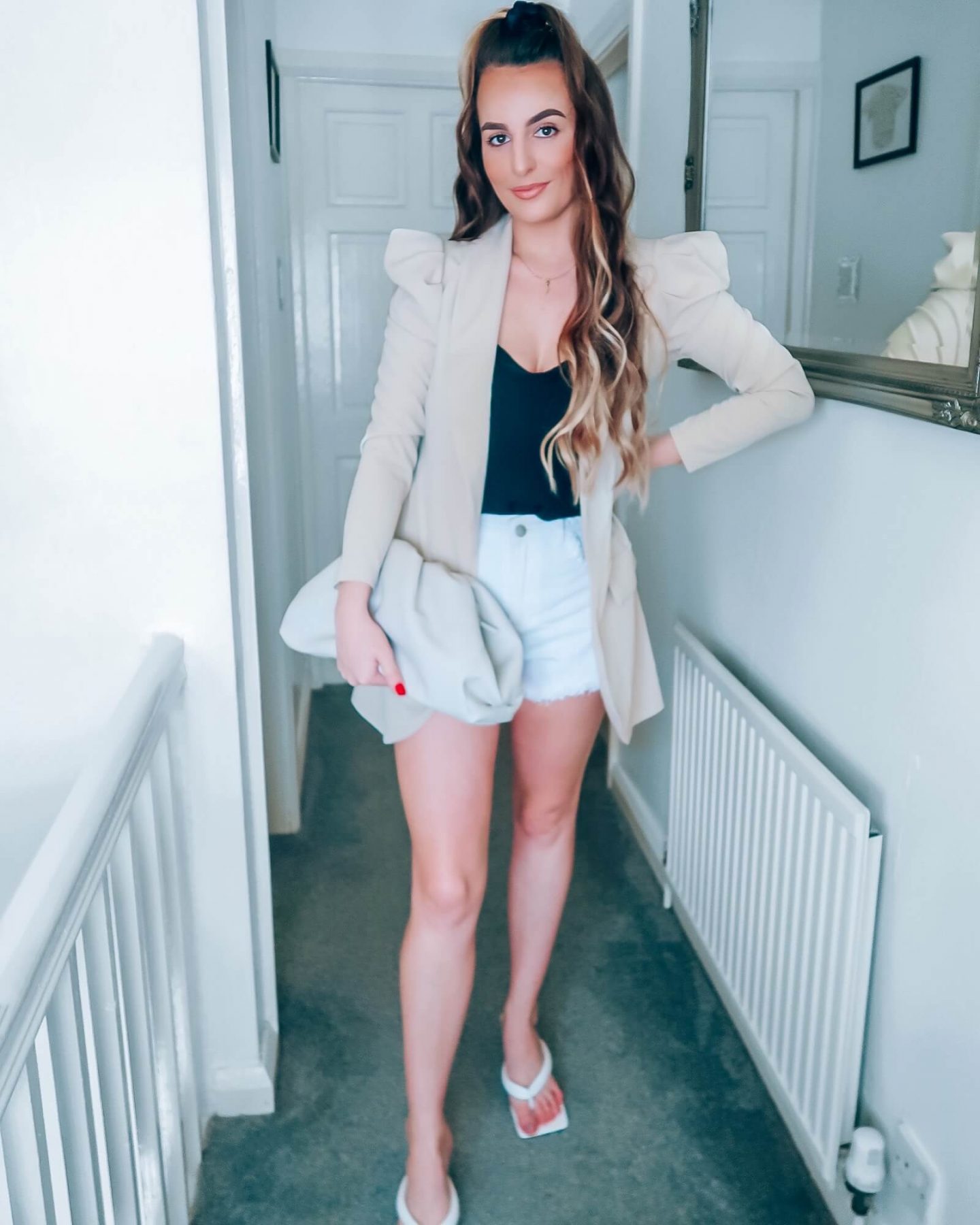 As much as I love a coloured blazer; and I do. I feel like classic colours such as nudes, stones, beiges, blacks, whites and creams are always a good wardrobe staple. I love the fact these neutral colours can not only be worn year after year, but also season after season.
I picked up this stone blazer in a size M/L and it's the perfect fit. I already know how I can switch this up from summer to autumn in a heartbeat.
The next staple I picked up was this black frill hem bodycon mini dress. We all know you can never go wrong with a little black dress, but over the last few months I noticed I didn't really own day dresses.
I don't really like to wear dresses for work, I feel a bit silly, even in summer and on holidays I've always been a denim shorts or playsuit kind of girl, but this year; maybe because I have been at home, I've found a new love for day dresses.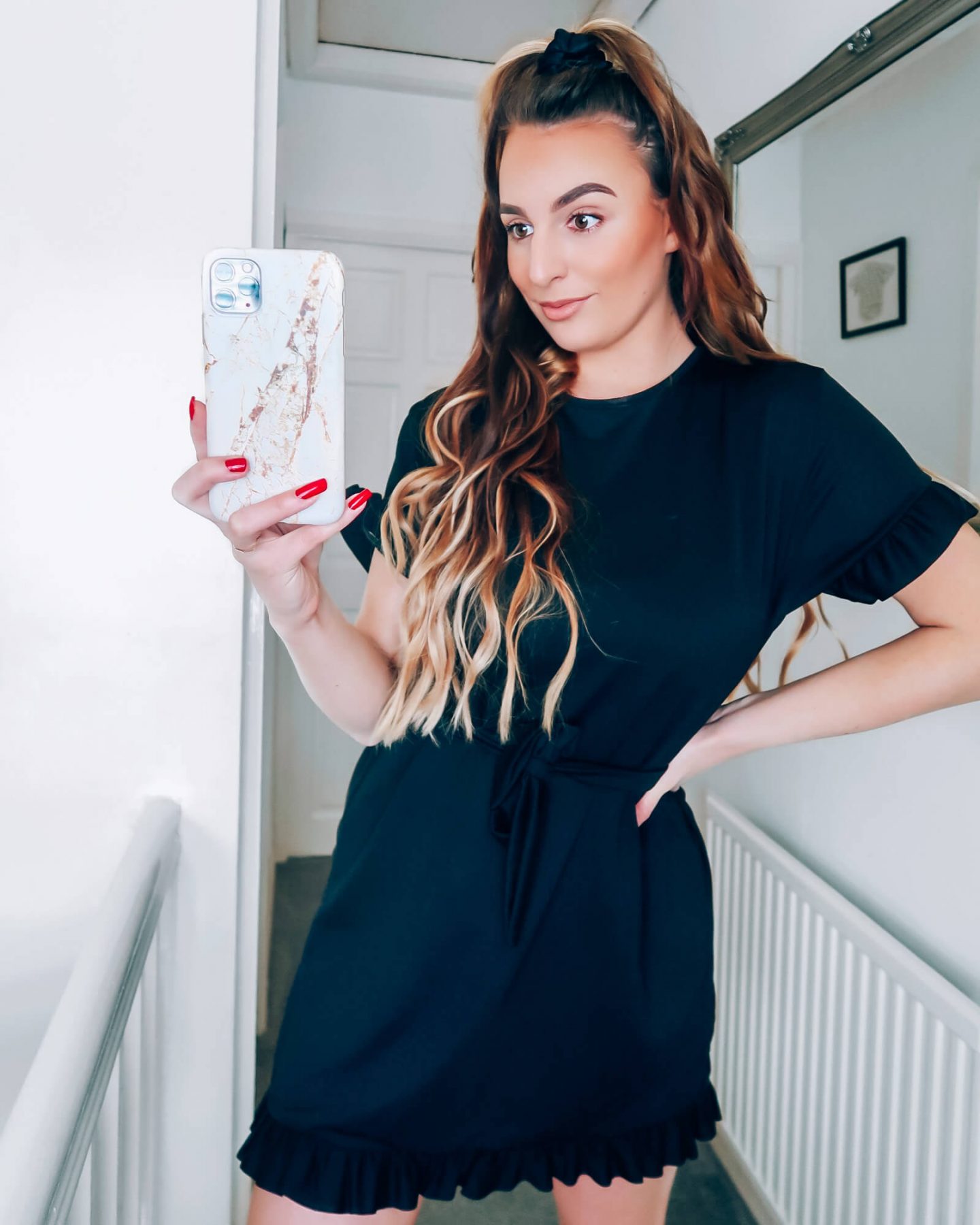 I don't think I'm quite at the stage for anything too fancy but a simple black day dress with frill details to the sleeves, for me is a new summer classic. I also think this would be a great piece with tight's, an oversized scarf and little booties for autumn, and a great layering piece for winter, think over a white sweater and paired with over the knee boots.
I'm definitely an autumn/winter girl when it comes to fashion, if you can't already tell, I already can't wait to restyle these pieces for the second half of the year!
I picked this up in a size 12, as I've said before comfort is key with dresses for me, if I want a more fitted feel, I simply use a waist belt to tighten. Also as a little tip: if you size up your day dresses, you can fit a jumper under there for autumn/winter and get way more styles out of your pieces.
The next little bit of newness but also a staple is this apricot shirred waist puff sleeve top. Now I know you may think well puff sleeves are a current trend and so is shirred tops.
Whilst that's true, plaid isn't. Plaid and tartan come into fashion year after year with light colours taking the lead in the spring and summer, and darker bolder coloured coming out in autumn, winter.
White based plaid items on the other hand are worn season after season, whilst this is a great summer top, I really love the puff sleeves and shirred waist, you could easily make this more autumn/winter by adding a corduroy blazer and a crisp white shirt underneath; or even pair it with joggers for a super cosy but casual look.
For sizing reference I picked this top up in a size 12 and it's a great fit, because it stretches I probably could have got away with a 10 but I don't like anything really tight over the chest area, oversized t-shirts are always the way forward in my opinion.
The last staple I have picked up recently are a new pair of denim shorts. I am a big denim shorts person, and I literally do wear my shorts so much during summer that I do need to replace them after a while. They are my go-to when I don't feel like living in loungewear haha.
Whilst my recent blog post I showed you some trend denim shorts with cut outs; which I love. I did really want just a plain distressed pair that will be my go-to year after year and these ones didn't disappoint.
As always with denim shorts I picked these up in a size 12, I am usually a 10 on bottom but as I've said before, I tend to swell in the heat and being sat down in the heat all day in fitting denim shorts is not fun, so I always tend to upsize and then just tighten with a belt or an elastic if I want a more fitting waist.