Yep that's right, New Years Eve is fast approaching and I can't for the life of me think where this year has even gone. From new opportunities in and outside of work, to a new living arrangement, and a whole load of resolutions to make and kick for the year of 2020.
But first things first, what do I wear on New Years Eve? New years is the one night of the year you can never be, and look too extra. No matter whether your watching the countdown from your living room, heading to a party to bring in the new year with your closest friends or having a romantic dinner somewhere, your outfit can be, and needs to be a little bit over the top for your surroundings haha.
No word of a lie one year I rocked a dress with a full on train to a house party, I felt like Cheryl Cole from the x-factor finals all evening and I bloody loved it. Whilst this year I won't be rocking a train as such, I do want to find the perfect dress and I'm sure you do too, so this year I am working with Femme Luxe Finery to show you a few of their amazing pieces you can rock this New Years Eve. The pieces I am showing you were kindly gifted to me, but all opinions on the dresses are my own. I just need help in choosing the perfect one!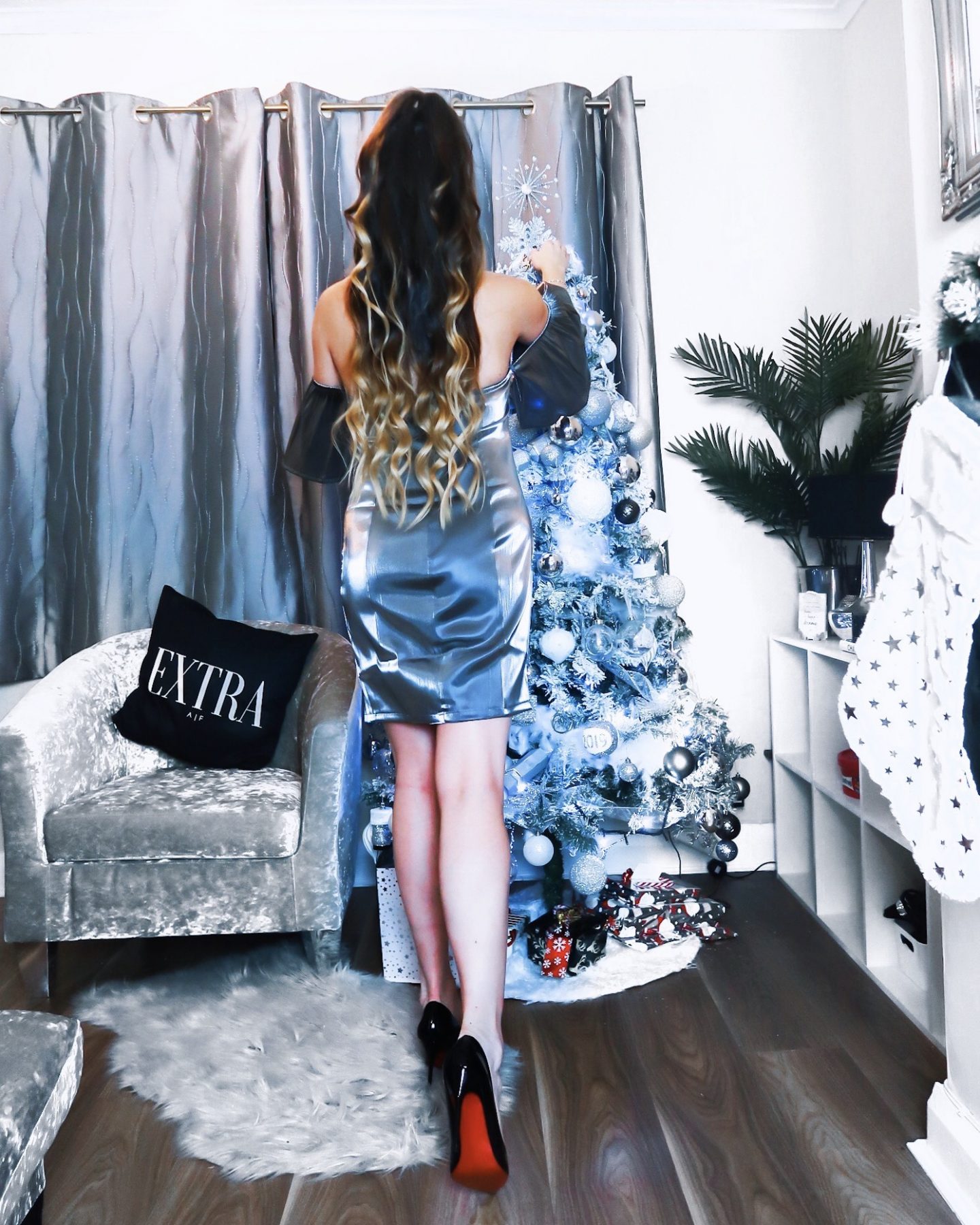 The first item I chose is this silver metallic strapless flare sleeve bodycon mini dress. I don't know what it is about metallic dresses at the moment but they are making me feel super festive and I love how the colours all reflect in the light and make it seem like I am actually glowing.
I ordered this dress in a size 12, and I would say it was on the slightly larger side, I didn't need to unzip the dress to get it on and their was excess material around the stomach area, however the cups of the dress were on the smaller side so I do feel like this dress is for a certain body type – not particularly mine, however I still think it is a nice dress on, I just didn't feel like it really flattered my body shape and I didn't feel super secure in it up top.

So whilst I will still be rocking this dress for drinks, I don't feel like it's going to be the chosen one for New Years Eve.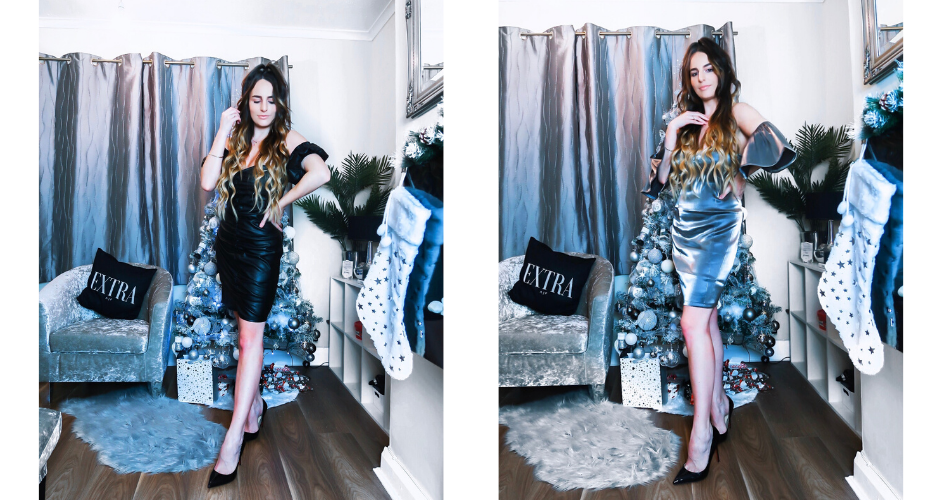 The next dress I chose was the black PU ruched Bardot bodycon mini dress, I also picked up this dress in a size 12 and this was a much better fit. I still didn't need to undress the zipper to get the dress on, so I couldn't have potentially sized down. However the chest area was the perfect fit and I really love the milkmaid arm style on this dress. I got into this trend during the summer and I have to say I am glad it is continuing; and it's been made into more festive / winter style fabrics.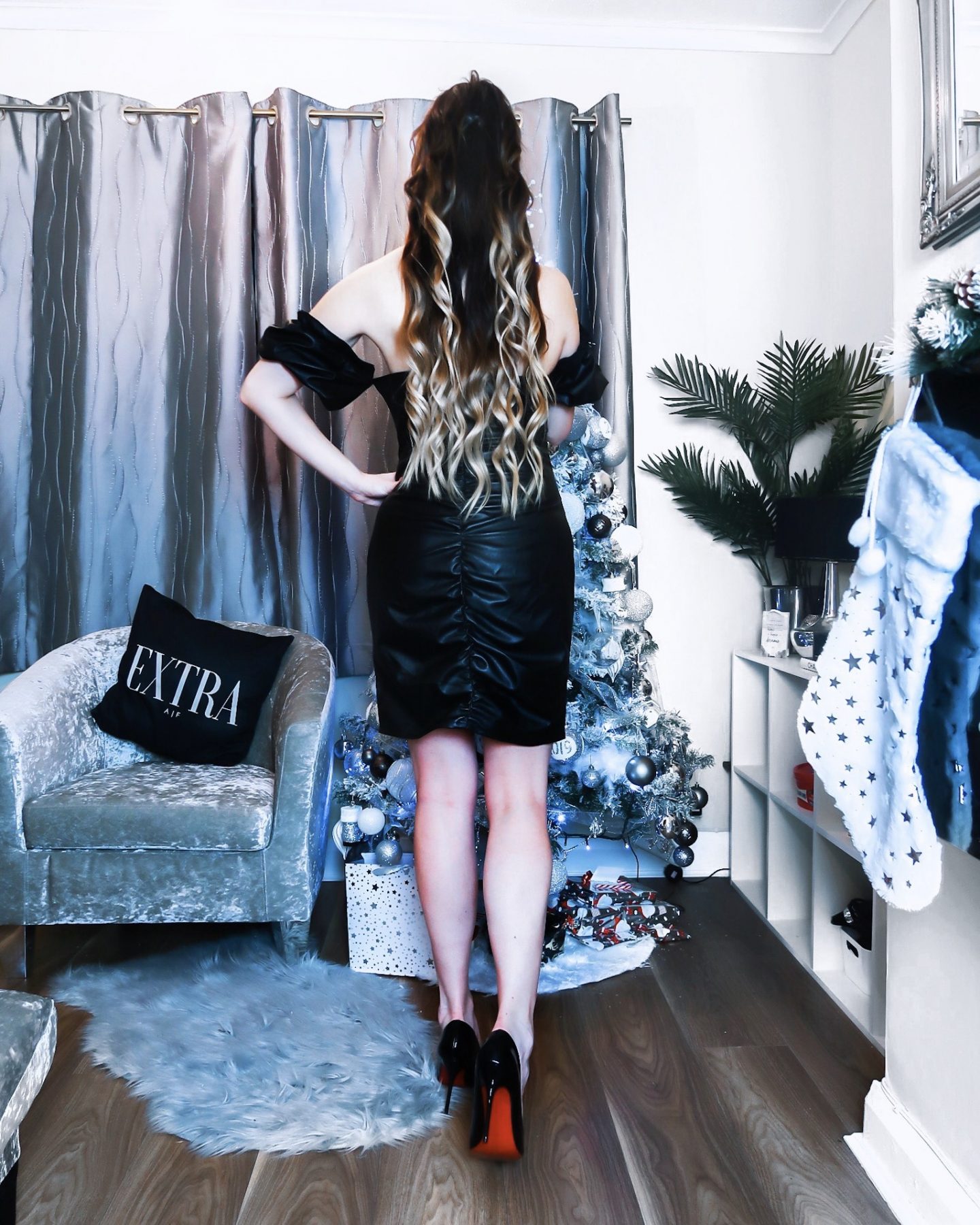 I feel like you can never go wrong with a little black dress, although often a safe option, the fact that it's faux leather gives it a little bit of edge over your run of the mill little black dress, and the ruched detail means you can eat and drink as much as you'd like and the bloat will be nicely hidden away.
The next dress I chose was a bit of a showstopper dress, it was this silver glitter one shoulder puff sleeve bodycon dress, and now when I say I am glittering in the light; I am glittering in the light.
If their was ever a time to wear a full on glitter dress, it would be a New Years Eve shindig. I picked up this dress in a size 12 also and I would say this is definitely true to size. I am usually in the middle of a size 10 and 12, if they made a size 11 that would be my perfect fit, but depending on the style of outfit is whether I make the choice to upsize or downsize.
Any sort of bottoms I would definitely downsize because no one wants a saggy bum, but on top I like to ensure I can breathe for a start, and if I have enough room for a decent dinner and a handful of drinks; well that's always a bonus. So with this dress I would say you can go true to size, but if you go one size bigger, because it is bodycon, it would also still look great.
I'm not sure which is my favourite, black and striking or a glittering goddess haha, what do you think? Have you picked out your new years eve outfit already or are you still on the hunt?