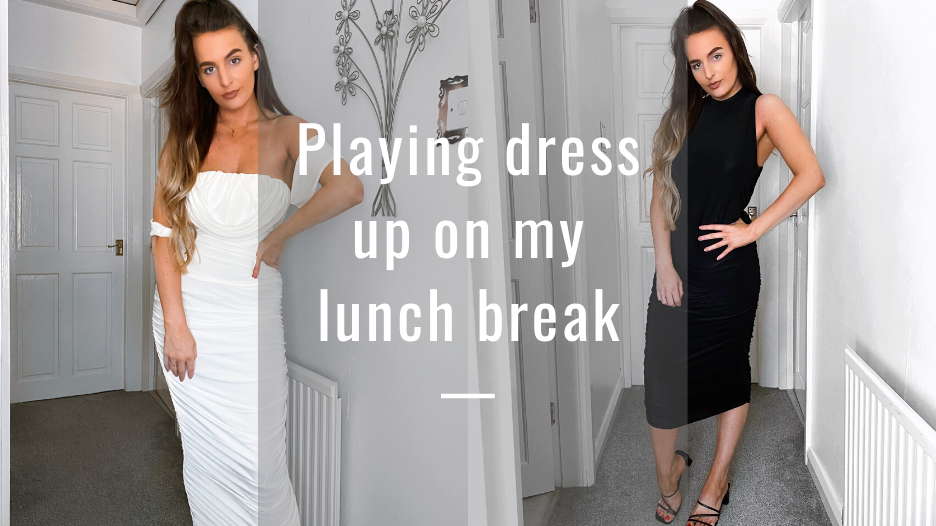 Ever since I was little I have always loved playing dress up and trying on clothes. Whenever it comes around to having a wardrobe clear out, whilst some people find it a big task to tackle and don't like the thought; I bloody love it, I can spend hours trying on bits that I haven't seen in years. It's the same with packing for a holiday; I have a good try on sesh and plan my outfits well in advance.
Recently I've found myself reaching for my comfies and my loungewear on a daily basis; which is fine! I have some amazing sets but sometimes it's nice to put on a fancy dress and just totter around the house for a while in it, it somehow lifts my mood. In fact clothes, fashion and beauty can always lift my mood. So that's what I have been doing lately and probably what I will continue to do until we get a little bit of normality back at least. Although lets be honest, I do this for fun anyway whether we are in lockdown or not.
To show you what I've been parading around in this week I thought I'd write a little blog post to show you the new items I have picked up. These items were kindly gifted to me from Femme Luxe, I'm sure you know by now that I work with femme luxe on the regular but just incase you are new here, all the opinions on the items are my own and I wouldn't recommend something that I wouldn't go out and buy with my own money.
The first item I picked up is another item to add to my ever-growing collection of loungewear, it's this oversized slogan print tee. I'm bloody loving slogan tee's at the moment and Femme Luxe have loads with different quotes and prints.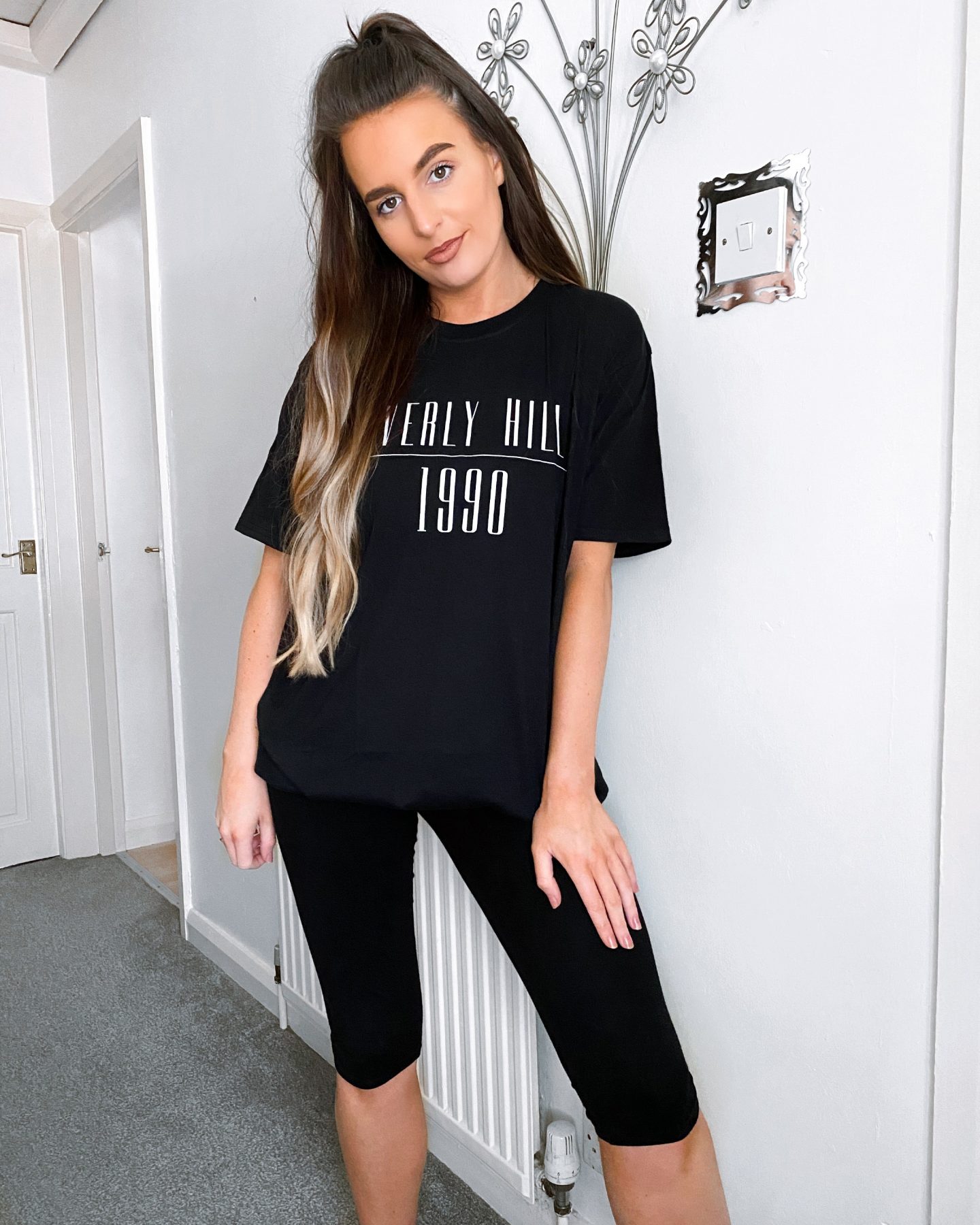 If you saw my post of this outfit on Instagram (@holajoannekennedy if you don't already follow me) then you will know that I chose this piece due to the fact I have been obsessed with re-watching 90210 at the minute on 4od. I used to love that show and tbh I still do! Anything with Beverly hills on it just reminds me of the show and this tee is just perfect paired with cycling shorts which is another thing I have been living in at the moment.
The next three items I picked up are all dressy dressed. Now as I said putting on a fancy dress could really lift my spirits but I also do want to be comfy when I am at home and I found femme luxe had some really great 'slinky' dresses in stock.
You know that material that feels kinda slinky; it sticks to you in all the right places but has a ruched effect so you can cover your 'not so nice bits' well I love that stuff! It's also probably the comfiest material to wear in summer and even more so around the house at the moment.
I can look super dressed up but I'm actually just as comfy as I would be if I had joggers on. It's also super cool to wear, which is great for this warmer weather we are having. Granted we have had a few rain showers over the weekend and today but I've still found it pretty warm. The heating hasn't needed to go on, that's for sure.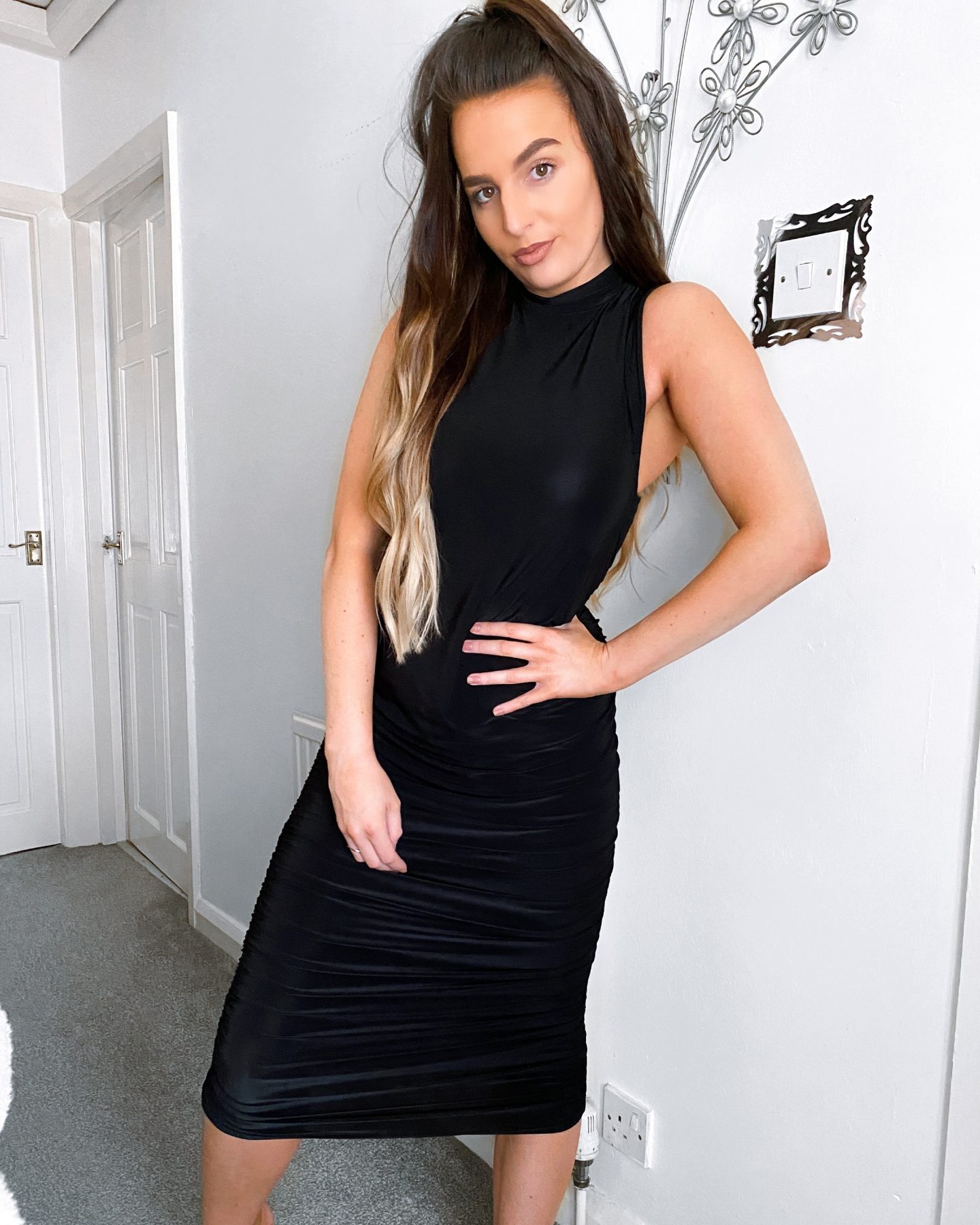 The first slinky dress and probably my favourite was this simple black long line high neck dress. I love the fact its sleeveless but it still has a high neck, I find this neckline particularly suits me, maybe it just covers some of the double chin haha I'm not sure but the sleeveless element makes it perfect for the summer.
The next dress was this sage green mini dress. It has that cowl neck which again I am a fan of, the only downside with dresses like this is the fact that you can't really wear a bra without giving it a little alternation. Nearly all of my strapless bra's are visible with the cowl neck so it might be worth me investing in one that's got a little less material to the front of it. Other than that I love this.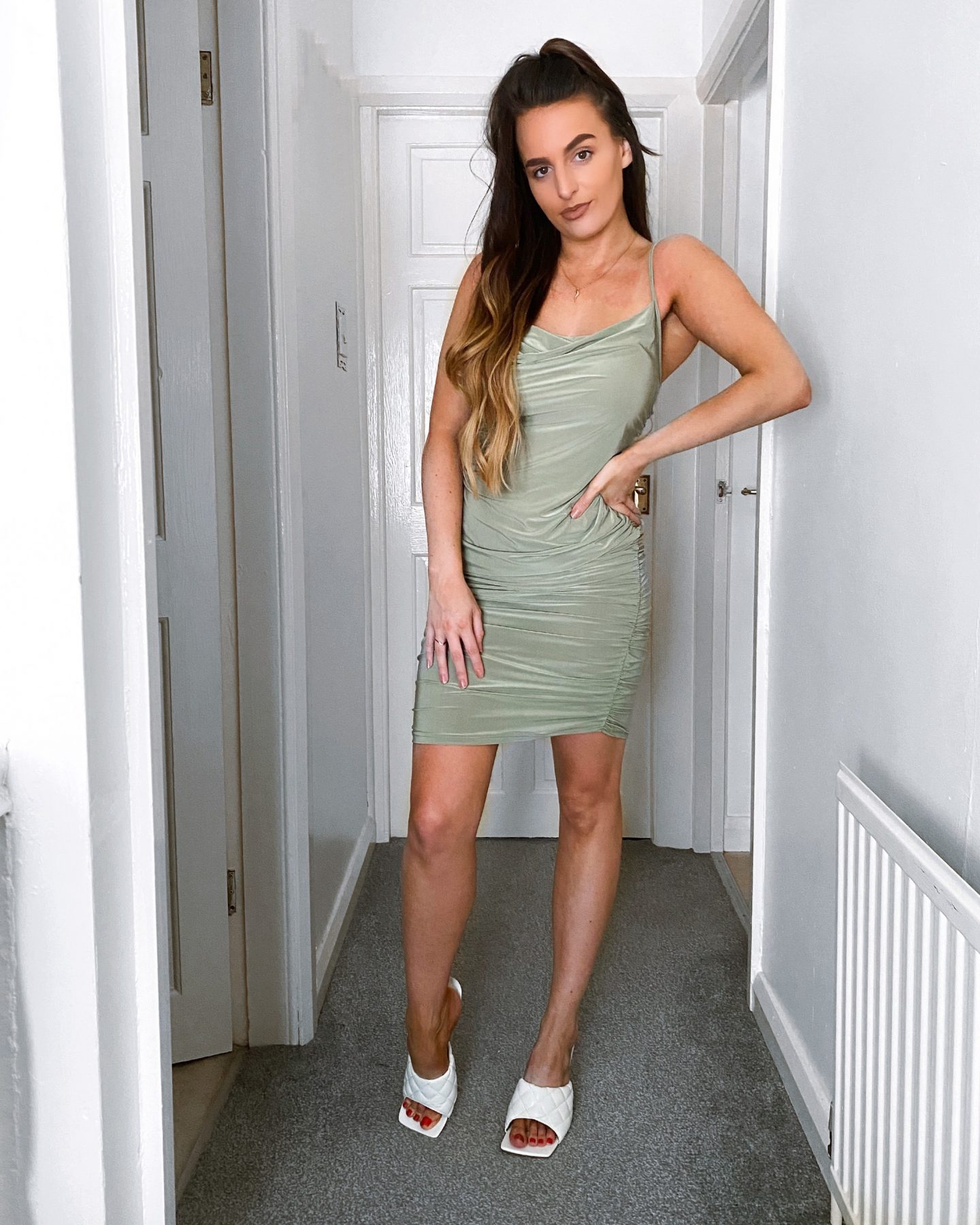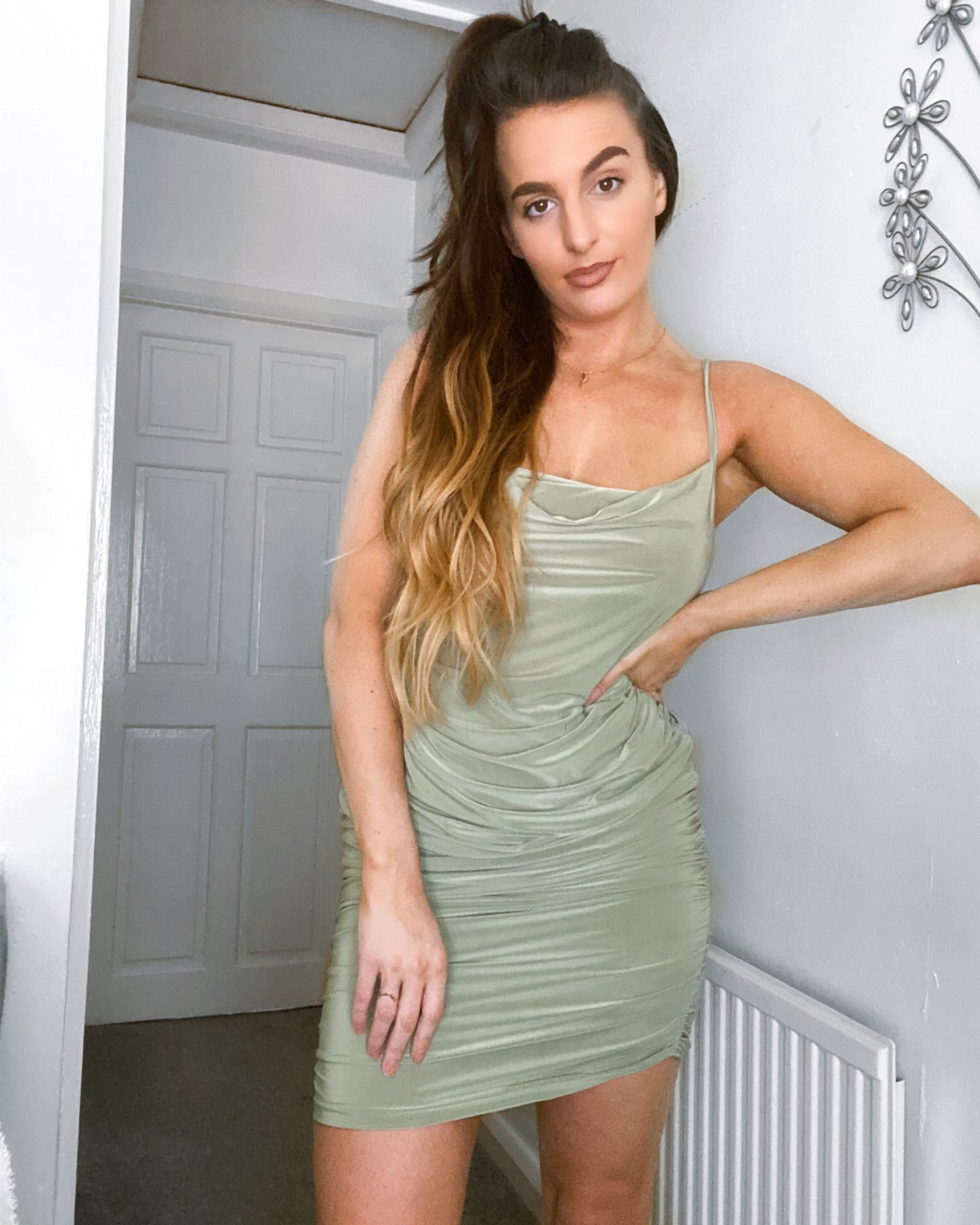 I know we cant go on holiday at the moment, and to be honest I don't think I would even want to for the remainder of the year. I won't be going anywhere until we have a vaccine or there are 0 new cases anyway! But imagine this on an evening for dinner and cocktails abroad. I will deffo be taking this on my holls next year that's for sure as this silhouette wont date which I love.
In fact all the items I have been picking up recently have silhouettes that don't date. I'm trying to be more of a conscious shopper and pick up more classic and timeless pieces, which I think all the pieces here, have that element about them.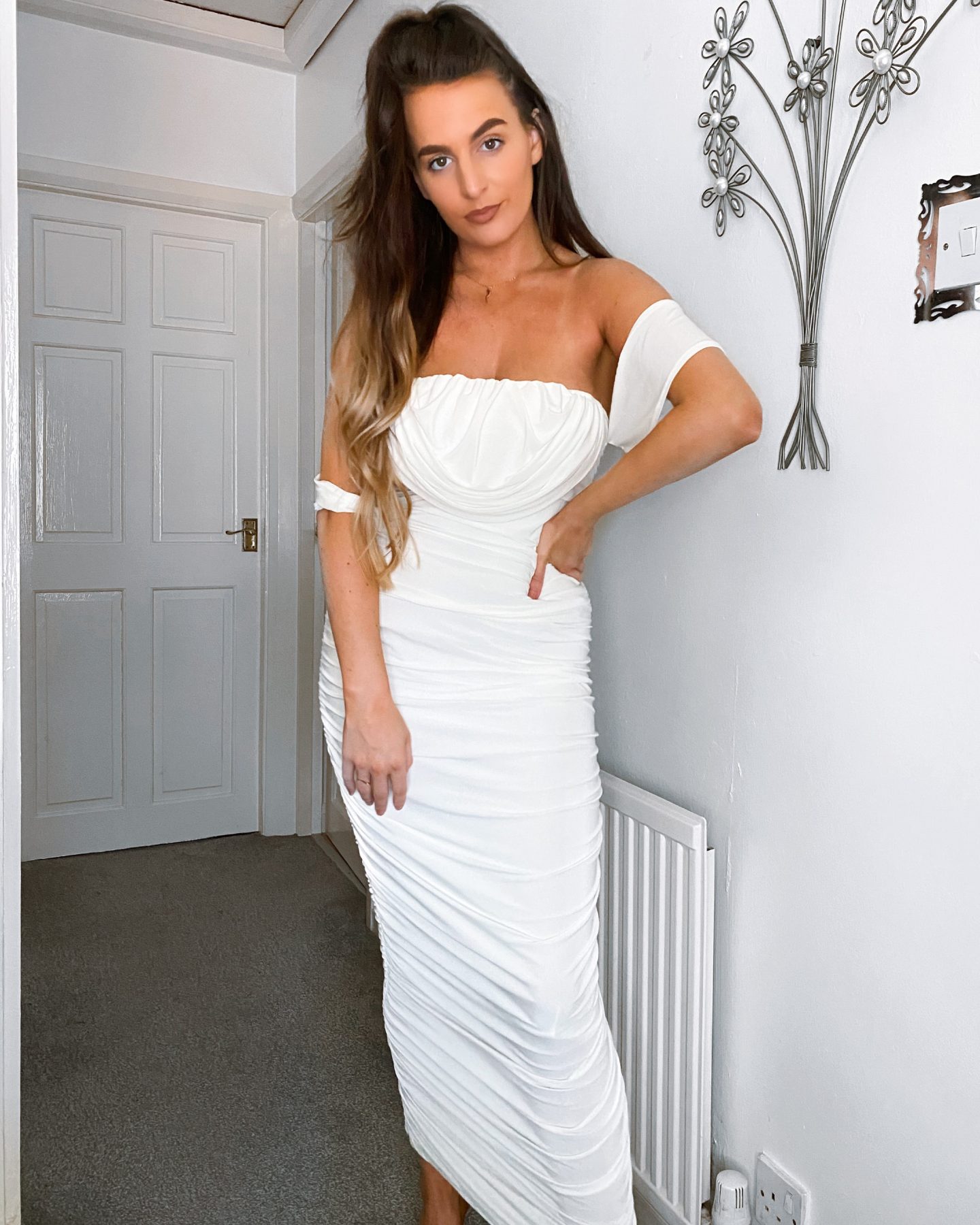 The last dress I picked up, but certainly not the least is this white ruched mini dress. This just gives me all the Grecian vibes, I was actually pondering around my house thinking I was some Greek goddess for the afternoon.
Something like this is another perfect evening holiday look, I love the floaty little sleeves just slightly dipping off the arms too, I think it gives it a real holiday summer vibe. For now though this look will remain in my garden.
What do you think of my picks? Id love to know your thoughts.