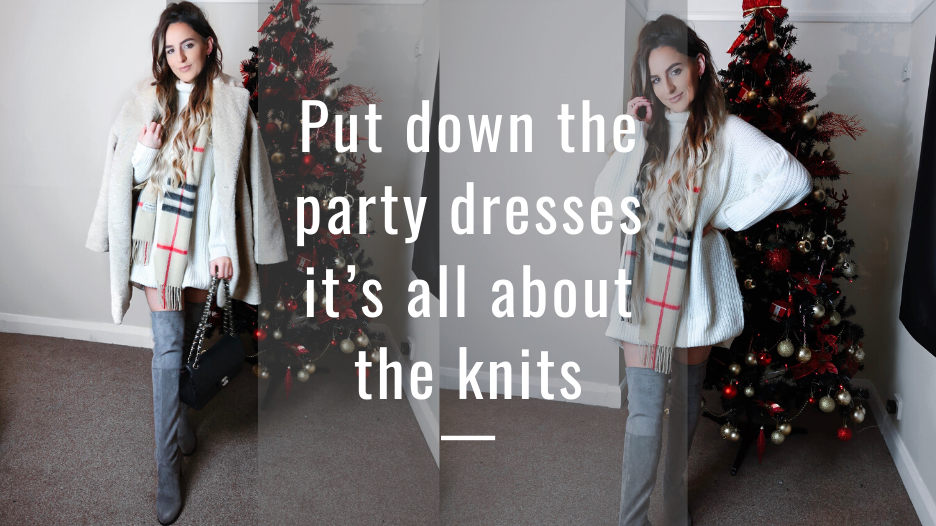 Put down the party dresses, it's all about the knits for me this year! From jumper dresses to chunky knit cardigans. I am determined to not catch the flu this year, and keeping warm is my number 1 priority at the moment.
Whilst I might have already had my flu jab a few months back, I can't deny that I have been feeling the cold recently. The wind has been like ice hitting my face and hands, and I think this is the only time of the entire year I struggle to get up and get myself going on a morning.
My favorite outfit to go out for dinner or drinks in, now consists of big thick jumpers, scarfs, big thick coats and some over the knee boots. I also need to dig out my hat collection because by the time I arrive at my destination they are bright red and I can only dread to think how cold it is going to get when January hits.
January is always the usual culprit for snow and the dreaded ice but I think I have finally found a way that I can stay warm and still look put together and 'dressed up' in a sense. So I thought I would share with you how I have been styling up my knitwear for an evening out.
At the moment I have been living in this chunky cardigan from a day at the office, to a chilled Sunday or even a shopping trip to town. This cardigan has just been keeping me super cosy, yet stylish. Anything beige, chunky, knitted and preferably over-sized and I am obsessed to be quite honest. It's just the comfiest little throw on that somehow looks great with everything I already own which is always a win.
I don't think I have actually worn a cardigan for quite some time you know, but there was something about this style of knit that just drew me to it. I think it's the thick twined style knit, it gives me real luxury vibes, it's sort of classic Chanel esc, but this piece is actually super affordable and from Femme Luxe, who I'm sure you know I work with on a regular basis to show you what's new in.
To throw in a little disclaimer, I was kindly gifted this cardigan along with this stylish white jumper dress that I have just been living in but as always all opinions are my own, and I don't know how anyone couldn't love a good piece of knitwear in this weather right now!
Here I have styled up how I would wear a jumper dress to go out for dinner or drinks, I have simply paired it with a big over sized teddy bear coat, some grey over the knee boots, a checked scarf and a simple black bag.
I feel like this is a perfect Christmas day outfit and I will probably end up wearing something very similar to this if not this one itself. I am starting to build a nice little collection of jumper dresses now, and once I have one in every colour I will be happy I can still go out and be festive over the Christmas period and not be worried sick I am going to wake up the next morning full of cold.
This year I am spending Christmas at my mums and I believe we will be heading out for a drink mid afternoon to a nearby pub so this will be a great option as it isn't too dressy, for a pub outing, yet I will still feel put together and slightly dressed up, I mean it is Christmas after all so I do want to make a bit of effort; but not too much you know.
I picked both the cardigan and jumper dress up in a size Medium and I think they are a great fit, true to size (slightly oversized) but that is how I intended it to be as I like my knits to be on the larger size. They are also very good quality, super soft and a great material thats not only comfortable on the skin and 'wears well' but also fits well and looks great. What more do you want?
I feel like Femme Luxe has a great selection of jumpers in at the moment, from cropped styles, to oversized; jumper dresses to cardigans, what ever your after I bet there will be something for you, and they also do their styles in a number of different colorways which is great because what ever your primary colour, they will have something that will sit well in your wardrobe.
What is your Christmas day outfit this year? Do you already have something planned?