Having a new outfit doesn't necessarily mean you need to purchase new items from head to toe. This year I am making a conscious effort not to spend excessively and not to waste excessive amounts of clothes.
I might love to shop but I am trying to re-wear a lot more items in my wardrobe and not consume so much waste. I am also saving to buy a house, which is just another incentive not to go overboard with the spending this year.

Other that missing out on my little monthly Primark trips I have loved switching my outfit's up recently with just my bottoms or just my tops or shoes for example, and everything else is just recycled from my already existing wardrobe.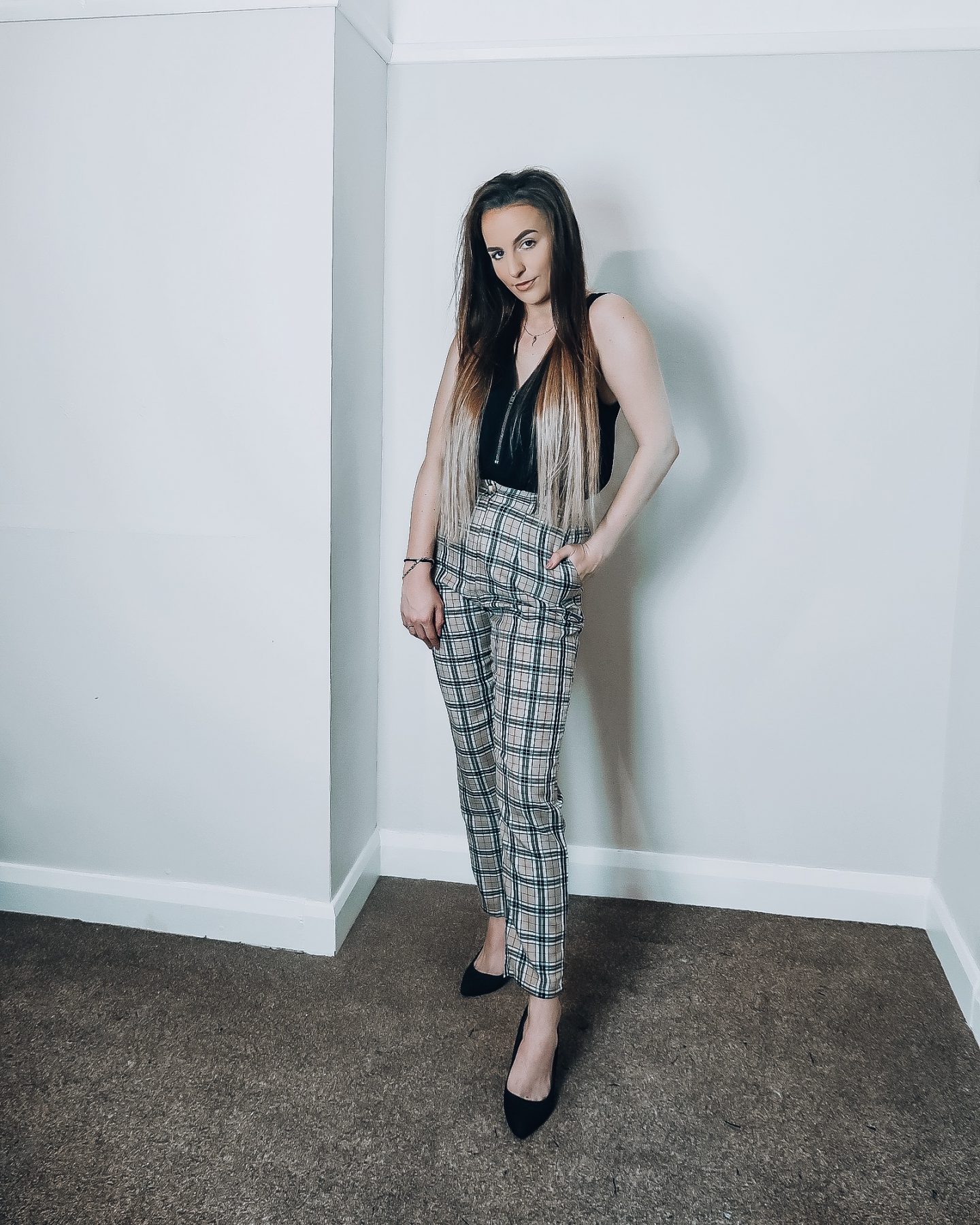 OK so the Primark trips may come back soon but I will still be making better purchase decisions even in super cheap stores like that. I just find it amazing how a different pair of bottoms can make an outfit look so different even though you have on the same shirt and same shoes!

I remember the days when I used to think it was embarrassing to wear the same outfit twice and I most certainly needed a brand new outfit for any event which; back in the day was most weekends. Now that mentality and thought process is just outrageous to me.

So in this blog post I am showing how a different pair of trousers can be all you need. I have on the same plain black shirt I picked up many years ago in New Look and the same classic black block heels I picked up, again, many years ago from Primark.
As a disclaimer the bottoms I am showcasing in this blog post were kindly gifted to me by Femme Luxe. I have worked with Femme luxe for years and I am a big fan of their pieces. Everything is super affordable, so it makes them accessible for almost everyone, the always come out with the latest trends and I always find something different and unique on their website. As always all opinions in this blog post are my own.

The first pair of trousers I have recently become obsessed with are these Beige Tartan High Waisted Skinny Leg Trousers. I just think you can't go wrong with tartan in winter, and the Burberry esc vibe they give me just makes them feel way more expensive than they are.
I picked these up in a size 10 and I would say they are true to size; they fit comfortably around the waist and the waist is nice and high which I love.
I do think they have a little bit of excess material around the bum area but that's always a given for me as I usually have to get most of my trousers tailored to fit. I should probably just get into the gym and do some booty workouts but you know for now a little bit of tailoring does the trick.
With a printed pair of trousers like these, they can fit into your wardrobe so easily because any plain black or white top and your pretty much good to go. These would also be the perfect work attire maybe with a fine knit black or white jumper whilst we are still in these colder months.

The next pair of bottoms I picked up was these Teal Belted Tapered trousers. They just fit like an absolute glove, again I picked them up in a size 10 and they are true to size.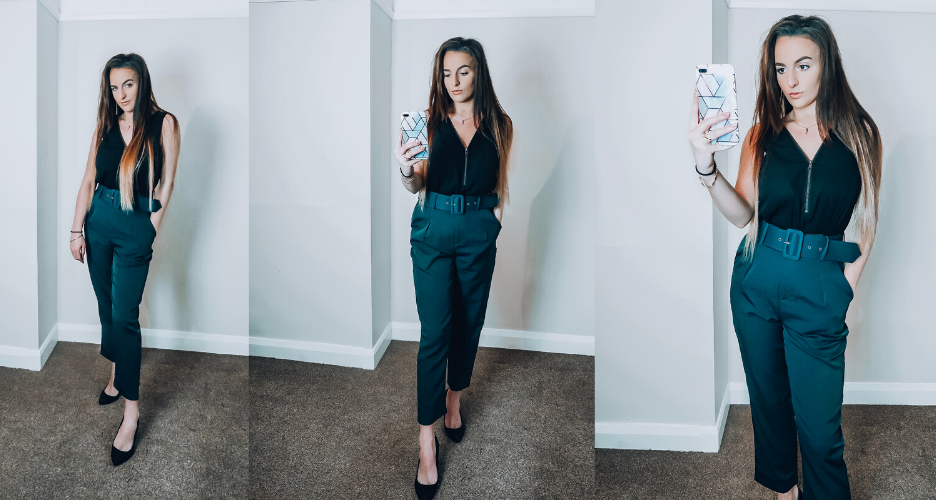 The quality of these is much higher than expected the belt is really hard and structured unlike many of the belted trousers I have tried from elsewhere, in which the fabric belt is simply fabric and does not stay in place.

Again these could be workwear trousers but I think I will get most of my wear out of these on evenings out. Sometimes, especially in winter there isn't anything better than a pair of tailored trousers, a little black top, a classic black blazer and a little clutch. Not only do you feel great but you can also feel warm and comfortable so that's always a win in my book.
The next pair of bottoms I selected was these camel cuffed joggers. Who doesn't own a pair of joggers, is there anything better than having a Sunday self care day in a pair of joggers.

I have to say I was expecting the colour to be more 'camel' like, if that make's sense, I feel like these look slightly yellow. Buy you know, I know I will still be getting my wear out of these because they are super comfy and they are certainly a colour I do not already have in my wardrobe.

The last pair of trousers which I feel like are another perfect workwear piece are these grey checkered high waisted slim leg trousers. I would say the fit of these are exactly like the tartan ones.
Perfect around the waist and a super high waist, which is just really flattering. They can easily be dressed up and dressed down, and like the tartan ones this print just doesn't go out of fashion so they are simply more of an investment piece to add to your wardrobe as you will get your wear out of them time and time again.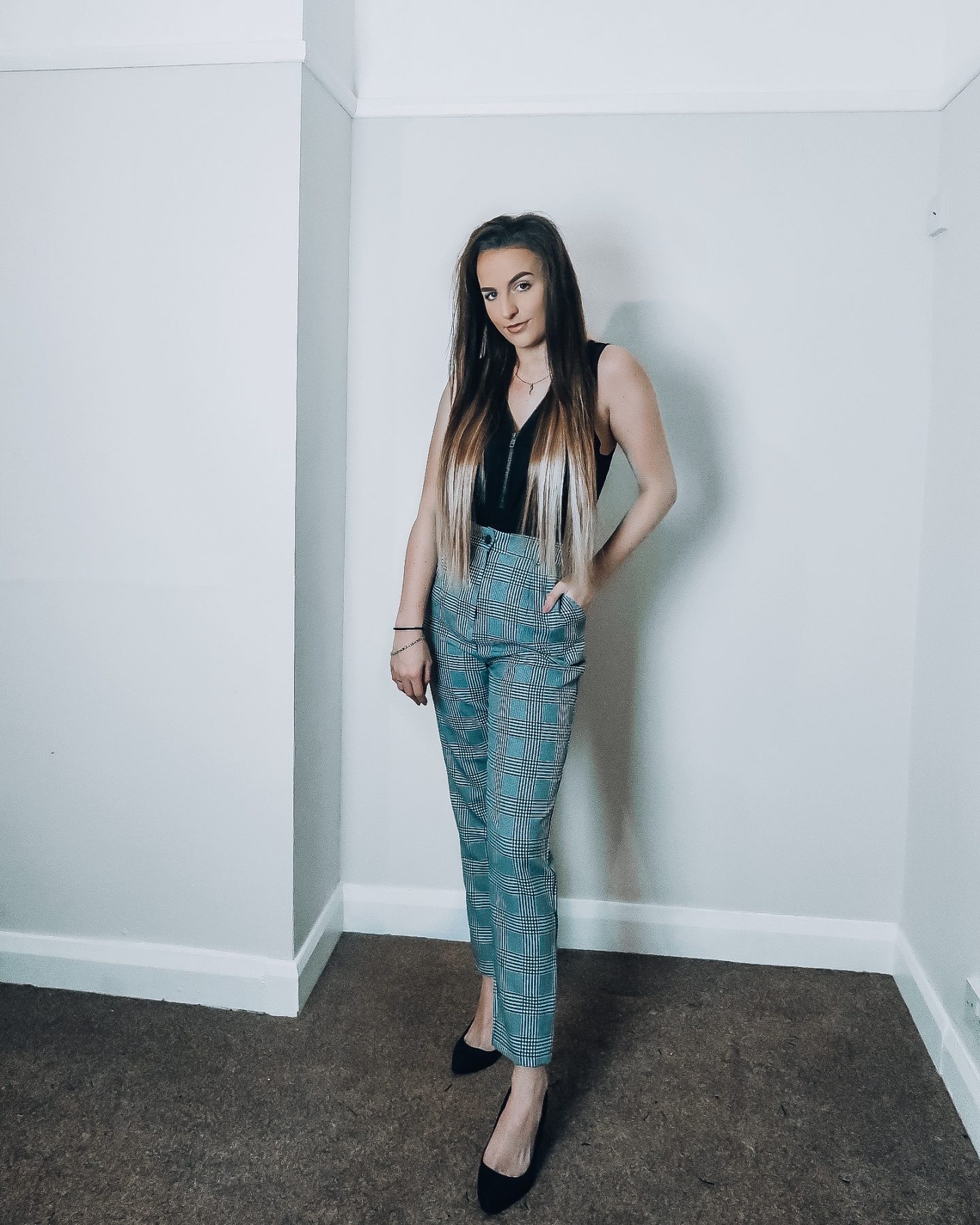 Do you prefer to switch up your tops, your bottoms or your shoes?