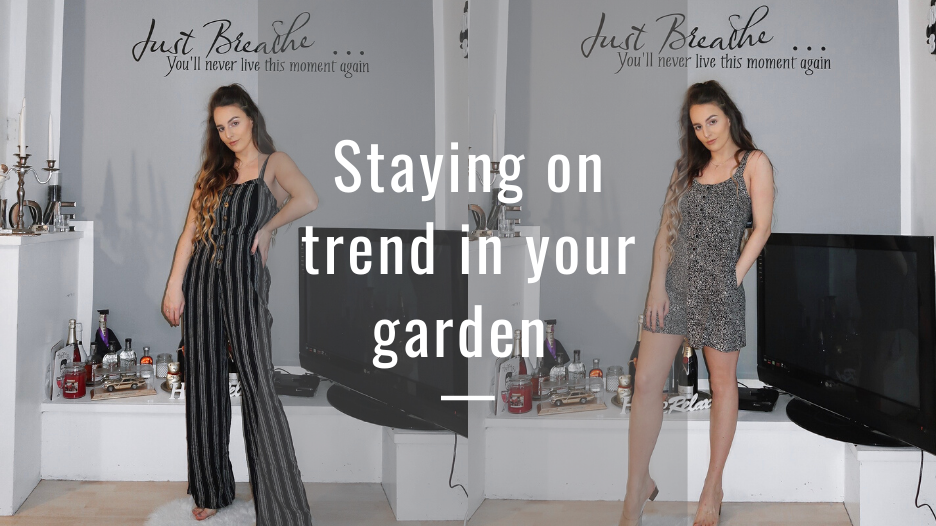 Although our summer plans hold a lot of uncertainty at the moment, there's nothing to stop us from enjoying some sunshine in our own back gardens. Spring and summer is finally on it's way to us in the UK, with sunshine beaming in through the windows during the day and our evenings staying lighter for longer, I think it is safe to say we will start to feel some warmth on our skin very soon.

My upcoming holiday may have been canceled, but that doesn't mean I won't be rocking a bikini in my garden this summer.

But what are the trends for the upcoming season? Well… Protest have kindly given us all the answers we need from Broderie anglaise fabric, big pocket's and palm print, to fluorescent neon's, high waisted swimwear, buckles and rings. And of course lets not forget seersucker & smocking pieces, prints and scalloped edges. Anyone else excited to be in summer clothes already?

Protest are a brand who 's mission is to help people overcome whatever stands between them and their passions, to break routines and blow minds, to enjoy the ride, now and forever. As a mission statement, I absolutely love that.

As a brand they combine fashion and sport and create pieces that are really unique. Pieces that can work in both fashion and sporting environments, whether you want to spend your day on a sun lounger or do something active, Protest have you covered and that's why I am really excited to be collaborating with them on this post.

In this post I will be showcasing some of Protest's new SS20 collection, which as a full disclosure have kindly been gifted to me, however all opinions on the items are my own. I'll be styling up the pieces and showing you how I would wear them; although only in the house and garden for now, I believe these pieces are timeless, and I will get the wear out of them year after year, which make's them a really sustainable purchase.

I am very thankful to have a job, which allows me to work from home, and with this being said I realised I needed to find some comfortable yet put-together work from home outfits. It's not always picnics in the garden, I mean maybe on weekends but mon-fri it's as far as the home office for me at the moment.

If anyone else is in a similar situation to me at the minute and is working from home, I would highly suggest sticking to your usual routine as much as possible, get yourself up and ready for the day like you usually would, it really helps your mindset and make's you much more productive. It may sound silly, but I promise you, it works.

Whilst it's still chilly, by all means work in your loungewear, but as the warmer weather is nearing; I would definitely invest in some comfy workwear attire now while you are still able to do so, and why not add in a push up bikini or two. After all, what's life if it's all work and no play.

Garden's can become home gym's for yourself and your household; who doesn't like to see their man work out in a pair of board shorts haha, but they can also become a place where you sit down together to eat, they can be a quiet space you can pick up that book you have been meaning to get around to reading; they can simply become a place to escape and I think we could all do with a little bit of escapism at the moment.
The first piece I have to show you is from Protest's new collection and it is the soft jumpsuit in true black. This is my new favourite jumpsuit by far. It's made out of 100% viscose, which means its super lightweight and cool, not to mention it's so so comfortable.
I picked up this jumpsuit in a size M, and when I put this piece on, it instantly made me feel so put-together and ready to tackle the day. Whether that is sat working from my computer or sat outside with my favourite book, it's this summer's version of the power suit, and we all need one of those right?

The flared leg, which I am a big fan of, is super flattering on most body shapes, it can really elongate your legs, and there's just something really powerful about a flared trouser. I'm only 5"5, but somehow wearing this, I feel much taller.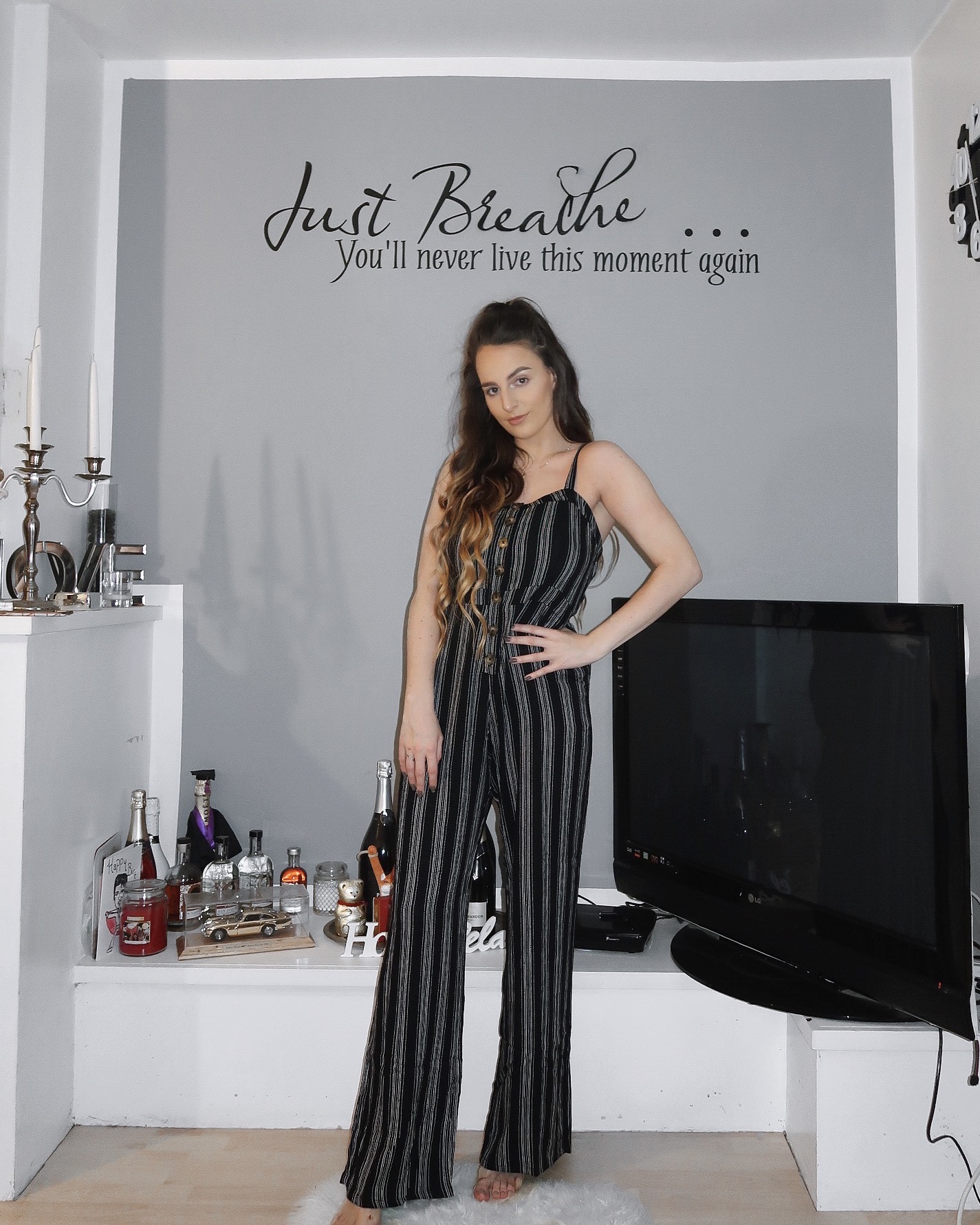 With this jumpsuit's classic colour-way, this piece can easily fit in to your current wardrobe and the button detail down the front of this jumpsuit, which I love, tick's another Spring Summer trend box, and did I mention it also has pockets!

Although styled with small cubed heel's here to really give me that Summer girl boss feeling, you could always pair with sandals, a straw hat and layer over a triangle bikini for a relaxed, dressed down daytime look.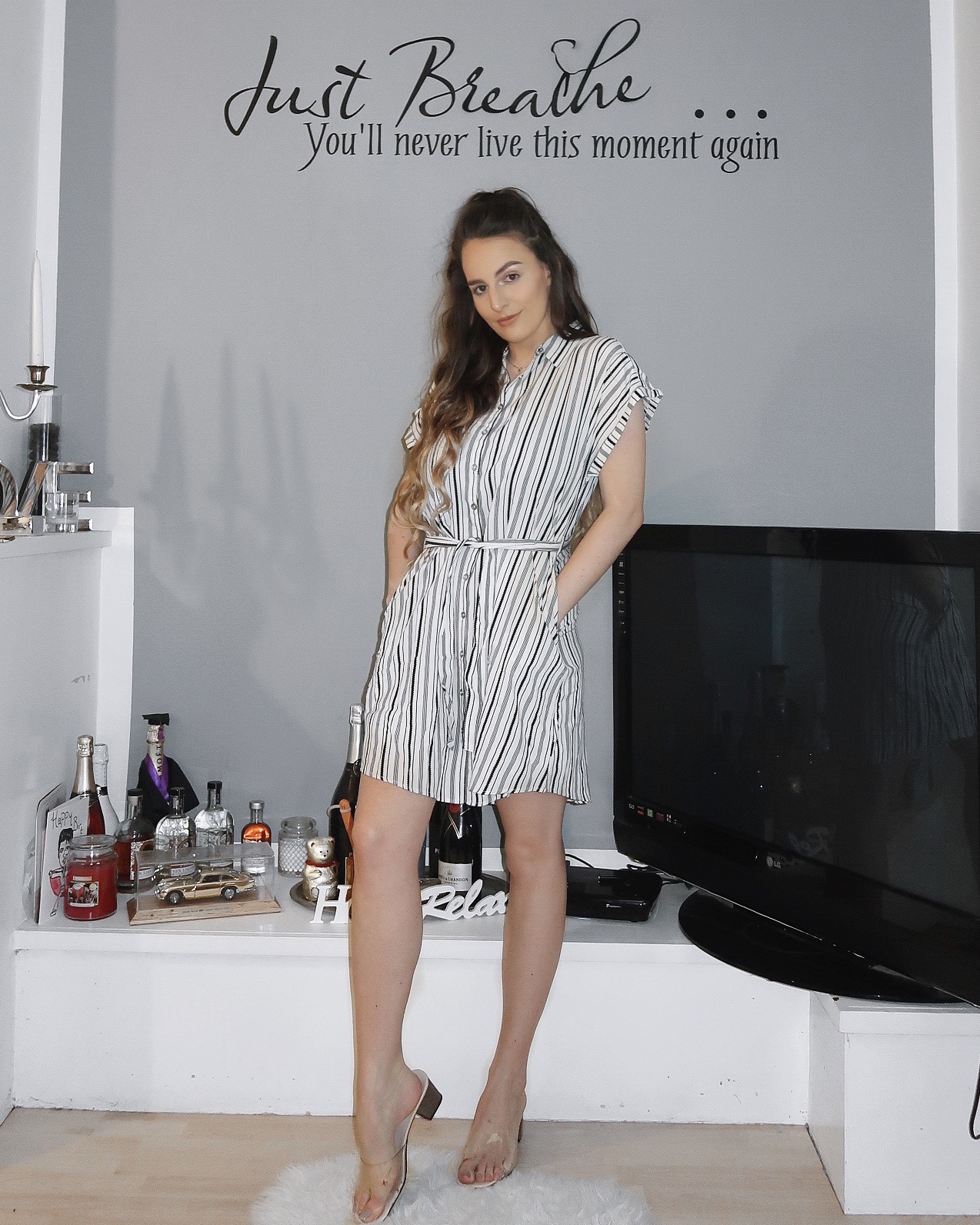 The next item I chose was again a Spring Summer piece but this item had actually been reduced in the sale. It's this simple idillic dress in seashell (white) and I had to pick this up in a size L as the M was out of stock, but something like this is a wardrobe essential for me. It's again 100% viscose so it's really cool to wear for when the weather warms up and it's so easy to wear too.
This garment although stated and styled as a dress, would be the perfect bikini cover up whether it be worn buttoned up or down. It's in a classic black and white print, which will never date, has a fabric belt to really synch in that waist meaning even though I picked up a size L, the fit is still great, and obviously this chic dress also has the big pocket trend ticked too.
The last item I picked up, but definitely not the least is this Furtado playsuit in true black. I picked this up in a size M and I simply love the print on this playsuit; it almost looks like texture and although another black and white piece, it's very different from anything I own and I know an item like this will get so much wear in my wardrobe.
Again it has the button detail down the front, the smock like detail to the back and pockets, it really is the playsuit I'll be reaching for all summer. I also love the fact that the straps on this playsuit are adjustable so you can really ensure you get that perfect fit. Of course this item is also 100% viscose also. I think this is my go to fabric for the summer at the moment, it's lightweight, it's cool, and it doesn't crease!
What's your favourite piece from the post? If you want to shop anything from the post or check out Protest's new collection for yourself, I have a special code that will get you 10% off your order. Simply use code hola10 at checkout for your special discount. Discount code is valid until 30 June 2020 so plenty of time to get your summer essentials at a discount!
Best wishes to all, and stay safe.