Thigh high boots have been my saviour this winter. When the nights are cold and all you want to do is live in jumpers but you also want to look like you have made a bit of effort. Throw on a pair of thigh high boots and you are winning.
You can literally wear the most oversized jumper dress, or if your feeling a little more risqué opt for a more flattering fitted shaped dress; pair with your favourite boots and jobs a good'un.
I recently purchased the Stuart Weitzman thigh high boots in grey; I want to say it was around November time last year. How weird is it saying last year haha, so a few months ago anyway, and they have literally been my go-to boot/shoe basically all round footwear option.
I know they have been around for forever but I have always opted for something cheaper, and black as I thought they would go with more of my wardrobe but I have been pleasantly surprised at the amount of wear I have got out of these boots, the colour seems to go with everything.
I opted for the smaller heel so they would be more wearable, but they are literally the comfiest boots I have every owned, the lining is super thick and stretchy, they just glide onto the leg and really flatter and elongate my legs I find. I am already considering purchasing in multiple colours, as thigh high boots to me are just a staple; and these are without a doubt the perfect pair.
So I thought I would show you how I have styled them up for the winter months with some of my new pieces in my wardrobe. Whether your into more of a fitted jumper dress, an oversized chunky knit or a simple slinky dress, throw on a pair of thigh high boots; they could be the ones you purchased two years ago or a recent purchase, any thigh high boots with a jumper dress and you will automatically look much more put together.
The dresses I am featuring in this post have been kindly gifted to me by femme luxe finery. I have worked with this brand for over a year now and I have shopped with them for many many years so you know how much I rate their pieces; and they are super affordable so you can afford to splurge on the other things like the boots and the bags!

The first item I styled was this Grey Knitted Turtleneck Mini Jumper Dress. For me at the moment, this is my favourite kind of jumper dress to wear; it's cosy and warm, you can hide your post Christmas bloat and what better feeling that been super snug in a roll neck at this time of the year.
The next item I chose to style up was this dusky pink cable knit jumper dress. I do love cable knit. It always reminds me of quality and I always think it makes a jumper or jumper dress in this case look way more expensive. I'm not sure why, I think it might be because all the cable knit jumpers back in my day were from stores like Ralph Lauren and if you saw someone wearing a cable knit jumper you were very jealous.
This is more of a fitted style, I always find cable knit jumpers to be on the tighter side, as they don't have much give. I probably could have sized up but to be honest I still have a lot of bloating and extra layers from the Christmas period that I am hoping to lose very soon when I get my healthy eating and drinking back on track.
The last option I chose to style was this black belted high neck bodycon mini dress. I feel like this is a much smarter option but still a great warm option for this time of the year. The ribbed material I find is always a good option for work as it's still cosy but also classy. I think this would be my go-to for a dinner date at this time of the year also, simply throw on a big oversized teddy coat and your good to go.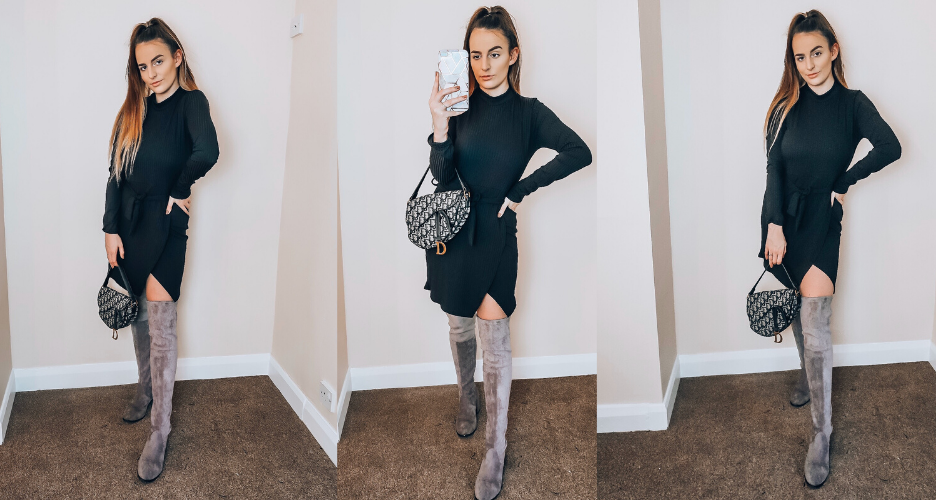 What is your favourite style of dress to pair with some thigh high boots? Are you more of an oversized or a fitted kind of girl?