Well the weather in the UK has certainly been a bit hit and miss over the last week or so. We had a glorious April and May but June so far seems to have taken a turn for the worst.
Like most, when the sun is shining it has a positive impact on my mood and my mental health. But so does dressing for summer! So the heating might have been back on a few days this week and I might still need to have joggers on my bottom half some days, but wearing white outfits just screams summer to me and it's put me in such a positive mood.
So I've put together some of my latest outfits which will hopefully bring you all the summer white feels like it's brought me! As a quick disclaimer, some of the items in this post have been kindly gifted from Femme Luxe.
The first outfit I have been loving, is the perfect Sunday outfit. A nice cosy knitted look with optional cardigan.
I have been really loving the knitted jogger trend this year, and don't get me wrong I love all the pastel colours of this look too. But sometimes there isn't anything better than a crisp white look and these white knitted joggers have to be my favourite pair at the moment.
Here, I have paired them with a simple black tee and an oversized white knit cardigan for when it's a little bit chilly. Nothing says self-care Sunday like a cosy outfit like this!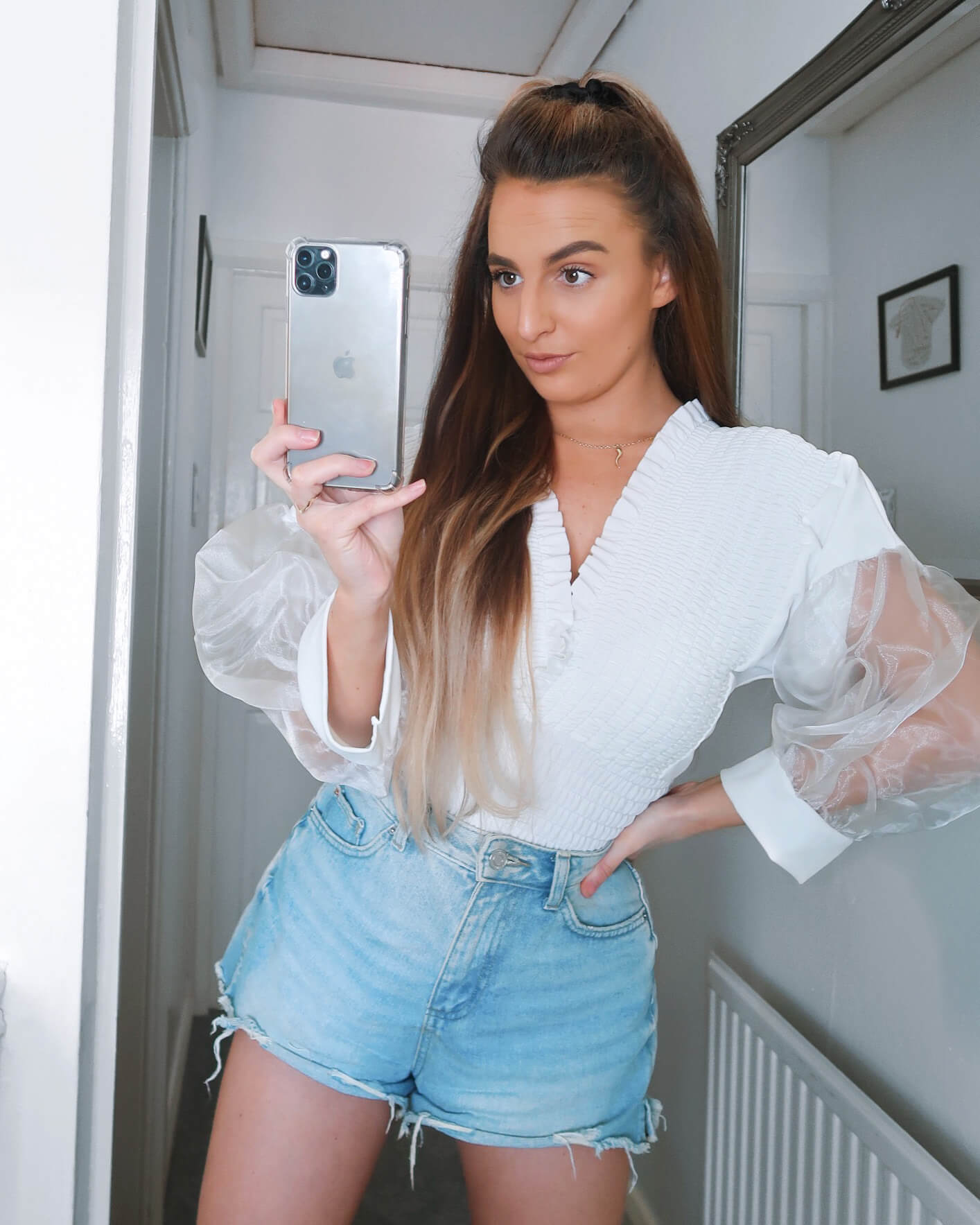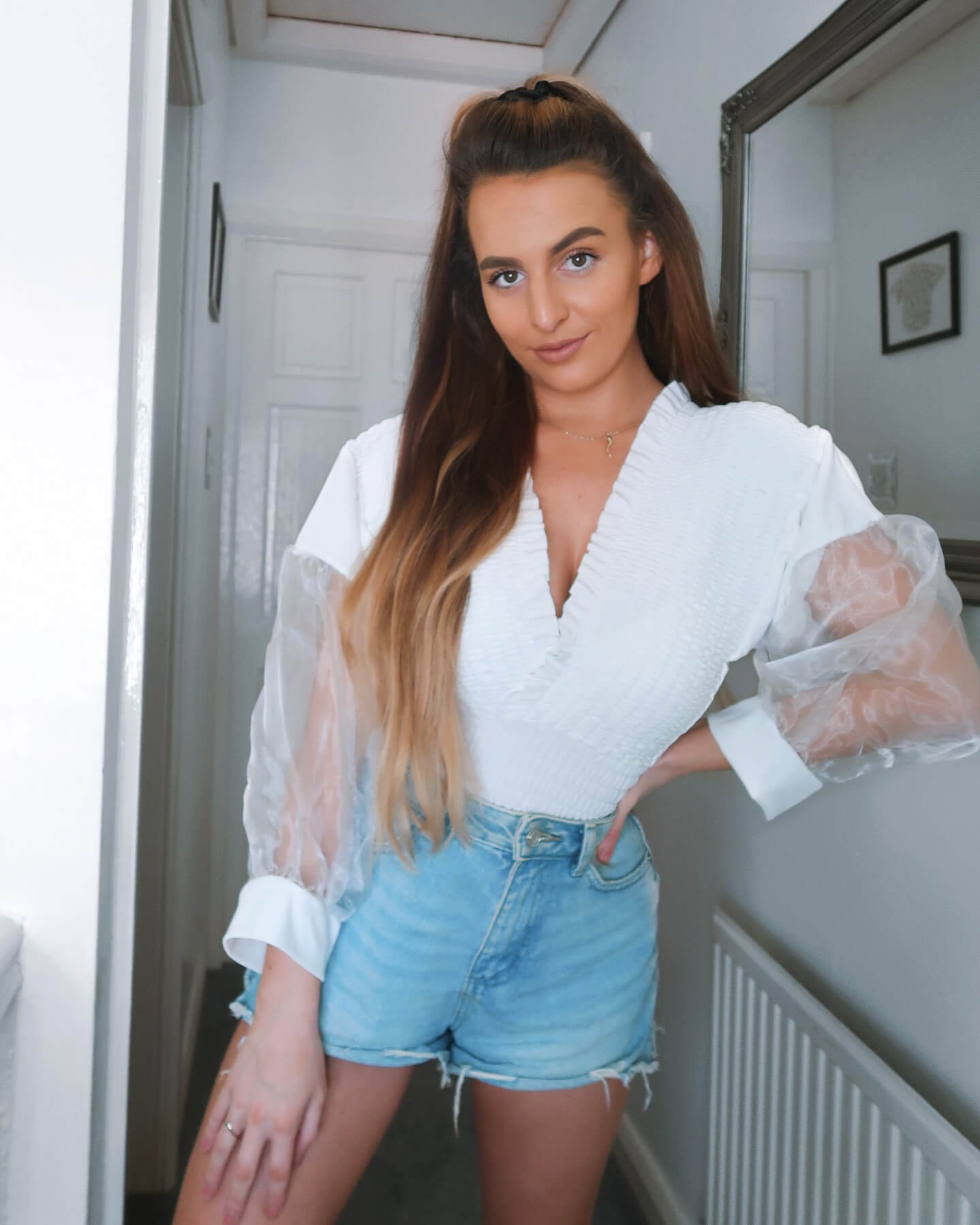 Another trend that has become really big this spring summer is gathering. I have been seeing it on tops and dresses all summer. I have no even seen it appear on the waistbands of shorts and jeans which I'll be hunting to get my hands on a pair of those because a gathered waistband screams comfort and whilst I love the look of denim shorts and jeans, they aren't the comfiest to be sat in all day, especially when we do get the lovely weather back.
When I saw this white gathered top on Femme luxe, I knew I had to have it in my wardrobe, I love the crossover neckline, which is on both the front and back of the top. It's also not too low so you can happily wear pretty much any type of bra with this and not have it exposed at the front or back.
I really do love a nice back and I'm all for backless things but they just aren't very practical so this is perfect.
It not only incorporates the on-trend balloon mesh sleeves, but it also has the gathering across the whole front and back of the garment. I think the gathering can really make something feel so much more flattering, it shapes you without showing all your lumps and bumps and in this perfect summer white colour, I think this has to be my new favourite top.
Paired here with an old pair of simple denim shorts and it's the perfect look for an afternoon in the garden, when the weather permits of course.
Another white staple I have finally got my hands on is this shoulder pad tee. If you read my last blog post you will have seen I picked up a simple black shoulder pad tee, and already it has become one of my favourites.
I love anything with a bit of structure but I also love simple outfits, so these tee's with shoulder pads are the perfect in-between piece. After getting so much wear out of my black one, I just had to pick it up in white too!
Paired with a pair of all white cuffed joggers, makes the perfect summer cosy look. I have been wanting a pair of all white joggers for probably the last 6 months, but they always seem to sell out super quick.
I have like a thin pair of joggers that is part of a co-ord also from Femme Luxe, and I do often wear these as separates, but I wanted just a simple standard pair of all white joggers just to throw on with, well, pretty much anything and I finally found the perfect pair.
What do you think about an all white outfit?