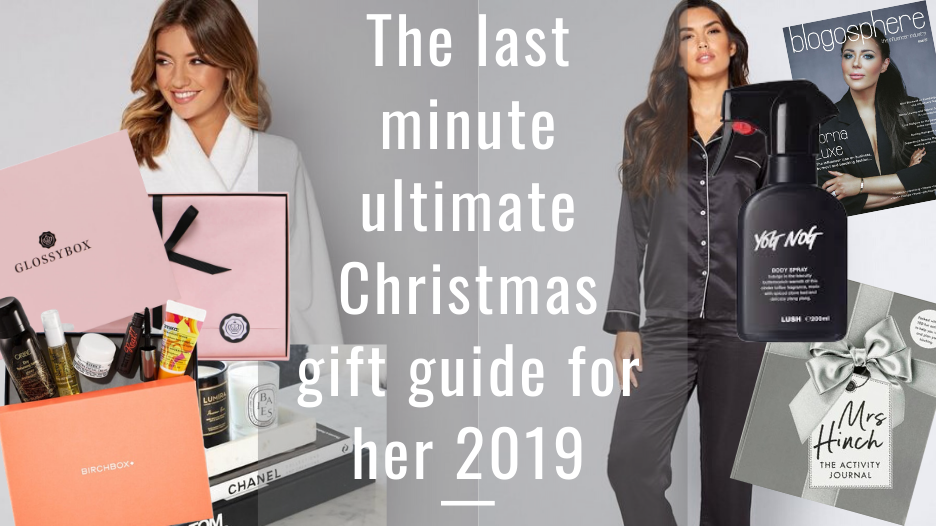 Every year I love to look at gift guides to get a bit of last minute inspo. You can know someone so well but sometimes it's still difficult to pick the perfect gift especially if they are anything like me and admittedly are super fussy. It might be late but I know quite a few that gets their gift on Christmas eve, so if your one of them people but have no idea what to pick up for your someone special then this last minute gift guide is for you.
So this year seen as though I am super organized; well I say super organized I actually don't have many to buy for this year at all. But yes everything is wrapped and I can finally enjoy the build up to Xmas now, so I thought I would put together my own little gift guide.
This could be for you to get ideas for what to get someone you love whether its for your mum, sister, friend, girlfriend, aunt or whoever, I'm sure there will be something on the list for them.

I also think gift guide's are a great idea for yourself – no I don't mean a list of thing for you to buy yourself; I mean you could haha, January sales are just around the corner and would it be boxing day if we didn't check out the sales from our sofas? But I mean you know when you get asked every year 'What would you like for Christmas?' it's like my mind goes blank.

It was different when I was little and there was a new toy or gadget I couldn't wait to get my hands on, as I got older it became perfumes, beauty faves and the odd designer purchase, but now I am full on 'adulting' I feel like if I want something enough I will save up and buy it, if I don't do that, its because I have decided somewhere along the line that it wasn't worth it.

So yes sometimes I look at gift guides for a little bit of inspo for myself too. I'm not going to go into too much detail about each gift, especially as it' I am just simply going to list them; but I hope this has helped you in some way, shape or form this Christmas, and of course, have a brilliant one!
1. Personalized Pjammas – No word of a lie when you put these on you will feel majestic. They are perfect for all year round, look luxury and are super affordable, and I am a total sucker for anything personalized and think personalized gifts are just the best. But any type of sleepwear is always a win in my eyes.
2. Coffee Table Books – You can never have too many, I personally have got a nice little collection going from Chanel books to the White Company Book, or if they love a bit of cleaning and are part of the Hinch Army, how about Mrs Hinch's activity book which is a new addition to my collection.
3. Personalized Dressing Gown – I own about 10 no word of a lie, one in every colour but they are the softest, coziest things and have my name on it… could it get any better. Too late for a personalised option, simply find the cosiest dressing gown in the stores, I promise you cannot disappoint.
4. Lush smelly's – I don't think you can go wrong with anything from Lush but I would personally recommend their signature Christmas scents like Snow Fairy or Yog Nog.
5. Their favourite fragrance or if you don't know it, check out this post to see some of my all time favourite classics and get a little more inspo in the fragrance department.
6. An experience – this could be travel of some sort; like a mini break to Rome, a spa day, or an activity they have always wanted to try. The possibilities here are endless and it really gives you a chance to show how well you know their personality. This year me and my partner have decided to book a mini break to Amsterdam and a log cabin getaway; both in January so we have something to look forward to in the New Year.
7. A subscription service – so do they have a hobby or are they into beauty or health and wellbeing? Whatever they may like there is a subscription service for everyone and getting a little treat throughout the year is a great gift example because they are going to be reminded of it all year long.

I personally am interested in the fashion and blogging world so I have a subscription to the Bloggersphere magazine and I would also recommend glossybox and birchbox as they are both great beauty boxes.
Are you a last minute kind of person or are you all ready for Christmas this year?