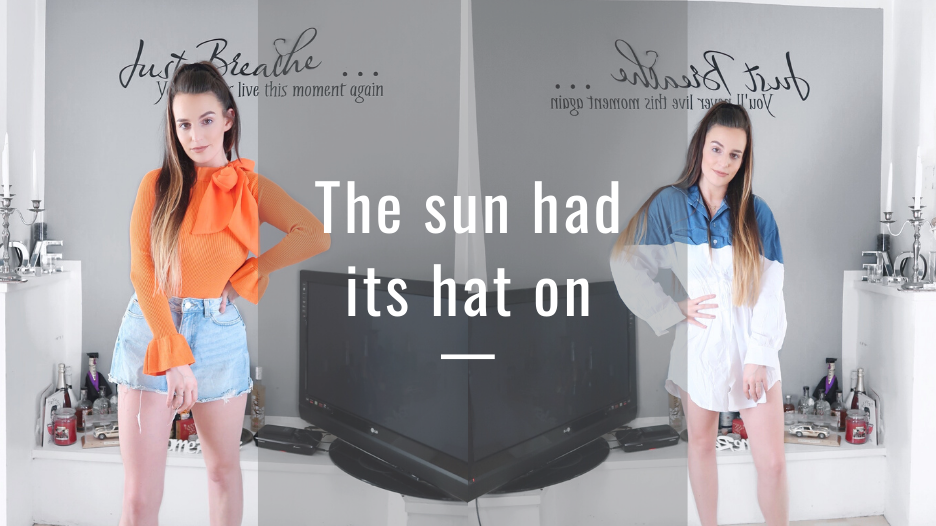 Ok so we haven't quite got sunshine and warmth every day yet but the better weather is finally starting to make an appearance in the UK and it does so much for the mind, honestly considering what is going on in the world right now the sunshine peering through the windows on a morning, the warmth of my skin in the garden on an afternoon and the lighter evenings has had me in such a positive mood.
We may not be able to go out at the moment, but it doesn't mean we can't enjoy ourselves in our gardens when the weather permits. This week was the first week I've put shorts on, gone outside and not felt cold. Granted we do still have a cool breeze, which after a few hours decided to make an arrival. But baby steps!
Today I have teamed up with Femme Luxe Finery to show you some of there new in spring summer 2020 pieces. Let's bring some colour back into our wardrobe. I bet you're surprised but I didn't pick-up anything black! Nope I'm trying to steer off the all black everything… for the moment anyway.
This week I have cleared out my entire wardrobe at my mum's (which is where I am currently self isolating) I love being back home, and I'm not embarrassed to say it. I'm a very family orientated person and my mum is the closest person to me in the world so I wouldn't want to be on lockdown with anyone else!
Anyway yes my wardrobe, all my summer gear was actually already at my mums as my house is pretty small so I just took my autumn/winter stuff to my house and was gradually going to swap it over as the weather peaked, but seen as though I'm already at mums, I thought it was the perfect time to go through my summer wardrobe and have a bit of a spring clear out.
I can't believe how much coloured stuff I own, I've been living in black and camel's recently but it was amazing to see just a selection of my coloured blazers I forgot I owned. I actually made a fashion TikTok showcasing these – follow me at @holajoanne, subtle plug there. I also made my first IGTV video with the clip so if you already follow me on Instagram I'm sure you will have seen it. It was so much fun!
I think my favourite colour to wear during summer is orange, I think there is something about bright orange with a tan. Granted I am so behind on my tanning that I look pale AF in these photos but I still love orange in summer! The item's featured were kindly gifted to me by Femme Luxe but like always the opinions are my own. I love my fashion so if something doesn't fit good, or is made poorly, I'll be the first to say haha.
The first item I picked up was this bright orange ribbed tie neck top with fluted sleeves. This top is just so dreamy. It's just the right material for this sort of weather we are having at the moment; it's light but can still keep you warm.
I love the fit of this, I picked it up in a size 12/14 and it's just the right size, it tucks into bottoms nicely, fits well on the sleeves, and I mean can we just mention the sleeves.
I love sleeves that are a bit different, and I can honestly say I don't own anything like this; it has two buttons to tighten the neck at the back and this beautiful organza style bow to the side of the neck. I almost feel like cabin crew. Did anyone else used to play dress up as cabin crew, I always felt it would be such a glamorous job., but yes so this neck scarf detail was also a big win for me.
The next item I picked up was this sage green slinky satin mini dress. I said I wanted to get some more sage green into my wardrobe didn't I. Another dreamy piece. I think because of how pale I am it slightly makes me look like I am in nightwear, but I mean if your nightwear looks like this, your killing it.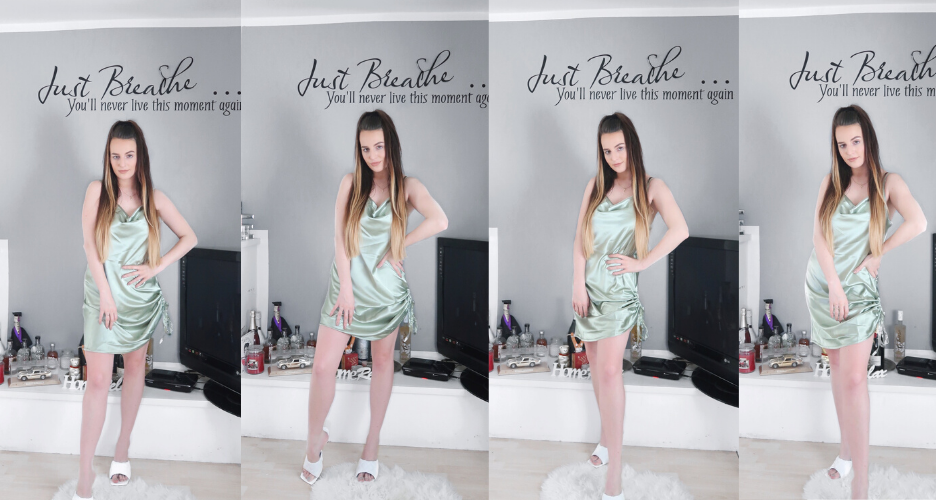 I feel like with a golden tan this dress will really pop, it's soft, it's lose in all the right areas, I think this would be a really statement piece to simply wear with subtle accessories and maybe hair up would look better?
I picked this dress up in a size 12 and id say it comes up pretty big, this size is still great for me because I don't like anything really restricting but if you like your dresses really quite fitted, I would say to definitely size down with this dress if you are like myself between sizes.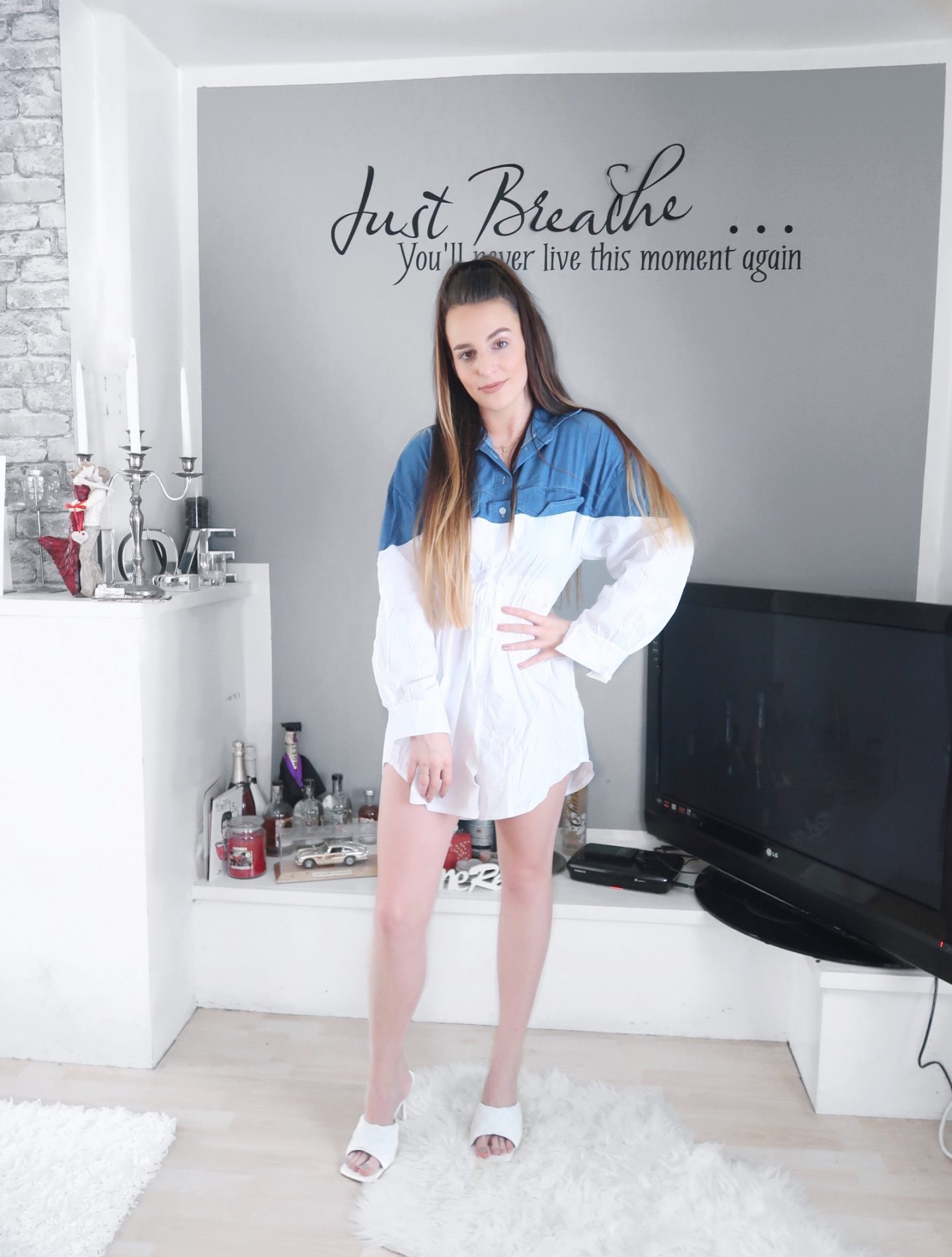 The last item I picked up was this shirtdress; it's half denim and half white shirt. It's so unusual. I have never seen anything like this, but I was really drawn to it. I have just left my EGO quilted mules on here with it and styled it up pretty dressy, but tbh I think this would be the perfect garden dress to pair with comfy white sneakers or a pair of converse.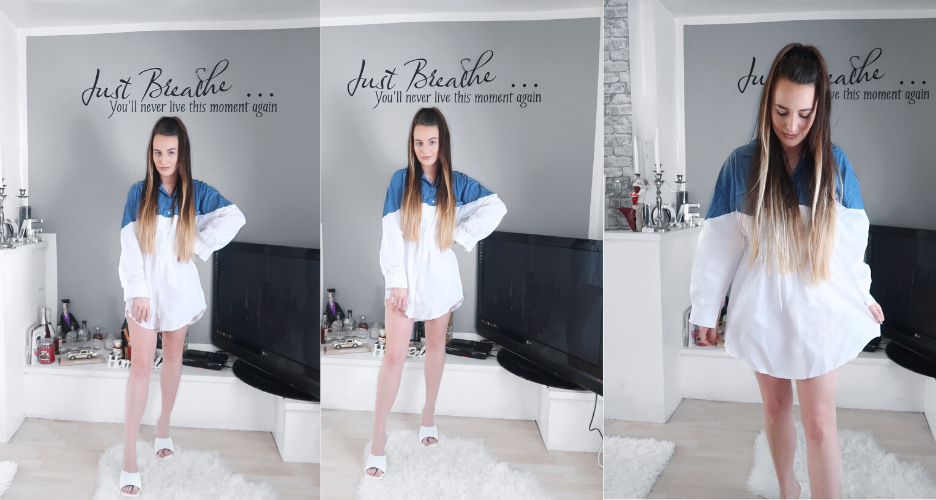 The fabric is really cool and lightweight, it's not a heavy denim piece, which I think is great for the upcoming warmer weather; fingers crossed. I picked this up in a 10/12 and it's the perfect fit, it also has a drawstring waist perfect to pull you in at the waist. Granted it does need a bit of a steam as it arrived pretty creased but I hope you can still get the gist of how it looks on, I was just being lazy and didn't steam it before trying on. The sun was shining and I was too excited to open my parcel so hey ho.
But yeah I think this might be my favourite piece, or maybe the orange top, or the sage dress… haha. I love them all. Which was your favourite?