Gosh I think it's been years since I have worn anything in Tie Dye print. Everything I did own that was tie dye was taken to the charity shops many many years ago, but who knew tie dye would make such a big comeback in 2020!
My instagram feed is full of tie dye at the moment and I have to say I absolutely love it. Tie dye is a very casual print 'very loungewear vibes' and could there be a better time for it to come back in fashion than right now, when we are all working from home and making our comfies our everyday attire?
I thought i'd share with you some new tie dye pieces I have picked up, and how I have been wearing them recently. These items were all kindly gifted to me from Femme Luxe but all opinions are my own.
The first item I picked up is my absolute favourite piece I think, and it's definitely been the most worn this week. It's these black tie dye print cycling shorts.
As I have said in a few of my most recent blog posts, cycle shorts have been the ultimate go-to for me during this lockdown, they are cool to wear while we are having this glorious weather here in the UK, and mostly they are just so comfortable.
Don't get me wrong, sometime's I like to put on actual trousers or even jeans every once in a while haha, but they really aren't the comfiest to be sat in all day in this heat, so cycle shorts have been the perfect garment for me so far this spring summer.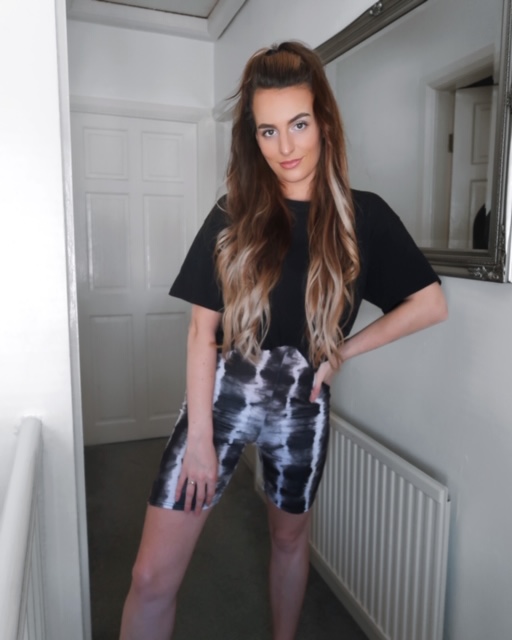 I wanted to pick these up in a black, because black literally goes with everything and I really havent seen anything like this anywhere else. I have seen lots of pastel colours, which again I love, but these are just really different and versatile, I knew id get my wear out of them.
For reference I picked these up in a size 10 and they are the perfect fit. The quality is great as always, they are nice and thick, not that flimsy sort of material, and what I really love about them is the length, they are just the right length.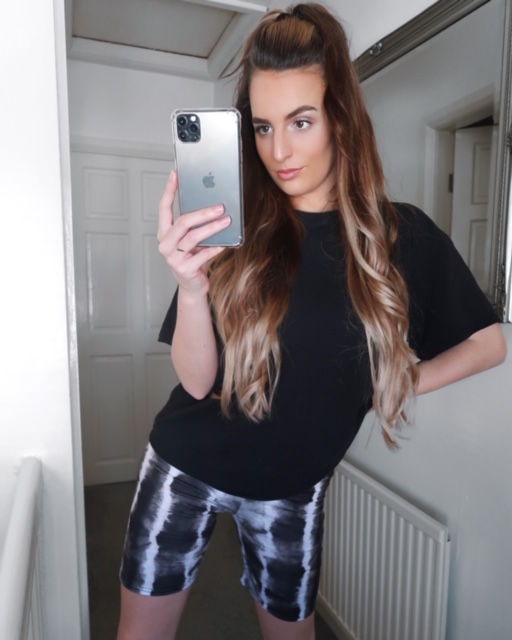 They sit nicely just above the knee which is how I like to wear my cycle shorts. I mean who thought i'd be wearing tie dye cycle shorts for work everyday in spring summer 2020? I really am so thankful I can work from home.
The next thing I picked up is this pink oversized tie dye t-shirt. I actually picked this up in lilac a few weeks back and I knew the fit was great, the quality was great and I'd worn my lilac one multiple times in a week already which is always a give away for me needing to stock up on the other colourways.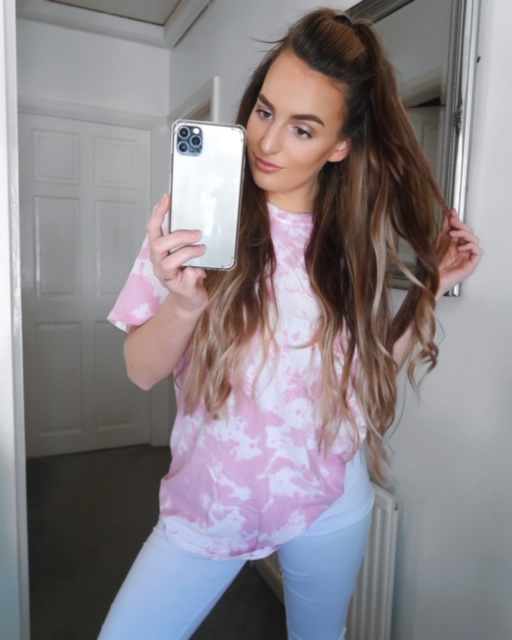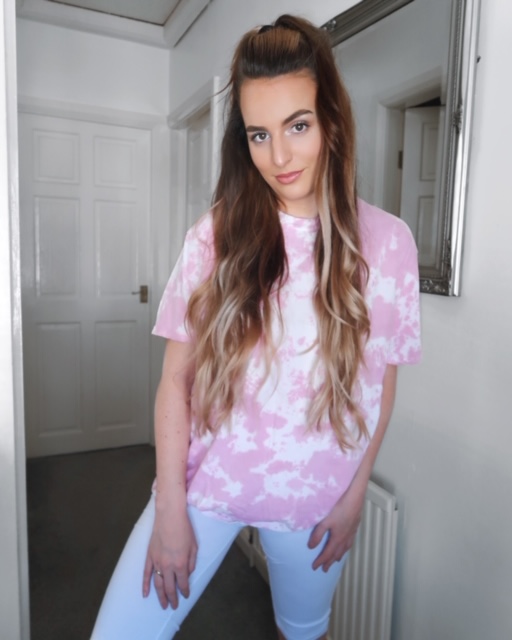 I don't really have much pink in my wardrobe and that's something I have been wanting to change, I don't know if it's because I have put some lighter shades in my hair but I'm really feeling the barbie vibes at the moment so I'm just going with it haha.
This t-shirt I picked up in a size 10/12 which is a large and again it's just the perfect size, it's nice and oversized, it can be worn lose with cycle shorts or knotted up with denim sorts, whatever you fancy.
Here I have it on with a pair of plain white cycle shorts and I think it's a great spring summer 'fun' look.
It's strange because in Autumn Winter I live in blacks, browns and neutrals, the pieces I pick are usually more classic pieces and I definitely wouldn't describe my style as 'fun' but I don't know what's happened to me this spring summer, I am all about dressing for fun and wearing what makes me feel good!
The last item that I picked up and of course another tie dye piece, is these bright pink tie dye joggers. I picked these up in a size 10 and they are perfect. The fit, quality and length is just wright.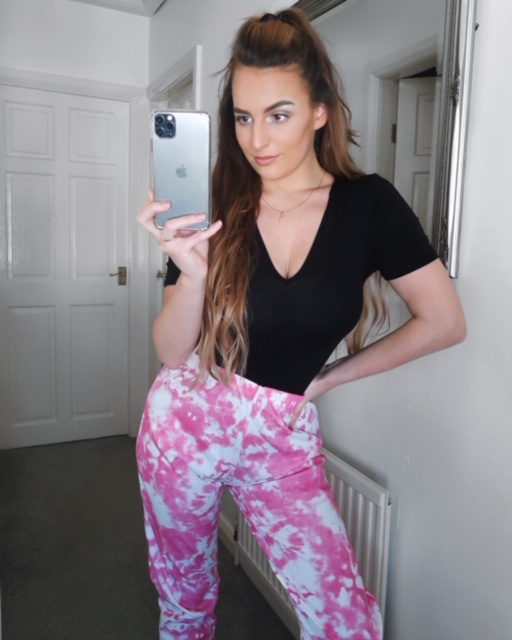 They are more of a fitted jogger which is just what I wanted and can be perfectly paired with a plain simple top.
The one thing I will say is I was expecting to wear the joggers and oversized tee together as a bit of a two piece, but they are completely different shades of pink which is a shame.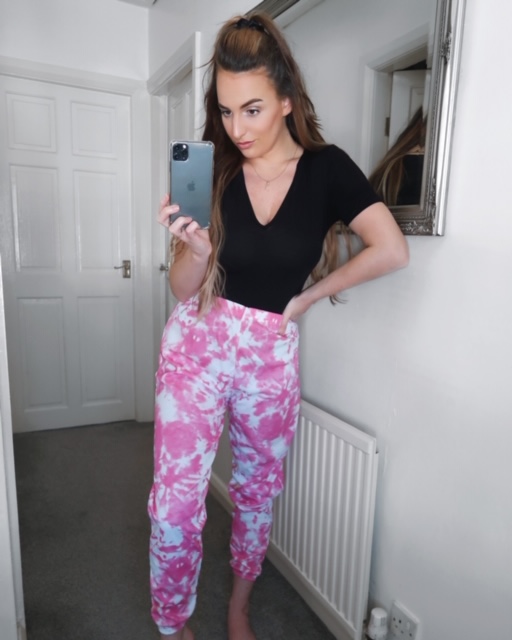 The t-shirt is a baby pink where the joggers are a hot pink, but actually now I quite like that. Looking back on the product images, it is quite obvious they are different shades of pink, I must have got too excited and not looked properly. Just to note femme luxe do have some full on tie dye co-ords in right now so they are definitely worth checking out if you are after a tie dye set.
Both items give me a different vibe though which I love, and it just means I get more wear out of them wearing them separately haha.
What do you think about the tie dye trend in 2020? Are you a lover or a hater?