So it's really starting to feel like summer in the UK. Finally! but our usual everyday attire now often involves a pair of joggers, and with the increase in temperature, I've been wondering what I can wear that gives us me same comfort and style, yet dosent make my legs swelter.
Well look no further and say hello to jogger shorts! yes, short length joggers, I didn't even know they were a thing until I saw them on Femme Luxe. I have said it before and I will say it again, they always get the latest fashion trends in super quick, and have some amazing jogger short sets in right now.
If you don't know already, femme luxe are my go-to loungewear shop! I have shopped with them for years now and the quality and price never lets me down. If you are a regular reader on my blog you will know that I often work with femme luxe on a gifted basis to show you the latest pieces from their collections and I am working with them again on this post, so just as a quick disclaimer, these items I am featuring were gifted, however all opinions are 'as always' my own.
Let's jump straight in with a jogger set. The first set I picked up is this amazing grey two piece, it has the jogger shorts and a sleeveless hoodie, I mean it just dosent get any better than than really.
I do love a bodysuit and a slogan tee with my joggers but I also love a good old fashioned slouchy hoodie, but it has definitely been too hot for those lately, so a sleeveless hoodie is just perfect.
It's also another item I didn't actually know existed and wouldn't think to look for, but it really is just the perfect loungewear co-ord.
The quality as always is so good too, it has a big silver zipper down the front of the hoodie making it perfect to wear with little bodysuits and tops underneath, the shorts have a nice thick waistband and drawstring detail to really synch you in at the waist.
I picked up this loungewear set in a medium for reference, comfort wins every-time for me, so I always size up in my loungewear.
I love a good grey combo anyway but I do love this contrast black stripe down the side on this set, it's in a sort of ribbed detail and feels very chic.
Another thing that I'm still loving and think I will be loving for the foreseeable is printed slogan tee's, I find myself growing a nice little collection of them at the moment.
Perfect to pair with cycle shorts, denim shorts, leggings, joggers, jogger shorts. You name it, a slogan tee will always go with it. They can really dress down an outfit too, I love the look of them with satin midi skirts or over the top of a floral dress.
I'm sure you know by now that I am a big advocate of 'stay home' I'm not going to get into it too much on here, but to cut a long story short I can proudly say I have not come into contact with anyone outside my household for the last however many weeks. I just wish everyone could say that and had the same attitude.
Anyway, I'm sure what we can all say is that we won't forget this spring, summer period for a very long time and to remember it and share the stay home message I love Femme luxe's slogan t-shirt collection.
I have picked up two different prints, a black and a white t-shirt because you really can never go wrong with minimal colours like this, they just go with everything in your wardrobe.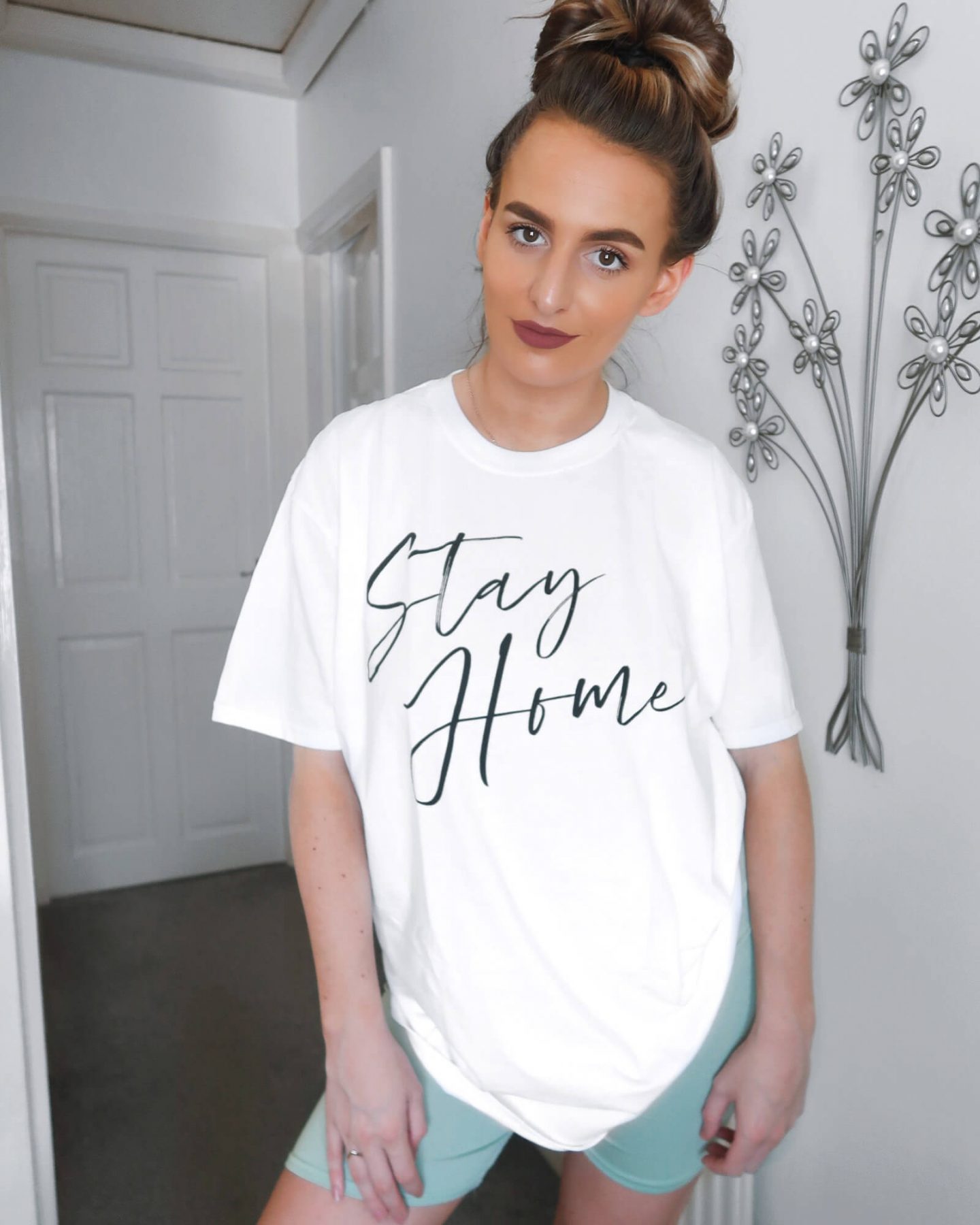 They did have lots of different prints to choose from, but I loved the simplicity and minimalist look of the 'stay home' white t-shirt, in this sort of handwritten font.
I also loved this black 'there's no place like home' printed tee. Because for me, there really isn't. Obviously this ties into what is happening with the world right now, but forgetting the situation for the moment, this tee would suit me down to a tea anyway haha.
I'm not someone who likes to be out and about, my favourite thing to do when I finish work is get home and start my evening routine, don't get me wrong I like going on holiday and I like going out for dinner or a bevvy every now and again, but I'm quite happy spending my Saturday night on the sofa with good food and maybe a large gin haha.
As you may well know, I am a creature of habit and if i like something, I am definitely one of those people who will go and get the same item in a different colour-way.
I was so over the moon with the grey jogger co-ord, I had to have it in black too. I know even paired separately this black set will get so much wear. This is by far the comfiest set I think I own and it's the epiphany of summer loungewear.
Obviously it's identical to the grey one so it has all the same side panel details and it's the same quality with a nice thick waistband. Not going to lie I will be heading back on the femme luxe website to see if they have this set in white, because I feel like I would need that one too haha.
I remember back in the day when joggers was only a thing for guys, and I'm sure I can remember seeing similar sets to these co-ords for men too with the jogger shorts, but I've never seen them sold for women, it's crazy how this hasn't happened before now but I bet this trend will stay for a while because they are super comfy and the perfect throw on ootd.
What do you think of the pieces I picked up, id love to know your thoughts?