Happy December everyone! Today I want to share with you what I've been wearing this week. You may have seen some of these looks already over on my Instagram. If you don't already follow me over there my handle is @holajoannekennedy 🙂
I have 4 new items in my wardrobe that will certainly get their wear out of them, I've been living in one of these pieces this week.
The first new item I want to show you is this white shirt dress. I have been loving the shirt dress under jumpers and vests look this Autumn Winter but I'd yet to have owned a more fitted dress… until now.
Most of my shirt dresses are oversized shirts that I wear as dresses, or they have slits up the side; look cute but not so practical. But I've been after more of a tailored shirt dress that is super fitting and can be worn both with or without cosy layers.
The shirt dress I picked up was this Kelby white pleated long sleeve shirt mini dress. I picked this up in a size 12, I am usually a UK 10 or 12 for reference depending on the brand and the garment.
This shirt dress actually has a bit of stretch to it, so I may have been ok with a 10 but length wise, it's just perfect, so I'm glad I went for the size 12 as the 10 may have been slightly shorter. I am 5.5″ for height reference.
Now to go with this shirt dress I picked up two very similar items, first I picked up the 'Black & White Oversized Houndstooth Sleeveless Rib Detail Mini Jumper Dress – Kristen' and secondly I picked up the 'White & Black Oversized Houndstooth Sleeveless Rib Detail Mini Jumper Dress – Kristen'
I am one of those people that if I love something, I pick it up in both colour-ways, and that is exactly what I have done here.
Black and white looks is always my go-to. Whenever I'm unsure what to wear, a monochrome look always works and there is something about houndstooth / dogtooth; which ever way you say it, that I just love.
I think it gives a feel of luxe and makes an outfit look way more chic and expensive.
A few months back I picked up a houndstooth vest in a sort of cream colour and I've had so much wear out of it, but it's just not quite as long as I would like to wear as a dress, because well… it's not a dress haha.
So when I saw these houndstooth knit vest dresses, I knew I had to grab them while I could.
I've styled them a few different ways to show you how I love to wear them, one with a shirt dress and the other with a longline polo. Let me know your favourite look.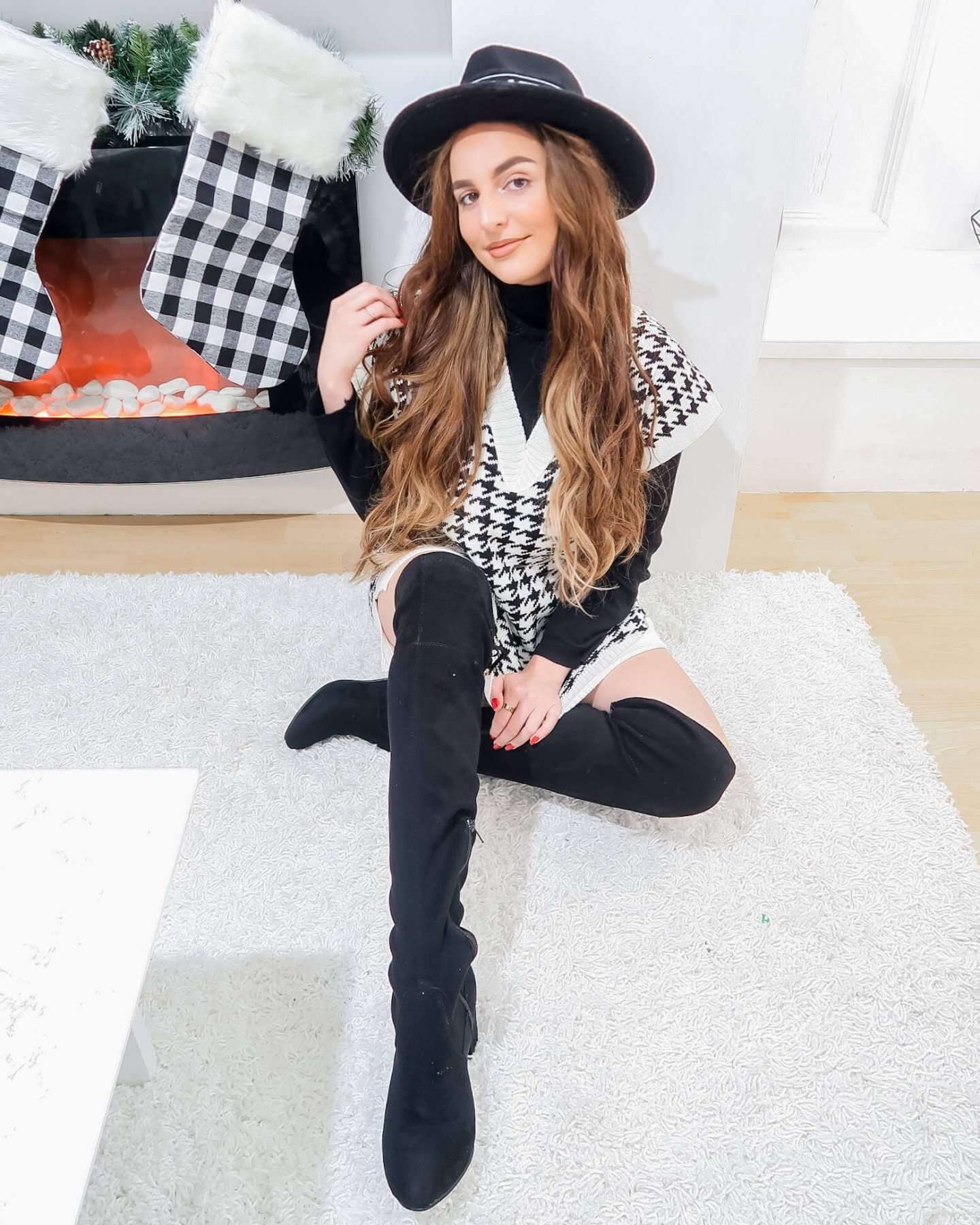 As I said I am loving the vibe of the shirt dress underneath at the moment, but I am working from home so I'm not having to brave the cold weather haha, but if you are having to venture out and about then pairing with a simple jumper and some coated jeans is a great look too.
The last item I picked up was these marble joggers; I'm still obsessed with anything marble and as the wearing is turning colder, and I'm still working from home; sometimes I just want to have a day in a pair of cosy joggers and a simple knit.
In fact I'm actually sat in these joggers now; it's Sunday today and my plan is to have a cosy day watching Christmas films, baking some christmas cookies and just having a bit of a pamper. That's what Sunday's are for really isn't it.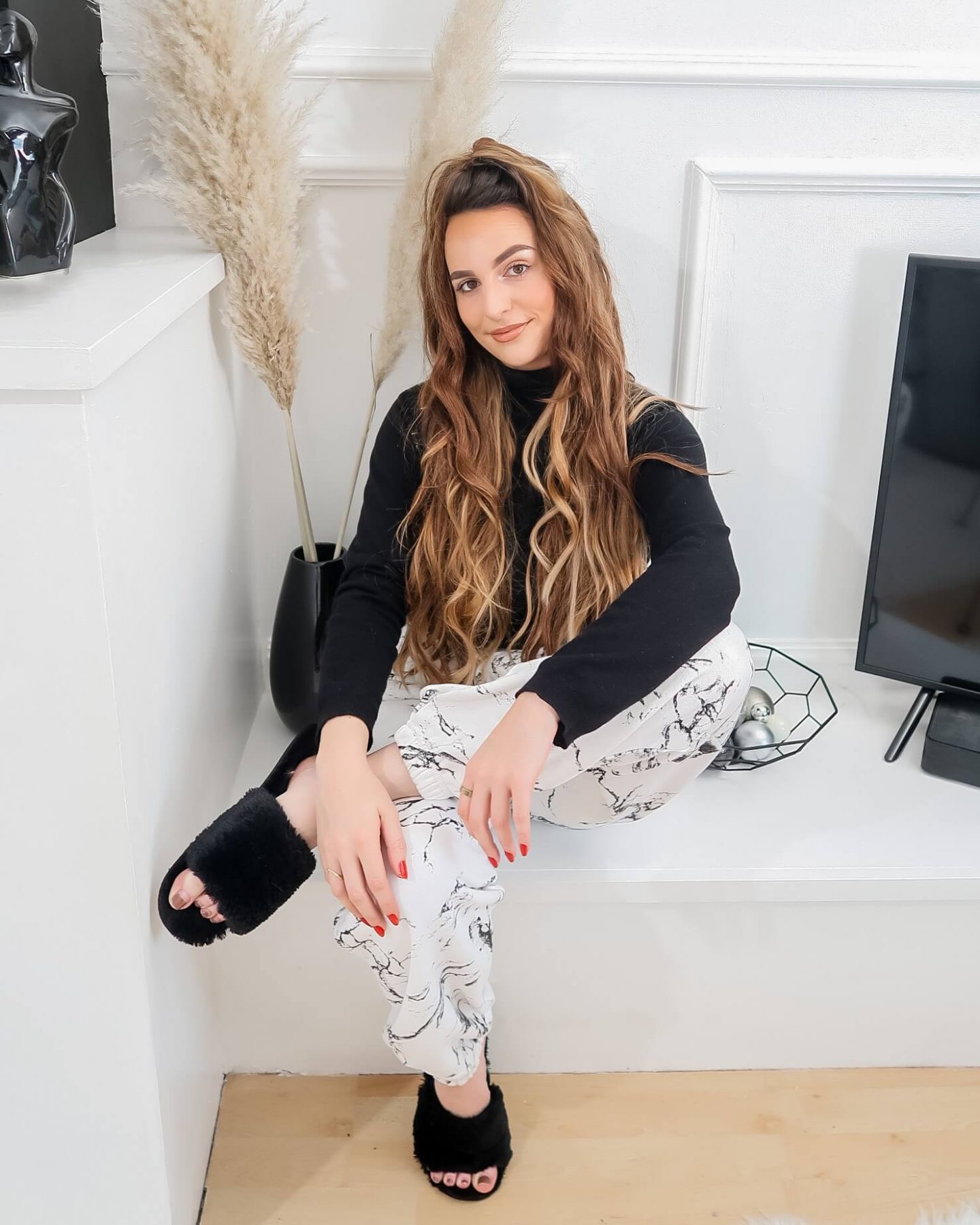 I remember in summer I was obsessed with the tie dye jogger trend, but I've never seen any marble ones anywhere before. That's something I do love about femme luxe, they always seem to have something unique to offer.
I picked up these white & black marble print Cuffed Joggers – Caiden in a size 10 and they are the perfect fit.
I hope you liked this post and looking at some of the new item's I have in my wardrobe, as always thank you for reading!