Well this week we have really had a treat in the UK. The weather has just been something else, on Wednesday I think we had our hottest day yet at 26 degrees and today, bank holiday Monday, we're at a solid 21 degree's already.
This weekend I had a complete chilled weekend and took a bit of a digital detox. Today I feel so much better for it, I feel very refreshed, ready for a garden day today, and then ready for a fresh short week at work.
But this week I have been wearing some new pieces, well Friday, Saturday and Sunday, and I wanted to share them with you.
The items I picked up are from my fave Femme Luxe of course and as a quick disclaimer, these items were kindly gifted to me, but I chose them myself and all opinions like always are my own.
For those cooler days we have, and I think we did have one this week, I have been loving knitted joggers, not just joggers but knitted joggers. I know we're not in winter anymore but these are such a great comfy, cosy throw on, and when in an amazing pastel Spring Summer colour, you simply can't go wrong.
My favourite colour this season has hands down been lilac. I remember wearing it a lot last year, but this year I think I have topped it and I have some amazing new lilac pieces in my wardrobe this year that I can't wait to show you.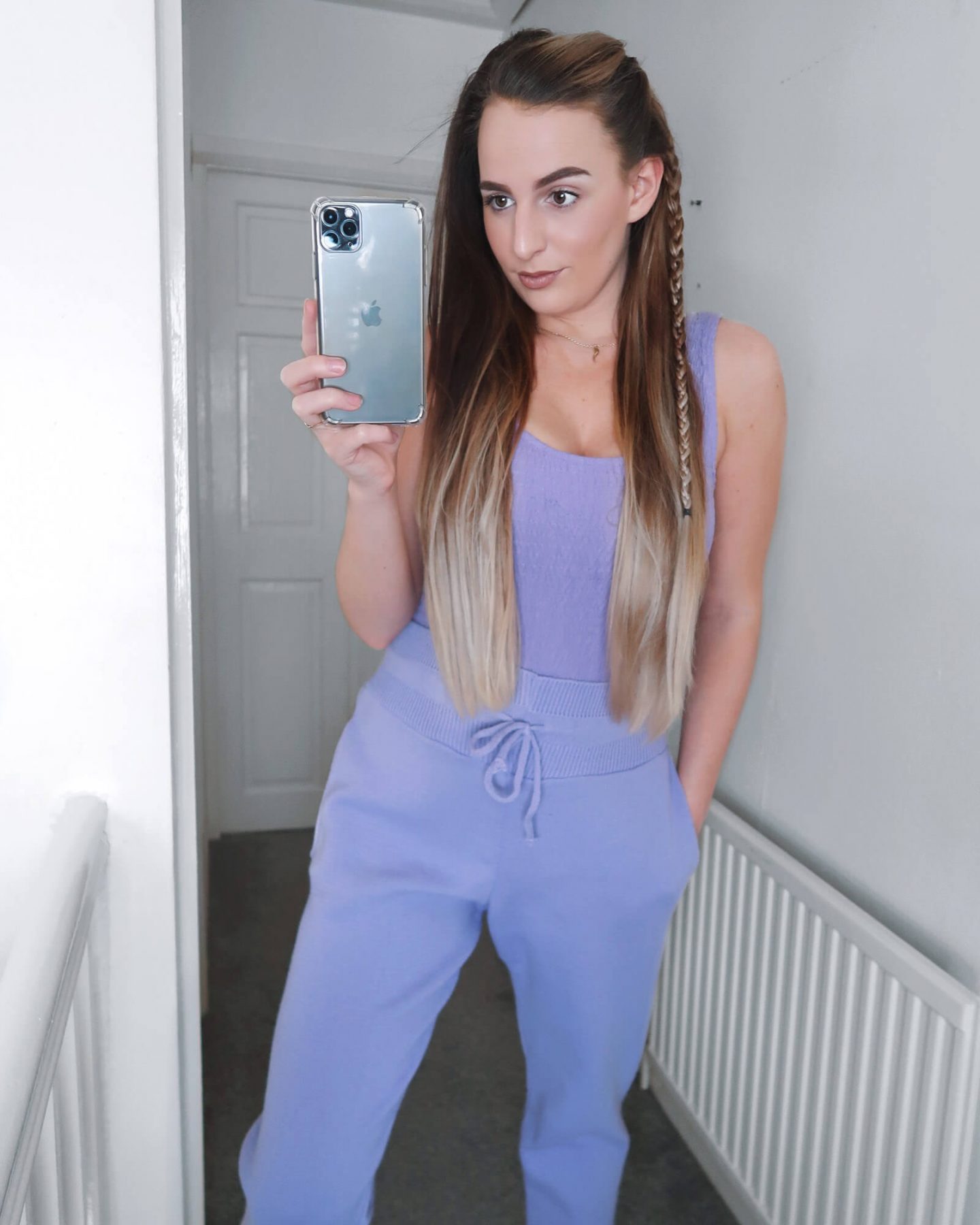 First I picked up these knitted joggers in Lilac, I already own knitted joggers very similar to this in mint green and baby blue, but when I saw them in lilac I simply had to have them.
Paired with this gorgeous lilac bodysuit, I think it's my favourite outfit of the season yet. I love this bodysuit, it kind of reminds me of a swimsuit, it's that stretch ribbed design that is super thick and flattering as it pulls you in, in all the right places.
I think they also did this bodysuit in pink and white too, just in case lilac isn't your colour. It also has the popper fastenings which is the upmost important thing for me in any bodysuit and I picked this up in a size L and it was just the perfect size.
For the jogger's of dreams, these high waisted knitted cuffed joggers I picked up in a size M, and again they are simply perfect. They also have pockets for snacks which is also important when working from home right!
The next thing I picked up is this lilac tie dye oversized t-shirt. I have been loving seeing my Instagram feed full of tie dye at the moment. I don't think I have seen this trend for quite a few years now and I'm fully on board with it.
Unfortunately it has been that ling since tie dye was cool, everything I did own in tie dye was given to charity years ago so I was on the hunt for something tie dye to add to my wardrobe and when I saw this oversized lilac t-shirt, I knew I had to have it.
Paired with a lilac pair of cycleshorts and I'm in my bloody lilac element. It's such an easy wear and very comfy, yet stylish and on trend. Pair with some chunky trainers or some simply sliders / flip flops and you are good to go.
Finally the last item I picked up was this oversized slogan print tee. I'm sure you know by now that I am also big on the slogan tee trend, they are just again so comfy to throw on with cycle shorts and you're good to go for the day.
I really liked this black one with pink lips, it made the pink really stand out and the fact it said 'La Femme' I really liked because I'll remember where I got it from. I really do love a bit of branding and I think Femme Luxe should deffo have their own branded range to show off.
Like the tie dye t-shirt I picked up this printed tee in a size large, I like my t-shirts oversized with cycle shorts and oversized items just make things way more comfortable to lounge about it. Well I should say work, but work from home.
I mean I can't imagine rocking up to the office in cycle shorts and an oversized tee, but working from home has really let me show my personality in clothes again, I have a wardrobe full of items I love but I can only wear them on a weekend usually and it seems such a waste.
I now look forward to getting up each morning and deciding what to put on, if I feel like wearing a going out dress, I will. If I fancy joggers or cycle shorts, that is what I will wear.
I honestly could not be more grateful for being allowed to work from home, not only for the outfit choices I can make, I have so many benefits for both the company I work for and myself, I think I will probably make that into a whole other blog post, but for now, I'm just putting it out into the universe, that I hope to stay working form home on a permanent basis.