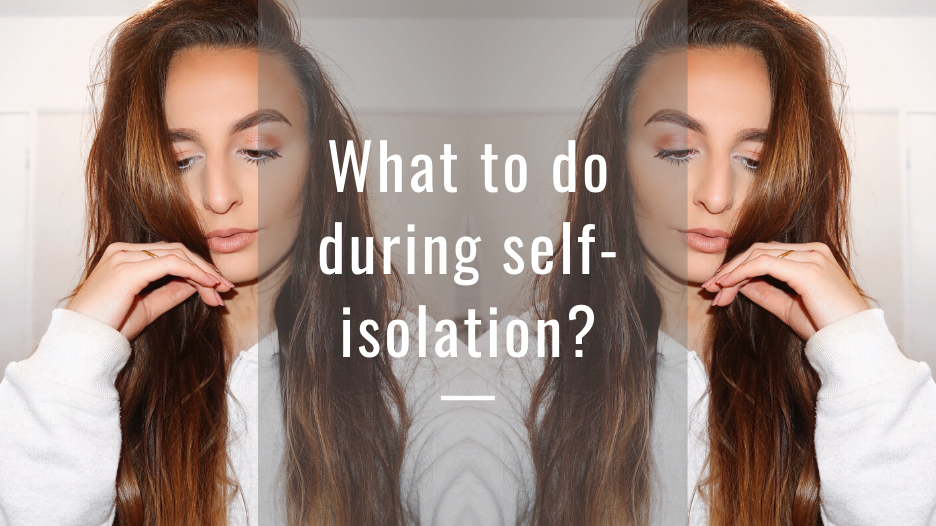 It's a worrying time for most of the world right now and whilst the UK is not yet in full quarantine. My offices have closed and I am working from home. I have also put in place my own social distancing measures and I am pretty much not leaving the house at the moment unless it's to get groceries, but I am someone who has my groceries delivered online anyway so I am pretty much a recluse at the moment.
I however am probably one of the few people in the country that isn't complaining about this and I am hoping for full lockdown very soon, so we can finally stop the spread of this horrible virus.

Whilst I am essentially very lucky that I can work from home and keep myself very busy during the day whilst also earning a wage, well for 5 days of the week at least. There will be many however that simply can't work from home and are self-isolating or their country has gone into lockdown already and they are twiddling their thumbs and wondering what to do with themselves.

Although a horrible situation we are all in at the moment and my thoughts and prayers are will all those affected. We need to keep out mental health in good shape and find constructive things to do with out time, myself included on evenings and weekends.

Think back to the last few months, has there been something you have been meaning to do, but found you 'never had the time' I know that has been me for years.

Whether it is sorting your wardrobe or learning a new skill, starting to do some exercise or reading that book you never have around to starting. This is the time when we can be making more use of our time. There is only so much Netflix someone can watch right?

Don't get me wrong, if you are a TV person like myself then its also the perfect time to catch-up on some new shows you have been wanting to checkout or that film you never got around to watching but often watching too much TV can not only ache our eyes but it can also make us feel unproductive and lazy so I think it's a good idea to have plenty of ideas when you fancy a change!

1. Catch-up on a Netflix show / movie you've been meaning to get around to watching.

Netflix have also started doing Netflix parties, which means you can tune in and watch something with your friend or significant other whilst also chatting about it at the same time. There is also prime, Disney and probably a load more streaming services out there now, so pick your fave and signup for a few months if you aren't already. Lets face it, you'll be saving money on holidays, shopping and socializing so you can afford it.

2. Pick up a book.
Knowledge is power after all and whatever it is you are interested in I'm sure you can find it online to download and read if you can't get out, or if you are anything like me, you will already have a stash of books waiting to be read, so now is the perfect time to pick one up.

3. Learn a new skill or language

For the longest time I have been trying to learn Spanish on and off, and now is the perfect time to really knuckle down and try to pick up a new language. I am also a big fan of online courses, whatever you are interested in their will be a course for you. For me, I am wanting to up my JavaScript knowledge so now is a great time to start an online JS course. Just a few hours per day learning will engage your mind, refresh your mental state and hopefully have you picking up a new skill in no time.
4. Up your Insta / blogging game
So you love fashion, clothes, beauty, lifestyle, you've been trying to grown your Instagram, but taking Instagram worthy content is time consuming and with daily life and full time work getting in the way you simply haven't had the chance to capture some content, well now you have no excuse. If you have a blog but never find the time to write, or if you've been thinking about starting a blog or even a YouTube channel, now is the perfect time to show off your creativity. This is literally me all over, I love watching, seeing and reading about fashion content and i'd love to do more of it myself but I always can 'never find the time' I've also really started getting into watching TikTok video's who knows, I might even start TikToking in my bedroom!

5. Games and puzzles

Remember when you were younger you could occupy your mind easily by playing a game on your phone or console, doing a crossword or word search and don't even remind me how many hours passed by whilst playing a board game. Whether you have actual jigsaws and company to play monopoly with, whether you dig out an old fashioned puzzle book, or whether you look to the web or the app store for a new game, let your mind wander and get lost in a game for a while!

6. Get creative

I'm such a creative person, I love art, drawing is my thing and I've really wanted to get into bullet journaling for a while now. Just go on Pinterest and Google bullet journal ideas and you will see thousands of beautiful pages pop-up, this is 100% what I am going to be doing this weekend I think. I love making lists and reviews and I'm simply always jotting things down, but bullet journaling can be really soothing for the mind, similar to an adult colouring book, so if you have a creative side I would definitely be putting it to some use while you have the time.

7. Exercise and wellbeing
Now it has been proven that exercise is good for the mind, it can relieve anxiety and really help your whole body and wellbeing. OK so you can't get to the gym but with the amount of free workout content on YouTube alone, I'm sure you can find a space to get in a daily workout, even if that be a morning yoga session or an evening Pilates class. I have been wanting to get fit and start exercising again for the longest time, but I already get up at 6am for work, and by the time I arrive home the last thing my body wants to do is an hours worth of cardio. Once you get into the routine it's fine, but getting yourself into a routine after having some time out of the gym can be difficult; believe me. So make the most of it while you can and get yourself fit and feeling good!
6. Stay social
With the technology that we have, there is no need to feel like you are cut off from your family and friends, pick-up the phone or drop them a text. We have Facetime and the like, so we can literally check in with loved ones whenever we like to see how they are doing, have a natter about that new Netflix show and have a laugh. I guarantee this will lift your spirits if you are feeling down, remember; it's good to talk.
Do you have any other recommendations for staying in doors this Spring / Summer? Let's share and keep each other going. Best wishes to everyone in the world right now.