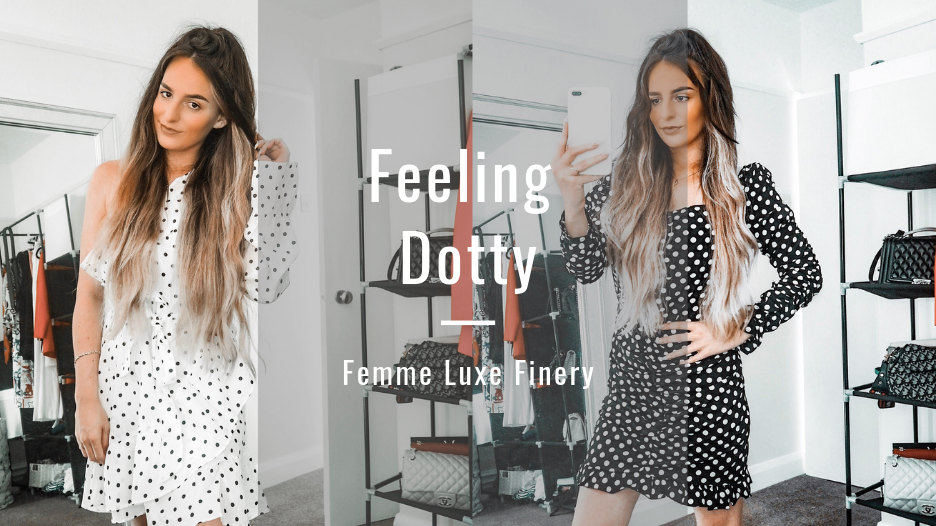 I've been feeling pretty dotty lately, and not just from my newfound love of polka dots but also from a mystery illness I returned home from my holiday with! After 3 weeks of pain from temporary arthritis from a mystery virus, likely from a dreaded mossie, I am on my last day of steroids and I am finally feeling like myself again!
You know when you haven't been feeling well and you just don't seem yourself anymore, that's been me over these last few weeks, I have had very little motivation and after a day at work, even the meaningless task of doing the washing up was becoming too much of a chore, but after having yet again another restful weekend, I finally feel like I am getting some spirit back.
My plans for this fine Sunday evening, are definitely going to be a pamper night, I am feeling like I want a nice relaxing bath filled with lavender and a chapter or two of the secret.
Speaking of pamper nights I have just ordered the Look Fantastic x Neom box which I was hoping would have arrived by now – there is still time! But I will probably do a little blog post on the contents of this when it arrives, as it looks insane for the price.
So anyway now I am feeling good again, I can bring you my latest Femme Luxe Finery finds! I am working together with Femme Luxe on this blog post, which means the items featured were kindly gifted, but as you know they are one of my favourite brands, I chose all the featured pieces myself and all opinions are my own.
Lets get into the haul, so the first piece I chose was this Black Polka Dot Ruched Puff Sleeve Dress, search Karsyn on the website. I fell in love with this straight away, I am loving the puffy sleeve trend at the moment and something is drawing me to everything polka dot.
They also did this dress in white, but I found another white polka dot dress I loved, so I thought I would go with the black.
I got this dress in a size L which is a 12/14. I am very awkward in dress sizing's as I am a 12 on top but a 10 on bottom, so I wasn't sure if this was going to be too big, and loose, especially around the hips but in actual fact it came up very small.
As you can see in the photo's it looks great, and the fit on the hips is perfect, however I couldn't get the zip up all the way at the back so unfortunately I will have to sew a little extra material on to the back to make this fit.
I do think this is a great dress, but if you don't want to make any alterations and you want a ready to wear piece, I would definitely recommend sizing up.
The next item I chose was this White Polka Dot Ruffle One Shoulder Dress, search Alea on the website. I feel like this silhouette and in the polka dot print is such a staple, they were in fashion last year, again this year and I would bet anything that they will be back for next summer.

Throw on with a biker jacket or a denim jacket along with tights and some doc martins when the weather is a bit cooler and you can totally carry this dress into autumn.
Now again I got this in a size L, and this I would say is true to size, I could have probably got away with getting a medium actually as there is plenty of room around the bust area and of course it has a nice floaty shape, but to be honest, because this has a tie detail waist, I am happy with it being on the larger size, it means it comes up a bit longer, which I love; it's much more comfortable, and who doesn't want that in a heat wave and it's not restrictive for the food baby; always a winner.
The next item I chose was this Mesh Puff Sleeve Top, search Louisa on the website. Now I can only find this on the website in a baby pink colour, so maybe the black has sold out, but I stuck to my guns and went for the black, I feel like little tops like this are absolute staples in your wardrobe and you can just throw on time and time again, plus the puff sleeve trend, I'm all over, and it just gives a simple black top a little bit of something extra.

I have to say, I wasn't expecting this top to be as cropped as it is, it deffo needs to be paired with something very high waisted and I would probably belt it too, to be sure I'm not flashing anything when I stretch. But the fabric is thick and good quality, and also quite stretchy, which I love, so I definitely think it's a great piece. But if you don't want it too small, I would recommend sizing up in this too. Luckily I already picked this in a M/L so that was a perfect fit.
Paired with it is my camo skirt I also picked from Femme Luxe Finery in another haul, but I simply can't get enough of it yet!
Finally the last item I chose was this White Plunge Multiway Bodysuit, search Marissa on site. Now this is really good quality again, it's a nice thick material and true to size.

You will see I am wearing it very differently to the model on the website, simply because I didn't have the right bra/nip coves to hand in order to make this plunge; but you definitely could wear it like the model.
There are literally so many different ways you can wear this, and I am really looking forward to trying them all out and feeling like I have 10 different white bodysuits; you can never go wrong with a white bodysuit right!?
Have you had any good finds recently, or are there any trends you can't get enough of this season?
Ps: might be just me, but I am so ready for autumn winter vibes, where I'm wrapped in a cozy jumper and a blankie! But first I have another holiday coming up, so let me know if you have found any new summery bits I should check out!