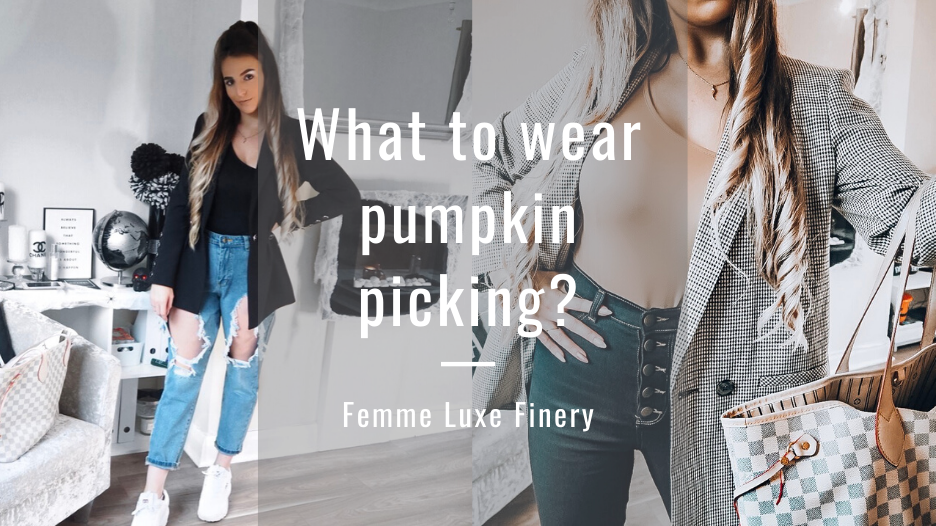 So you have finally embarrassed autumn and your looking forward to your trip to the pumpkin patch this year, but have no idea what to wear? Well whether you want to go for a chilled or a smart look Femme Luxe has some great autumnal pieces that will work great in any wardrobe for this season!
So I am planning to go pumpkin picking tomorrow. Truth be told I have never been to a pumpkin patch before, I usually just pick up a pumpkin from my local supermarket every year to carve but after scrolling on Instagram and Pinterest every year and being jealous of how well Americans celebrate Halloween; well Autumn in general actually, I thought this year I am going all out and I'm taking a trip to a pumpkin farm.
But what do you wear, I mean yes it's outside so naturally you need to be wrapped up and cosy, but I also want to get a nice picture with the pumpkins haha so my outfit is important. I have chosen and styled up 4 items from Femme Luxe Finery that have kindly been gifted to me and I'd love to know which outfit you would choose! I'm hoping for no rain tomorrow so fingers crossed or I will have to switch out the shoes for some booties or maybe I'll end up throwing on one of my co-ords if it is really bad weather but for now these are the outfit ideas I have in my head.
First I picked up this pair of mom jeans from Femme luxe. Now I have always liked mom jeans on other people, but I have yet to find a pair that really worked for me, this was however until I tried this pair on. The fit of these I have to say is great. I love the waistline, how they fit on the bottom area and the length, although I have also rolled mine up slightly but that is just my personal preference.
If you have been a little skeptical to try a mom jean, or you have tried many and have decided they just aren't for you, just try the Femme Luxe ones before you give up hope because if your like me, you won't be disappointed!
I have paired these mom jeans with a simple black one-shoulder bodysuit from Femme Luxe, I love little tops and bodysuits to throw under an oversized blazer at this time of the year – and realistically a coat over the top of that. But once your out and at your destination you can take off your jacket and you still look nicely dressed and put together.
They are simply just great basics to have. These bodysuits do come up rather small so I would say to size up they are also high on the leg, like a high rise swimsuit, so they are super comfy but it does mean I would only wear them with high waisted bottoms, but lets be honest; I can't remember the last time I wore a pair of jeans or trousers that weren't high waisted haha so that really isn't an issue for me!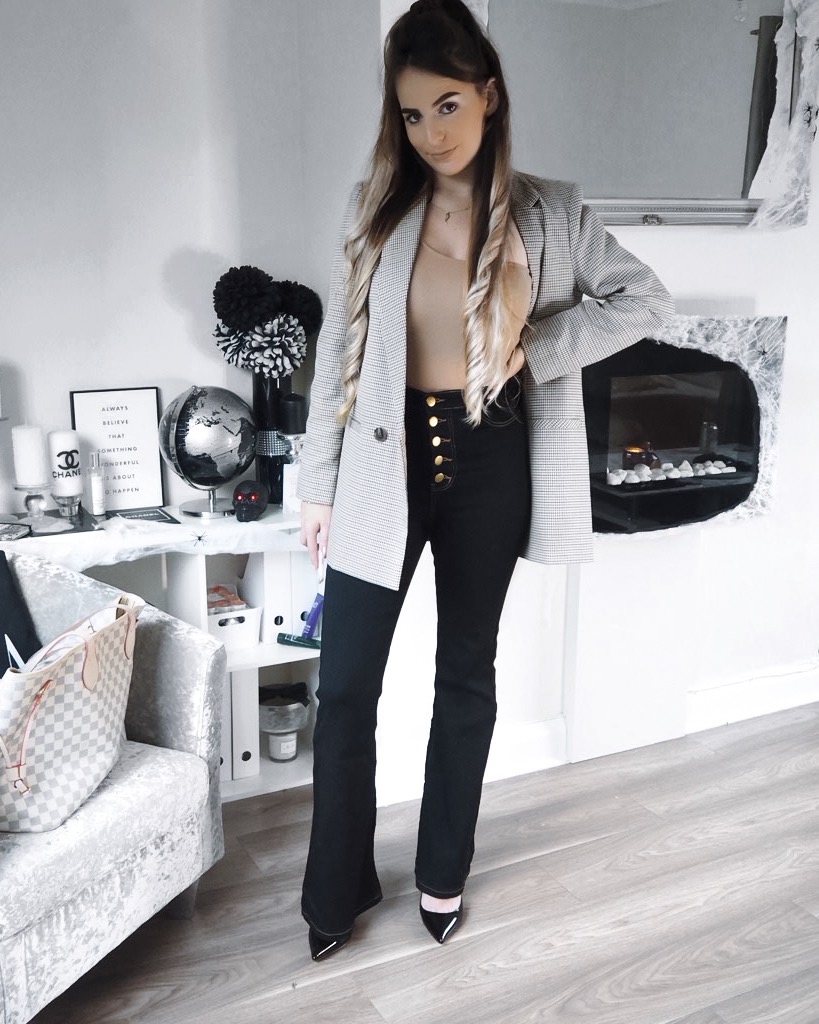 I loved the black bodysuit that much that I also picked it up in this camel colour. Creams, beige's and camel colours at this time of year just work so well, here I have teamed it with a check print blazer I picked up in Primark and I think the colour combo works really well. These bodysuits are also really inexpensive so they are a great investment for your wardrobe as you'll get wear out of them all year round.


I paired the camel bodysuit with these dark wash flared high waisted jeans from Femme Luxe. They also had some amazing lace bodysuits that would work really well with this outfit for a more evening look. Now where do I start with their flared jeans, I have tried their flared jeans many times before and I have to say they are my favourites; and I have tried many from all different stores like Zara and the like, and these ones always come out on top.
The stretch of the denim and fit of these, I just don't think can get any better and especially for the price, you would easily be paying double this for a pair of jeans from another store that are not as great fitting as these ones. These jeans like the mom jeans are also true to size so you can just get your normal size and trust me they fit like an absolute glove.

The fact that they do have this stretch to them also makes them great for the upcoming winter because when the colder weather arrives you can wear these with jumpers and the like tucked in at the front for any occasion you want to feel a little dressier but also want to stay super cosy and warm.
Which look do you prefer, the mom jeans and trainer or the flared jeans and heeled option?