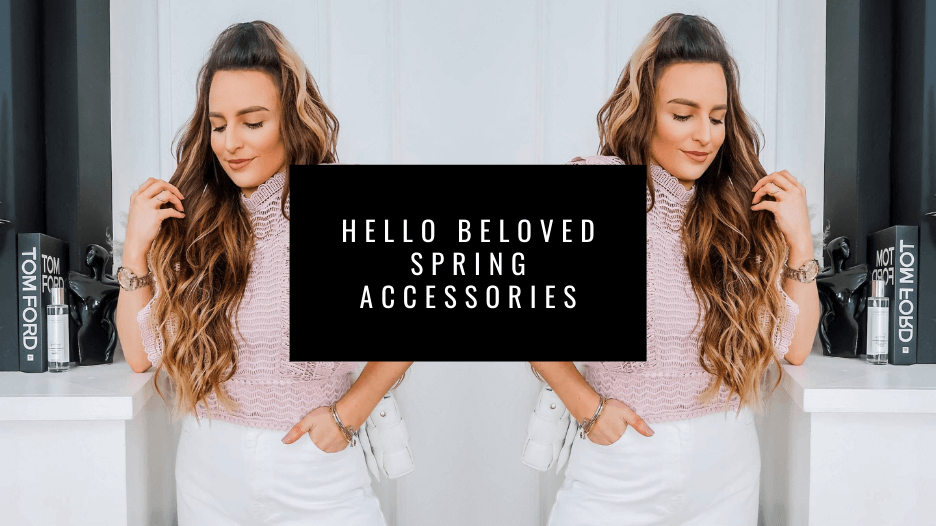 Open the window. Is it sunny outside? Can you hear the birds singing? Does it make you feel like putting a pretty dress on? Welcome to the happy Spring mood. The gentle rays of sunshine may not be warm enough to go out without a coat, but they do wonders for the mood. So you might find yourself wanting to reflect the Spring spirit in your everyday outfit.
Now is the best time to think about your Spring wardrobe. If you're still looking for inspiration, you'll find some tips on how to style subtle laces into your warm-weather outfits. The Spring style is varied this year. Many of you will have noticed bold colours, bright floral patterns, and a 1970s revival. Accessories for these styles tend to be on the OTT side of things. While there's nothing wrong with that, it can be tricky to make it work if you prefer a more muted and feminine approach to your Spring wardrobe.
So here, you'll find ideas to accessorise your outfit and embrace your mood without compromising on your neutral style. Are you ready to be playful and stylish at the same time?
A sweet and elegant seasonal ring
Jewellery is the easiest and quickest way to elevate your outfit with subtle and playful touches. If you are looking for seasonal designs that are feminine, Thomas Sabo rings can be the answer to your prayers. The collection has some delicate Spring-inspired designs, including a butterfly and a dragonfly, which are guaranteed to bring your neutral wardrobe to the next level. For something that doesn't clash with your colours, it's best to aim for a thin silver ring or a rose gold tone. Rose gold is an especially great choice that can bring powder pinks, pale roses, and shimmery beiges together and highlight your whites, creams, and blacks at the same time.
If a ring isn't for you, you can keep things simple with a delicate nature-inspired pendant that injects elegant fun without feeling out of place. The Thomas Sabo collection has a lot of delicate silver and rose gold flowers and trees patterns that will get you excited about Spring.
Colourful and delicate socks
Socks are back, and they are here to stay! For someone who prefers a neutral outfit with simple tones, including white, black, and beige, socks can add a new dimension to your style. Fashion designers have been embracing the sock trends, making visible socks a highlight in many outfits on the catwalk. Whether it's a more traditional socks and brogues combination or the nightmare of your childhood's socks and sandals pairing, socks are made to be seen, admired, and appreciated. Therefore, they can offer a simple, cost-effective, and smart way to elevate your Spring look without needing a brand new wardrobe. Happy Socks are one of the specialist brands you want to trust with foot fashion. The Hysteria collection is bold but also graceful, with some patterns available in muted pastels, tasteful colour-blocks, and subtle colourful accents. You can turn up the fun on a monochrome suit with a pair of tie-dye socks, for instance.
A bucket hat for a day-out
The bucket hat is back in trend, and high-fashion brands have seized the opportunity to update it. Big names such as Versace, Celine, and Vivianne Westwood have been experimenting with pairing the hat with dressed-up or dressed-down outfits with success. A bucket hat with a twist is speaking for itself and turning any outfit into an eye-catcher. So, if you are on your way out, why not protect your face from the harmful UV rays with a stylish hat? Contrary to your childhood's memories of beach holidays with the family, the new bucket hat is stylish, made with quality material, and can be paired with your everyday office outfit. Ganni's hat comes in a romantic rose design, that can add a floral accent to a monochrome outfit. Gucci is bringing luxury to the pattern with its celebrated GG logo. The preferred patterns for Spring include muted pastels, florals, logos, and playful checks.
Nail polish for a spring day
Why not give your nails a Spring feel with some of the seasonal trends? Spring Nail art this season is a delight for muted, feminine styles. While there are still a lot of options for those who want to go bold and create a vibrant pattern, nail artists are all about subtle touches this Spring. The colours of the season include romantic pastels, muted gold, neutrals, and nature-inspired shades such as olive green and egg blue. Thankfully, most designs are easy to create at home, encouraging minimal patterns, such as dots or lines on top of a neutral base, or pastel negative space designs.
Are you ready to elevate your Spring outfit with these simple, muted, and feminine touches? There is no need to go bold if it's not your style. You can just as well create a playful and elegant Spring style with these delicate accessories.